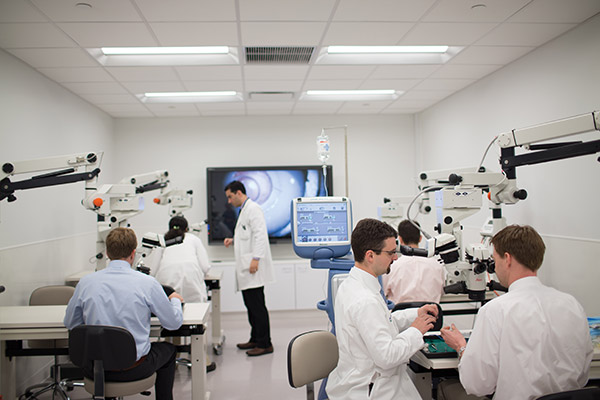 The rate of serious eye conditions requiring specialized care is steadily increasing in the U.S., due largely to a growing elderly population.
To address this concern, the Timken Foundation of Canton has made significant commitments to advance patient care, medical education and research at Cleveland Clinic's Cole Eye Institute.
In 2013, the Foundation funded the construction of The Louise Timken Microsurgical Education Lab in honor of the aviation pioneer credited with being the first non-military female pilot to own and fly a jet aircraft. Macular degeneration forced her to end her flying career in 1992.
Today, the 600-square-foot ophthalmic surgical education lab employs the latest advancements in synthetic models and computer simulation technology. It is the centerpiece of the Cole Eye Institute Residency Program.
"Residency and fellowship training is considered a high priority and is led by outstanding faculty in this leading-edge facility," says Jeffrey Goshe, MD, Director of the Residency Program. "Our programs are highly competitive and produce superbly trained clinical and academic ophthalmologists through a very hands-on laboratory training environment that has led to our students being involved with three times as many cases in the operating room during their training program than required."
In 2017, the Timken Foundation made another grant establishing The Louise Timken Ophthalmic Education Center to encompass all of the institute's educational activities. The funding also supports the future expansion of the Cole Eye Institute.
"This most recent gift has moved forward our ability to plan for the future," says Daniel F. Martin, MD, Chairman of the Cole Eye Institute and holder of the Barbara and A. Malachi Mixon III Institute Chair of Ophthalmology. "We are very thankful to the Timken Family for their support in helping us accelerate our expansion plans."
The growth is necessary to serve the institute's increasing patient base. "Philanthropy is helping us expand our clinical and surgical capabilities while enhancing eye research and our educational programs, building upon the phenomenal success of The Louise Timken Microsurgical Educational Laboratory," Dr. Martin says.