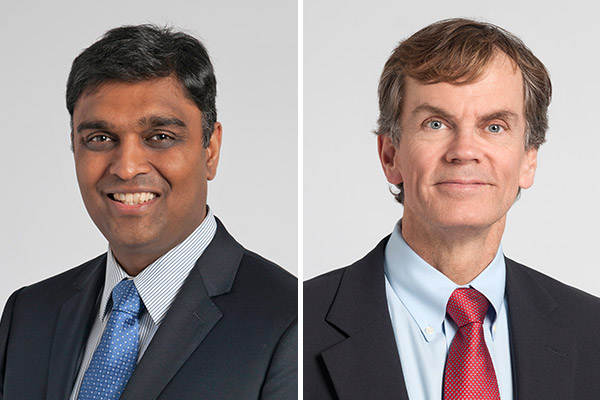 The National Heart, Lung and Blood Institute (NHLBI), part of the National Institutes of Health, awarded a $4.7 million grant to Cleveland Clinic in 2018 to study more deeply the prevention of life-threatening, cancer-associated blood clots.
The grant builds upon work initiated through the Center of Excellence in Cancer Thrombosis Research, established in 2016 with funding from a variety of generous philanthropic gifts. Additional funding for the center was provided by a VeloSano Impact Award in 2018.
Led by co-directors Keith McCrae, MD, and Alok Khorana, MD, the center has been working to better define how thrombosis develops in patients with cancer; test the efficacy of novel therapies; develop new preclinical models; and create and expand biorepositories to provide a valuable resource to researchers across Cleveland Clinic.
"About 20 percent of cancer patients develop blood clots, which can cause stroke, hospitalization and delays in treatment," says Dr. Khorana, director of the gastrointestinal malignancies program at the Cleveland Clinic Cancer Center and holder of the Sondra and Stephen Hardis Chair in Oncology Research.
"In fact, cancer-associated thrombosis is the second leading cause of death in patients with cancer," he says. "This grant will help us address the challenge of identifying who will develop blood clots and enable us to treat them proactively with blood thinners to prevent this complication."
The five-year grant supports the creation of a risk assessment tool to better predict which cancer patients will develop blood clots during treatment. The study will incorporate data from more than 4,000 patients with colorectal, lung and pancreatic cancer enrolled in clinical trials at various research centers.
"Cancer-associated blood clots are a critical clinical problem, and we urgently need better ways to predict which patients are at greatest risk," says Dr. McCrae, Director of Cleveland Clinic's Department of Hematology & Medical Oncology. "This grant-funded research will greatly improve the management of patients with cancer, arming physicians with an advanced statistical tool to better identify who may develop this common and harmful side effect."