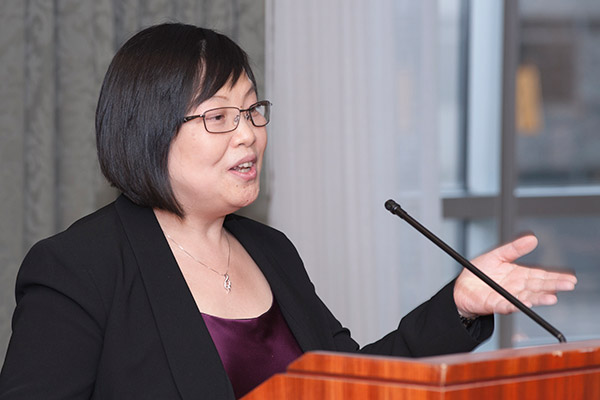 The Cleveland Clinic Lerner Research Institute immunologist Xiaoxia Li, PhD, and her team are studying the parallels between autoimmunity and immunotherapy. By manipulating the body's natural propensity to heal itself, rather than relying solely on chemotherapy and radiation, researchers may be able to slow disease progression and improve patient outcomes and quality of life.
Dr. Li has the special privilege of holding the Paul L. Fox, PhD, Endowed Chair in Molecular Medicine at Cleveland Clinic, which helps to support a wide range of research that contributes to the scientific community's understanding of several different autoimmune diseases and cancers.
In the last 20 years, she has made important discoveries including a key protein that controls inflammation, a novel mechanism linking inflammation and cancer, and a connection between intestinal bacteria and the development of autoimmune diseases.
She published a discovery related to the molecular basis of cyanidin, a key flavonoid found in red berries and other fruits. Cyanidin is known to slow the development of several diseases such as asthma, diabetes, atherosclerosis and cancer through its anti-inflammatory effect. The research team discovered that cyanidin can bind to a particular proinflammatory cytokine receptor and inhibit its signaling, thus reducing inflammation in pre-clinical models.
She lately made another discovery that further defines a link between inflammation and cancer. This novel study shows how a proinflammatory cytokine recruits a growth factor receptor to initiate and promote tumor growth, and how manipulating a related protein may be the key to slowing down, and potentially halting, the process.
These critical discoveries, made possible by external grants and through the philanthropic support of her endowed chair, have earned many accolades.
"It is a privilege to be the chair holder of the Paul L. Fox, PhD, Endowed Chair in Molecular Medicine," Dr. Li says. "Not only because this funding has enabled me to further research efforts, but because it is a tremendous honor to be recognized by an esteemed colleague."
Dr. Fox is on staff at the Lerner Research Institute and holds the Robert Canova Endowed Chair in Inflammation Research. "I have had the enormous pleasure of watching Dr. Li leverage my gift into exciting and important scientific discoveries," he says.