Robert B. Saper, MD
Department Chair, Wellness and Preventive Medicine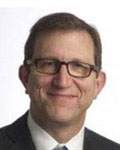 Dr. Saper joins Cleveland Clinic after serving as Director of Integrative Medicine for the Boston Medical Center Department of Family Medicine since 2004, where he founded the Program for Integrative Medicine and Health Disparities with a mission to provide evidence-based integrative health for all through clinical services, research and education. He also held positions as Professor of Family Medicine at Boston University School of Medicine, Director of the Family Medicine Academic Fellowship, Department Chair of Appointments and Promotions, and Patient Experience Champion.
Dr. Saper earned his medical degree from Harvard Medical School in 1988. He went on to complete an internship and residency in family practice at San Francisco General Hospital in 1991 and served as Chief Resident in family practice at the hospital from 1991-1992. Afterward, he practiced as full-spectrum private family practice physician in the San Francisco Bay Area.
In 2001, Dr. Saper launched a three-year undertaking to retrain for an academic medical career, completing a National Institute of Health (NIH)-funded fellowship in complementary alternative medicine research and faculty development at Harvard Medical School. In 2003, he both completed the fellowship and earned his master's degree in public health from Harvard University.
In 2004, Dr. Saper joined the Boston University faculty and medical staff of Boston Medical Center. While on staff, he participated in several NIH-funded research studies, including a pilot study of yoga for chronic low back pain in predominantly low-income minorities. Other studies he conducted include comparing the effectiveness and cost of yoga, physical therapy and education for back pain, as well as yoga for back pain in veterans. Other major areas of his research cover the safety and efficacy of traditional Indian herbal medicines. Dr. Saper has held various leadership roles for various committees at the Boston University School of Medicine and Boston Medical Center, as well as for national organizations, such as the Academic Consortium for Integrative Medicine & Health.
Dr. Saper's work has appeared in over 60 peer-reviewed publications; he has participated in 200 invited presentations; and received 25 research grants. Dr. Saper has received awards and honors for his accomplishments, including Recognition for Outstanding Teaching by Harvard Medical School and the Be Exceptional Award from Boston Medical Center. In addition to his medical, academic and research accomplishments, Dr. Saper is also a certified yoga teacher.
Irina Todorov, MD

Medical Director, Center for Integrative and Lifestyle Medicine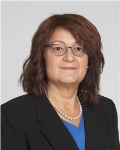 Irina Todorov, MD, ABFM, ABOIM, is a Family Medicine physician who believes that we all should strive to achieve optimal physical, social, and mental well-being. She looks for underlying causes of disease and addresses them with nutrition optimization, exercise therapies, herbs and supplements. In addition, she will work with you to address stress, sleep and motivation to change.

Dr. Todorov believes that heart disease, cancer and stroke, the most common causes of death in the U.S., are directly linked to lifestyle factors and are preventable with modifications in diet, exercise and stress management. She consults with patients of all ages with a wide variety of medical conditions who have found her approach effective in addressing chronic disease like insomnia, mood disorders, headaches, irritable bowel syndrome, diabetes, pain and fatigue.

Dr. Todorov is board certified in both Family Medicine and Integrative Medicine, and practiced for 7 years in Europe prior to moving to the USA. She has additional training in Herbal Medicine, manual therapies, mind/body techniques, and aromatherapy which are used to create a unique plan for each individual patient that is in alignment with the patient's beliefs and preferences.
She enjoys teaching, dancing, and creating new, healthy Mediterranean recipes.
Read about several patients that have benefited from working with Dr. Todorov and Integrative Medicine:
Recent news articles featuring Dr. Todorov
Integrative Medicine specialist. She started practicing at Medina Hospital on January 4, 2021.
Maria Hochendoner, APRN, FNP-C is a board-certified Family Nurse Practitioner with nursing experience in medical-surgical, orthopedic and emergency medicine. She completed her Masters of Science in Nursing at Youngstown State University and received board certification through the American Association of Nurse Practitioners. She joined the Cleveland Clinic in August of 2020 and is currently pursuing certification through the American College of Lifestyle Medicine.
She became interested in Integrative and Lifestyle Medicine during her undergraduate education when she discovered the power of food as medicine in her own personal life. Maria strives to empower her patients with the knowledge, information and resources they need to not only live longer, but live better. She understands that each patient has their own individual barriers to achieving health and happiness. Initial consultations are one hour where she will work closely with you to develop a personalized treatment plan unique to you. Nutrition, physical activity, sleep and stress management are central to her practice with Integrative Medicine therapies and specialists utilized as needed to assist her patients in reaching their goals.
Outside of work, Maria spends much of her time with her family, close friends and her golden retriever. She enjoys long walks, hiking, trying new recipes and traveling. She is also a perpetual student and dedicates much of her free time to deepening her understanding of human biology and discovering new ways of achieving optimal health.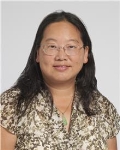 Yufang Lin, MD, FACP, FAAP is an integrative medicine physician who believes in the intrinsic healing power of the human body. She feels in order to treat disease, we need to look at root causes and driving factors. Dr. Lin then uses an integrative approach of nutritional guidance, stress management, herbal support, supplements, exercise and other mind and body modalities.

Dr. Yufang Lin joined Cleveland Clinic in August of 2017 and provides Integrative Medicine consults for patients of all ages with the goal of partnering with patients to create a personalized treatment plan that empowers them to achieve the health and wellness that we all deserve.

Dr. Lin is board certified in Internal Medicine, Pediatrics and Integrative Medicine as well as certified by the Institute for Functional Medicine, the American Board of Integrative Holistic Medicine and the American Board of Integrated Medicine. She has additional training in Herbal Medicine, Qigong Healing, Reiki, and has ongoing training in Homeopathy.
Recent news articles featuring Dr. Lin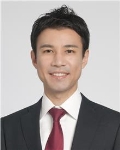 Dr. Umeda is an Integrative Medicine specialist with an interest in cancer, Oriental Medicine and root cause assessment. He is originally from Japan, where the average life expectancy is the longest in the world. He has more than six years of experience providing Integrative Medicine for cancer patients (Integrative Oncology). After receiving his medical degree from a national medical school in Tokyo, Japan, Dr. Umeda trained as an Internal Medicine resident and Gastroenterology fellow in Tokyo. He then completed an advanced fellowship of Hepatology (liver disease) and a fellowship of Gastroenterology Oncology at Mayo Clinic in Rochester, Minnesota. In October of 2019, he successfully completed a fellowship in Integrative Health & Medicine from The Academy of Integrative Health & Medicine (AIHM).
Based on his experience of treating patients in "clinically tough situations" such as liver transplant recipients and cancer patients in advanced stage, Dr. Umeda became more interested in "whole person" and "Body - Mind - Spirit" care. He worked as an Integrative Medicine staff physician, and he combined Western Medicine with Eastern/Traditional Medicine such as Chinese herbal therapy and Ayurveda. He realized this blend would produce a beautiful and great "synergy effect" to relieve both physical and spiritual pain, and to improve quality of life of cancer patients.
Dr. Umeda is board-certified in Internal Medicine, Gastroenterology and Hepatology, and Integrative Medicine in Japan. His strong points include his wide experience of Integrative Oncology for all types of cancer; his knowledge of Japanese healthy food culture, such as fermented foods, tofu, or green tea; and his understanding of both the advantage and disadvantage of Western and Eastern Medicine. His aim is to maximize patients' "self-healing power" and "self-adjustment function", and he respects each individual's belief and uniqueness. Dr. Umeda will tailor the personalized treatment plan not only for cancer patients but also for chronic disease patients including fatigue syndrome, migraine, gastrointestinal disorders, allergy disorders, and mood disorders.
Dr. Umeda provides one-hour Integrative Medicine consultations to create personalized treatment plans for patients at the Cleveland Clinic Lyndhurst Campus.
Recent news articles featuring Dr. Umeda