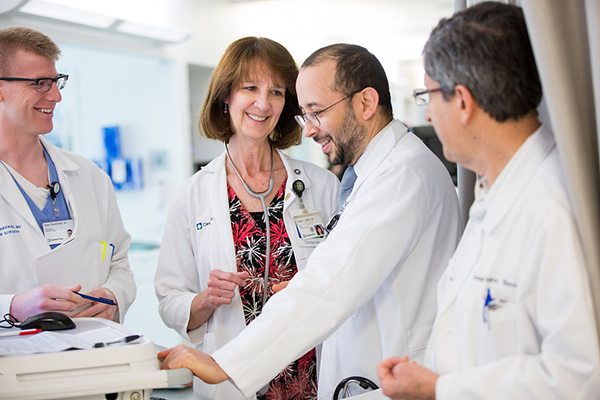 The Office of Professional Staff Affairs supports a robust individual and group practice. We are committed to maximizing your professional staff experience by:
Cultivating a group practice culture
Strengthening physician leaders
Engaging staff through continual feedback loops
Supporting staff well-being
Fostering professional growth
Driving clinical enhancements to improve staff experience and heighten care delivery
Professionalism
Professionalism is at the very core of Cleveland Clinic's vision, values and beliefs. It encompasses both an individual and organizational commitment to professionalism and includes our commitment to care for our patients, lifelong learning and exemplary behavior.
Well-being
The well-being of our professional staff is a priority at Cleveland Clinic. We provide a spectrum of resources that support and enhance your well-being, empower you to incorporate wellness into your daily life and assist you in times of need.
Professional Growth
Cleveland Clinic has a strong commitment to aiding our professional staff in achieving their potential. Professional growth and development opportunities start at on-boarding with our To Act as a Unit professional growth series and continuing through ongoing learning opportunities, and leadership development supported by our Global Leadership Institute.
Making Connections
Cleveland Clinic staff have the opportunity to engage in a number of professional councils integral to the support of the core values, goals and priorities of the enterprise. Staff may also serve on Cleveland Clinic's governing body. Members of the Board of Governors are elected to their terms by their peers.
Women's Professional Staff Association
The Women's Professional Staff Association represents the interests of the women serving on the Professional Staff at Cleveland Clinic, preparing them for advancement, establishing a meaningful network for support for their development and advocating for the resources necessary to foster their engagement and happiness at work. The Office of Diversity and Inclusion also supports a number of diversity councils and resource groups.