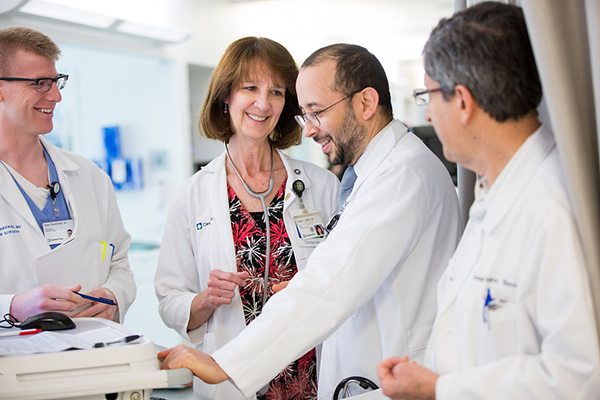 What We Do
The Office of Professional Staff Affairs supports a robust individual and group practice. We are committed to maximizing your professional staff experience by:
Cultivating a group practice culture.
Strengthening physician leaders.
Engaging staff through continual feedback loops.
Supporting staff well-being.
Fostering professional growth.
Driving clinical enhancements to improve staff experience and heighten care delivery.
Professionalism
Professionalism is at the very core of Cleveland Clinic's vision, values and beliefs. It encompasses both an individual and organizational commitment to professionalism and includes our commitment to care for our patients, lifelong learning and exemplary behavior.
Well-being
The well-being of our professional staff is a priority at Cleveland Clinic. We provide a spectrum of resources that support and enhance your well-being, empower you to incorporate wellness into your daily life and assist you in times of need.
Professional growth
Cleveland Clinic has a strong commitment to aiding our professional staff in achieving their potential. Professional growth and development opportunities start at on-boarding with our To Act as a Unit professional growth series and continuing through ongoing learning opportunities, and leadership development supported by our Global Leadership Institute.
Making connections
Cleveland Clinic staff have the opportunity to engage in a number of professional councils integral to the support of the core values, goals and priorities of the enterprise. Staff may also serve on Cleveland Clinic's governing body. Members of the Board of Governors are elected to their terms by their peers.
Center for Excellence in Coaching & Mentoring (CECM)
Who we are:
The Center for Excellence in Coaching & Mentoring (CECM) was established in 2009 by Drs. Andrea Sikon and Elaine Schulte with an interdisciplinary task force. Our team of board-certified executive coach faculty and mentor coaches have trained over 1,900 physicians, PhDs, and healthcare professionals internally and from other health systems around the world how to use coaching skills across contexts. Additionally, we currently oversee 500 staff who participate in our two institutional peer coaching and mentoring programs.
What we do:
We teach healthcare professionals coaching fundamentals and how to use our unique coaching framework to peer coach, mentor and lead using a coach approach and we teach how to be coached and mentored.
We facilitate development networks in our organization through the SCMP and the APCP.
We advise others on local program development and how to create a coaching culture.
Our outcomes:
Increases in components of fulfillment, engagement and resilience.
Increases in expanding relationships, happiness at work, and academic achievement.
Peer coaches/mentors cite same increases as coachees/mentees.
Increases in the use of coaching skills in daily interactions (with patients, with colleagues, in personal lives).
Increased retention.
Message staffcoachingmentoring@ccf.org to learn more about our many offerings or visit www.ccfcme.org/CECM to sign up for our external CME opportunities.
Women's Professional Staff Association
The Women's Professional Staff Association represents the interests of the women serving on the Professional Staff at Cleveland Clinic, preparing them for advancement, establishing a meaningful network for support for their development and advocating for the resources necessary to foster their engagement and happiness at work. The Office of Diversity and Inclusion also supports a number of diversity councils and resource groups.