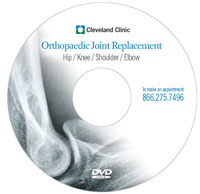 Don't let hip, knee, shoulder or elbow pain slow you down. See how Cleveland Clinic orthopaedic surgeons combine the latest innovations with surgical expertise for excellent outcomes. Our free DVD offers information on joint replacement surgery with patient stories.
Fill out the form below to receive your free DVD on hip, knee, shoulder and elbow joint replacement.
*Indicates required information.