Mission
Mission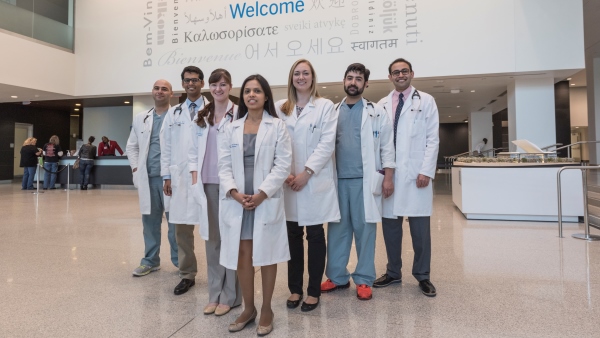 Within a supportive, innovative learning environment, the Cleveland Clinic Internal Medicine Residency Program cultivates internists who provide safe, high-quality, and patient-centered care, engage in collaborative relationships, embrace diversity and teamwork, promote health and well-being of self and others, communicate empathically and clearly, demonstrate mindful clinical reasoning, and achieve distinction in clinical care, scholarship, leadership, and commitment to lifelong learning.
Chairman Welcome
Chairman Welcome
Welcome to the Cleveland Clinic. We provide a World Class training experience commensurate with our commitment to our patients to provide World Class Care. Education of those who serve is a vibrant and dynamic part of the tripartite mission of Cleveland Clinic envisioned by the founders in 1921 and remains so today. The excitement and energy that is palpable on the first day of orientation is evident throughout each day of residency training. Whether your long term goal is a career in primary care, subspecialty care, hospital medicine or research, the Cleveland Clinic provides a highly innovative and supportive learning environment that will prepare and propel you to your future goals and success. We welcome your interest!
James Gregory Rosencrance, MD
Chairman, Medicine Institute
Program Director Welcome
Program Director Welcome
Welcome to the Cleveland Clinic Internal Medicine Residency Training Program!
Where Every Resident Receives a World Class Education
The Cleveland Clinic Internal Medicine Residency Program provides innovative, comprehensive, and high quality clinical and didactic learning experiences in an academic setting. Caring for a diverse population of patients from around the world, across the state of Ohio, and from our own local neighborhoods exposes our trainees to an unparalleled spectrum of disease. Such diverse training coupled with world renowned experts providing outstanding mentorship and teaching uniquely positions our graduates to successfully pursue academic and clinical careers in general internal medicine or to continue training in one of the subspecialties of internal medicine.
Nationally and internationally recognized for outstanding clinical care, innovative practice, and landmark research, our clinical faculty are full-time clinicians who are deeply committed to mentoring residents in their professional development, teaching and role-modeling exceptional clinical care, and coaching residents to conduct and present high quality research projects. Our academic environment is further enriched by the presence of The Cleveland Clinic Lerner College of Medicine students for whom we are the primary training site as well as University Track students from Case Western Reserve University School of Medicine who rotate through the Cleveland Clinic. Our residents excel in the vigorous learning environment enriched by the extensive resources offered by the Cleveland Clinic (eg, state of the art simulation center, new expansive resident learning center, rotations in multiple practice settings, renovated call rooms, innovative medical school program, and the Cleveland Clinic Academy courses offered by the Cleveland Clinic Education Institute) and we enthusiastically embrace resident roles as clinical teachers and educational and health care leaders. We are Sabbath-observant friendly.
Thank you for visiting our website! Please feel free to contact us with any questions about our unique training opportunities; our internal medicine training program; living, dining, and enjoying the metro parks in our city and region; or even about our Cleveland Sports teams and exceptional cultural gems. Let's go Cavs! The Internal Medicine Residency Program is ALL IN!
Sincerely,
Abby Spencer, MD
Director, Internal Medicine