Overview
Overview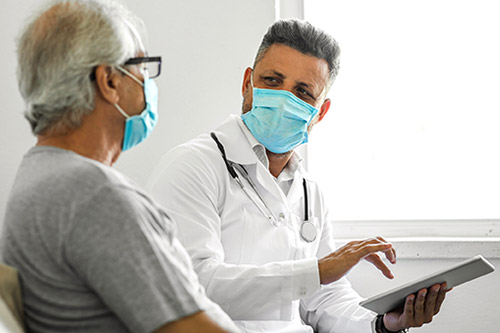 Patients with heart failure with preserved ejection fraction (HFpEF) have signs and symptoms of congestive heart failure, but their ejection fraction (the amount of blood your heart pumps out of it with each heartbeat) appears as normal on an echocardiogram (ultrasound of your heart).. Symptoms of HFpEF can range from having trouble while exercising, feeling short of breath to swelling in your legs and stomach (edema). These symptoms happen as your heart and blood vessels become inflamed, scarred and stiff. It can be difficult to properly diagnose HFpEF because a correct diagnosis often needs more than one test.
The Heart Failure with Preserved Ejection Fraction (HFpEF) Clinic includes health care providers who specialize in the diagnosis and treatment of HFpEF.
Diseases or Symptoms We Treat:
HFpEF (also called diastolic heart failure or "Stiff heart")
Shortness of breath
Exercise intolerance
What We Do
What We Do
We offer a comprehensive evaluation that includes a detailed medical history and physical. We use multimodality testing to check your heart function and make an accurate diagnosis of HfpEF or other conditions that have similar symptoms and/or signs to HfpEF.
We create a personalized plan of care for every patient with HFpEF. The plan helps manage heart failure along with other health issues to help improve your symptoms and quality of life.
We can help you get cutting-edge therapies and innovations that are available and information about clinical trials you may be interested in joining.
We believe our patients should be well-informed, active members of their healthcare team. We will give you the tools you need to meet your treatment goals and help control the effects of your disease.
Our Team
Our Team
All members of our team are experienced board-certified heart failure cardiologists who specialize in the treatment of patients with advanced heart failure.
Physicians
Advanced Practice Providers
Tracey Matejka, PA-C
Rebecca Reay CNP
HFpEF may occur with conditions affecting the heart and other organs. As a multispecialty center, patients have access to health care providers or specialists in electrophyiology, BP management, nephrology, pulmonary medicine and others.
What To Expect During Your Appointment
What To Expect During Your Appointment
Please arrange to stay in the Cleveland area for one to two days to complete your appointment and testing.
First, you will meet with a nurse who will collect your information and ask questions about your medical history. We will have you complete a questionnaire to help us better understand your symptoms.
Based on your condition and history, you may need an electrocardiogram (ECG) and six-minute walk test.
Next, you'll meet with a cardiologist who will review your information and previous test results and do a physical exam. You may need to have more testing, such as blood tests, echocardiogram (echo), cardiac MRI, specialized exercise stress testing, arrhythmia monitoring and others as needed.
If you need to meet with other healthcare providers, you will see them the same day.
Follow-up
You will have a follow-up visit to talk about the details of your test results and create your plan of care, including further follow-up visits. Some follow-up visits can be done using virtual appointments.
Appointments
Make an Appointment
The HFpEF Clinic is located at Desk J3-4, on the 3rd floor of the Sydell and Arnold Miller Family Heart,Vascular & Thoracic Institute (J Building).
To make an appointment,
Before your appointment
If your appointment is scheduled more than a week away, you will need to send in your records, including medical history, test results and films (such as echocardiogram, ultrasound, chest X-ray, MRI or CT scan). All records should be sent to the doctor you will see in the HfpEF Clinic. Send all information in the same package (clearly marked with your name and address) via Airborne Express, Federal Express, or certified U.S. mail (make sure you have a tracking number). The address is:
Physician Name
HFpEF Clinic
Cleveland Clinic
9500 Euclid Avenue – Desk J3-4
Cleveland, OH 44195
Learn about other options to send in records and images
If your appointment is scheduled within a week, please bring your records to your appointment.
Travel to the Cleveland Clinic
We want to make traveling to Cleveland Clinic as easy as possible. For helpful information, click here:
More Information
Need More Information?
Or call the Miller Family Heart, Vascular & Thoracic Institute Resource & Information Nurse at 216.445.9288 or toll-free at 866.289.6911. We would be happy to help you.