Head & Neck Institute Outcomes
Hearing Implant Program
Cochlear Implant outcomes in Adults with SSD and AHL
Unilateral hearing loss has meaningful and quantifiable consequences for the listener. Although the viability of cochlear implant (CI) as an efficacious treatment in cases of single-sided deafness (SSD) and asymmetric hearing loss (AHL) has become increasingly apparent, the more traditional approach to determining CI candidacy used by many programs relies on bilateral or best-aided hearing and therefore tends to overlook patients who could benefit.
Cochlear implantation in cases of AHL and SSD improves speech recognition in both quiet and noise, and has been shown to effectively suppress tinnitus and improve localization and quality of life.¹⁻³ Patients who preoperatively demonstrate elevated levels of stress, depressive symptoms, and anxiety show improvement post-CI³⁻⁴ and cortical reorganization can be halted and reversed.⁵
The Cleveland Clinic Hearing Implant Program is committed to optimizing access to cochlear implantation and closing the vast gap between those who could benefit from this life-changing technology and those who receive it. For 63 adults with AHL or SSD who received a cochlear implant in our center, results suggested overwhelmingly positive benefits. Both word and sentence ability in the implanted ear improved in cases of SSD and AHL, often by one month post-activation of the sound processor. It is important to note that we strongly encourage streamed auditory training for 30-60 minutes/day at least five days/week in the 3-6 months after activation.
AHL (N=48)
SSD (N=15)
Age
61 years (SD 11.7)
45 years (SD 9.8)
Gender

24 male

24 female

5 male

10 female

Duration of HL
~ 9.5 years (SD 10)
~ 3 years (SD 5)
Etiology
Variable

10 sudden idiopathic

3 temporal bone fractures
SSD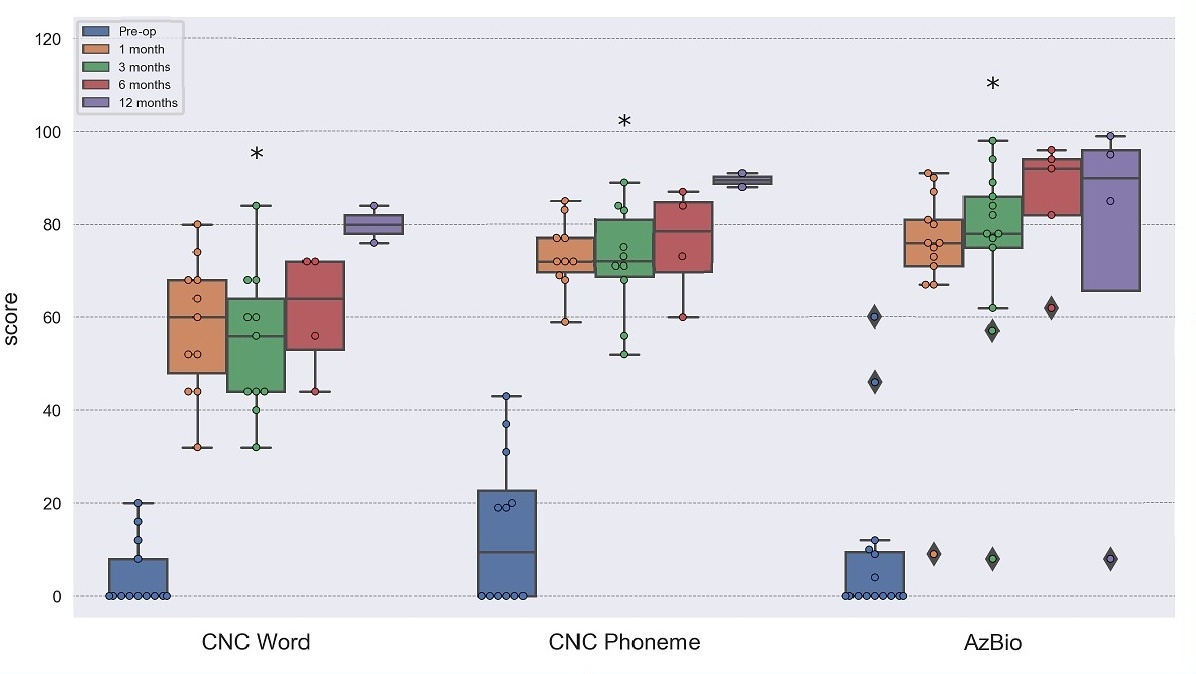 AHL