Overview
Overview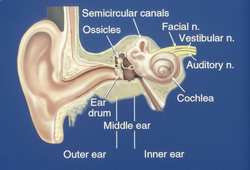 Cleveland Clinic otolaryngologists offer specialty care for deafness, tumors, trauma, infection and dizziness. Success rates and complications of treatment vary considerably with each individual patient; therefore, the following information is offered as a general guideline.
Our Doctors
Appointments & Locations
Appointments & Locations
Make an Appointment
To make an appointment with one of our otologists, please call 216.444.8500.
Virtual Visits
Cleveland Clinic's Head & Neck Institute offers virtual visit appointments for many of the conditions we treat, allowing you to meet with a specialist from the comfort of your home, using a mobile device, tablet, computer or web-enabled device.
Why go virtual? It's an easy, convenient and secure way to see your provider face-to-face without having to leave home. This saves you travel time and time spent in the waiting room — and you can also have a loved one or caregiver join you. If appropriate, you can also get a prescription sent to the pharmacy of your choice.
Many insurance companies cover the cost of virtual visits, so check with your insurance company ahead of time. Interested in getting started? Call your provider to find out what virtual visit options are available.
Virtual Second Opinions
When you would like a second opinion before making a decision about your medical care, Cleveland Clinic's Virtual Second Opinions can help. It's easy to get answers to your questions and the peace of mind you deserve from a Cleveland Clinic provider — all without leaving home.
Locations