Welcome
Welcome
Our Emergency Medicine Residency Program is a combined program sponsored by Case Western Reserve University, the MetroHealth System, and the Cleveland Clinic. Our unique dual site (Cleveland Clinic & MetroHealth) program boasts over 300 successful graduates who currently practice in academic and community settings. Twenty to thirty percent of our graduates pursue fellowship training after graduation. Cleveland Clinic became an ACGME approved second site for our program in 1998. We are a categorical three year program.
Cleveland Clinic main campus Emergency Department cares for approximately 60,000 patients annually. Our residents spend one third of their overall ED time in the Main Campus ED. They gain exposure to a wide variety of patients with diverse, complex medical conditions:
Medically and surgically complex patients come to our world-renowned tertiary referral center, including those seeking care at the Sydell and Arnold Miller Family Heart, Vascular & Thoracic Institute. Cleveland Clinic is recognized in the U.S. and throughout the world for its expertise and care. Its heart center is also nationally ranked and recognized as the global leader in cardiovascular care. Our residents also benefit from daily exposure to patients presenting with complicated oncologic, neurologic and transplant-related emergencies.
A local, urban neighborhood population offers unique challenges and opportunities for personal growth as compassionate providers.
International patients with complex medical conditions.
A large community/suburban patient base that reflects the Cleveland Clinic's evolution and growth in Northeast Ohio.
Opportunities for involvement with Event Medicine, ED Observation, and exposure to free-standing emergency department practice at our regional sites.
Our residents are afforded graded levels of responsibility, and advance as second and third year residents to manage resuscitation of our most ill patients. They are supported by over 40 board certified Emergency Medicine faculty with publication/research/teaching interests, including Geriatric Emergency Medicine, Pediatric Emergency Medicine, Quality and Patient Safety, Critical Care, EMS, and ED Ultrasound. We maintain a minimum ratio of 1:1 attending physician to Emergency Medicine resident on a 24/7 basis. Our residents with academic focus also take an integral role in the teaching and mentoring of medical students in the ED.
The Emergency Medicine residency training experience we offer in the Cleveland Clinic is both complementary and supplementary to the unparalleled experience at the MetroHealth System, a Level One Trauma and Burn Center, and home to one of the busiest aeromedical transport programs in the country. We have a strong, collegial working relationship with our friends on the MetroHealth faculty, and together form a complement of over 75 experienced Emergency Medicine specialists.
Please feel free to contact us for more information.
Warm regards,
John Queen, Jr., MD
Associate Residency Program Director
Case Western Reserve University/MetroHealth System/Cleveland Clinic
Emergency Medicine Residency Program
Contacts
John Queen, Jr., MD – Associate Residency Program Director, QUEENJ@ccf.org
Sandy Najarian, MD – Program Director, snajarian@metrohealth.org
Courtney Smalley, MD – Assistant Residency Program Director, SMALLEC@ccf.org
Matthew Kostura, MD – Assistant Residency Program Director, KOSTURM@ccf.org
Arteshia Hill – Administrative Program Coordinator, HILLA4@ccf.org, 216.445.4590
Katie Shergalis – Residency Coordinator, kshergalis@metrohealth.org, 216.778.5088
Diversity & Inclusion
Discover the role diversity and inclusion plays at Cleveland Clinic and at its Graduate Medical Education program, as well as our diversity and inclusion efforts.
Learn More
About the Program
About the Program
We are excited to have a large number of quality applicants every year and are happy that you are considering our residency program. Our residency is shared with the MetroHealth System, the busiest Level 1 Trauma Center in northeast Ohio. Cleveland Clinic main campus is home to the 3rd busiest ED in the county and our hospital is ranked as the No. 1 hospital in the state of Ohio and the 4th overall ranked hospital in the entire nation according to U.S. News & World Report. Our Emergency Department is currently undergoing a multi-million dollar renovation which is on schedule to be completed in September, 2023. This will help keep us at the forefront of state of the art emergency medical care.
Our faculty are dedicated to teaching and mentoring. Numerous faculty members have won awards for teaching and advocacy. We have doctors that are current and past Presidents of the Ohio Chapter of American College of Emergency Physicians, including the current President, Dr. Bryan Graham. Others are active in AAEM, SAEM, and on the editorial staff for publications such as Emergency Medicine News and the Journal of Emergency Medicine.
Our didactics are second to none, providing resident education via multiple educational models including small group sessions, grand rounds lectures, flipped classrooms, simulation, and hands on skills sessions. Guest lectures include both locally and nationally recognized Emergency Medicine Clinicians. Our Emergency Department has been running the Cleveland Clinic Cadaver Lab since it was created in 2015, offering residents opportunities to practice both common and rare ED procedures. We regularly incorporate simulation cases into resident education.
Cleveland Clinic has a state of the art Simulation and Advanced Skills Center (SASC) offering high fidelity simulations to focus on teamwork and procedural skills as an integral part of resident and student training. The simulation center is located in the beautiful Stanley Shalom Zielony Plaza.
Our Program Highlights
Training at both residency sites offers a diverse patient population with complex high acuity patients preparing residents to take care of "whoever comes through the door."
Newly renovated state-of-the-art 72 bed emergency department at Cleveland Clinic and 90 beds at MetroHealth's Level 1 Trauma Center ED.
Cleveland Clinic medically complex high acuity patients:

Overall admission rate of 32% (Approximately ¼ of which are ICU admissions).

Longitudinal Pediatric care at both Cleveland Clinic and MetroHealth EDs.
Comprehensive longitudinal ultrasound program at both sites.
Residency education tracks for EMS, Sports Medicine, Critical Care, Medical Education, and Ultrasound.
Outstanding Emergency Medicine Board Certified faculty.

Many faculty are fellowship trained in Critical Care, Sports Medicine, EMS, Ultrasound, and Education.
Our faculty also hold leadership positions at both hospitals and with state and national emergency medicine organizations.

Generous stipend for attendance of national and state emergency medicine conferences for all third year residents and other opportunities for attendance at CORD EM and other conferences.
More than 60 peer reviewed publications in the past three years with ample opportunities for resident participation.
Superb weekly resident didactic conferences.
Opportunities to teach students from CCLCM, CWRU, as well as visiting Acting Internship Students.
180,000 patients treated per year at both EDs combined, plus additional volume at multiple freestanding and affiliated hospital emergency departments.
Over 1,000 inpatient beds at Cleveland Clinic Main Campus and over 700 beds at MetroHealth System.
Residency support facilities at both Cleveland Clinic and MetroHealth.
Excellent employee benefits.
More Information
Follow us on Twitter: MH/CCF/CWRU EM Residency @MetroHealth_EM.
Follow us on Instagram: MH/CCF/CWRU EM Residency @metrohealth_em.
Application Process
Application Process
Applications are accepted only through the Electronic Residency Application Service (ERAS®). Our interview process is easy and at the moment conducted virtually to all applicants that receive an invitation.
Please note that we participate in the National Residency Matching Program (NRMP).
Requirements for Application
Completed ERAS Application, Including:

USMLE Step 1 and USMLE Step 2 scores

Curriculum Vitae
Personal Statement
Medical School Performance Evaluation (MSPE)
Three letters of recommendation

At least one letter must be written for clinical experiences in an emergency medicine rotation using the SLOE format.
Two letters from two different emergency medicine rotations using the SLOE is preferred.
Each letter of recommendation must be dated, signed, and on letterhead or in the SLOE format. Date of the letter of recommendation must be within one year of starting residency. For example, a resident starting July 1, 2024 must have letters dated no earlier than July 1, 2023.
If you need help with an application or if you have any questions, please do not hesitate to contact our residency coordinator, Katie Shergalis, at 216.778.5088 or email kshergalis@metrohealth.org, or Artesia Hill, the Cleveland Clinic Administrative Program Coordinator at 216.445.4590 or email hilla4@ccf.org.
Clinical Rotations
Clinical Rotations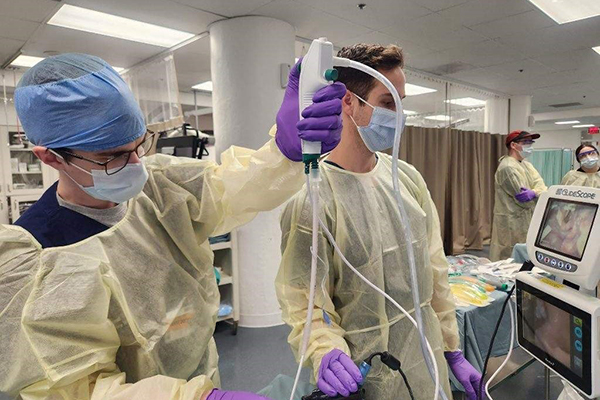 Our residency program offers hands-on training in a research-supported, immersive environment. Residents gain exposure to a diverse patient population during their ED blocks with shifts at both Cleveland Clinic Main Campus and MetroHealth Emergency Departments. Additionally, residents are well-supported during off-service rotations to gain in-depth knowledge of Emergency Medicine subspecialities and procedural skills.
Emergency Medicine Year 1
Objectives:
Orientation to get our residents off on to a great start, including the cornerstone series, Police Academy and Fire School training.
Focus on acquiring skills and sound knowledge base.
Gain broad exposure to principles and practice of emergency medicine.
Receive instruction by working directly with attending physicians in the Emergency Department.
| | |
| --- | --- |
| Emergency Medicine (1/3 Cleveland Clinic & 2/3 MetroHealth) | 24 weeks |
| Medical Stepdown Unit (MetroHealth) | 4 weeks |
| Anesthesia (Hillcrest/Cleveland Clinic) | 4 weeks (1 week vacation) |
| Ultrasound in Emergency Medicine (MetroHealth) | 4 weeks (1 week vacation) |
| Pediatric Emergency Department (Cleveland Clinic Fairview / Hillcrest EDs) | 4 weeks |
| Neuro ICU (Cleveland Clinic) | 4 weeks |
| OB (MetroHealth) | 4 weeks (1 week vacation) |
| Trauma Surgery (MetroHealth) | 4 weeks |
Emergency Medicine Year 2
Objectives:
Focus on critically ill and injured patients in the Emergency Department.
Focus on development of critical care and lifesaving skills on off-service rotations.
| | |
| --- | --- |
| Emergency Medicine (1/3 Cleveland Clinic & 2/3 MetroHealth) | 36 weeks (3 weeks vacation) |
| Pediatric ICU (Cleveland Clinic) | 4 weeks |
| Medical ICU (MetroHealth) | 4 weeks |
| Cardiac ICU (MetroHealth) | 4 weeks |
| Elective | 4 weeks |
Emergency Medicine Year 3
Objectives:
Focus on issues unique to emergency medicine.
Directly manage critically ill and/or injured patients.
Learn direction and management of patient flow in the Emergency Department.
Job Placement assistance and Fellowship Application for those going on with additional training.
| | |
| --- | --- |
| Emergency Medicine (1/3 Cleveland Clinic & 2/3 MetroHealth) | 40 weeks |
| Aeromedical Medicine | Longitudinal |
| Toxicology/Administration | 4 weeks (1 week vacation) |
| Community | 4 weeks (1 week vacation) |
Teaching Faculty
Teaching Faculty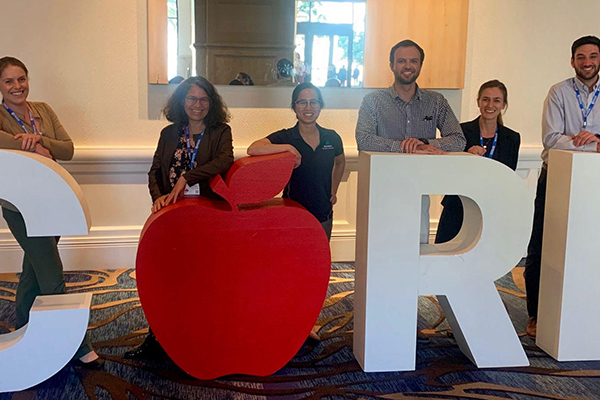 Residency Leadership
Bradford Borden, MD
Department Chair
Steve Meldon, MD
Academic Chair
Sandy Najarian, MD
Program Director - MetroHealth
John Queen, MD
Associate Program Director - Cleveland Clinic
Matthew Kostura, MD
Assistant Program Director - Cleveland Clinic
Courtney Smalley, MD
Assistant Program Director - Cleveland Clinic
Arteshia Hill
Administrator Program Coordinator
Katie Shergalis
Residency Coordinator
Core Faculty
Steven Dorsey, MD
Assistant Medical Director Main Campus ED
Matthew Kostura, MD
Assistant Program Director
Stephen Meldon, MD
Co-director Geriatric ED
John Queen, MD
Associate Program Director
Courtney Smalley, MD
Assistant Program Director, Ultrasound Director
Teaching Faculty
Current Residents
Current Residents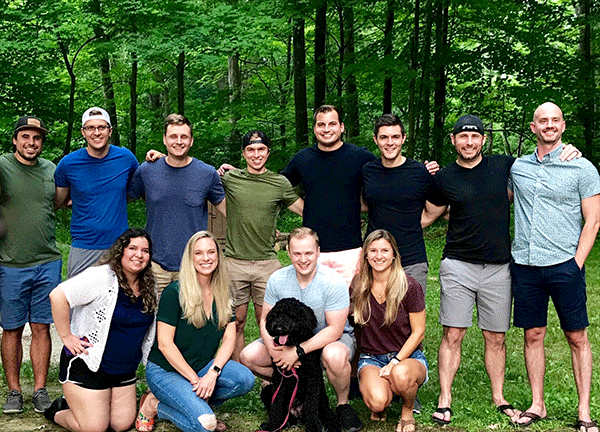 Class of 2024
Hayley Eichenlaub, DO
Ohio University
Kirsten Schulte, DO
WV School of Osteo Medicine
Dustyn Whitesel, MD
University of Cincinnati
Daniel Boyes, MD
Indiana University
Blaine Concannon, MD
NEOMED
Ryan Edelbrock, MD
NEOMED
Lucia Guerrero, MD
Baylor College
Jason Kleppel, MD
University of Toledo
Sam Perry, MD
Wright State
Steffen Simerlink, MD
Ohio State University
Mitch Skinner, MD
University of Cincinnati
Nick Srnick, MD
NEOMED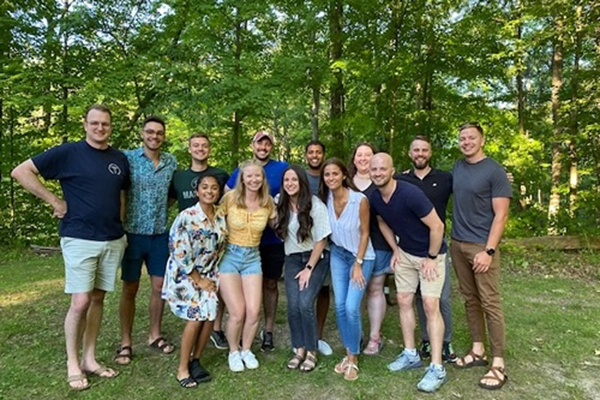 Class of 2025
Aaron Cain, DO
Ohio University
Neal Carr, MD
Case Western Reserve University
Matthew Carvey, MD
St. George's University
Paul Dreher, MD
Case Western Reserve University
Austin Hillman, MD
Rush Medical College
Jennifer Taylor, MD
University of Cincinnati
James O'Hora, MD
University of New Mexico
Tia Rahman, MD
University of Toledo
Catherine Rowbottom, DO
Ohio University
Hannah Seyller, MD
University of Illinois
Palguna Thalla, MD
University of Toledo
Elda Tutic, DO
Lake Erie College
John Zucal, MD
Wright State University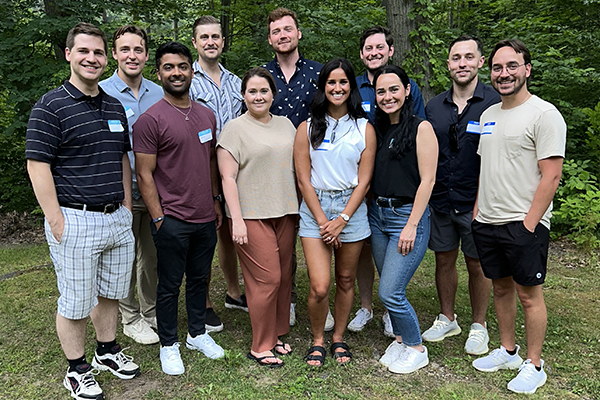 Class of 2026
Elissa Bailey, MD
St. George's University
John Bennison, DO
Ohio University
Josh Coovert, MD
NEOMED
Hayley Drlik, MD
NEOMED
Nikhil Grandhi, DO
University of Pikeville - Kentucky
Halle Kotchman, MD
Case Western Reserve University
Joey Lenkey, MD
Indiana University
Eric Lewis, DO
Lake Erie College
Jacob Mehalik, DO
Alabama College
Marissa Murthy, DO
Ohio University
Scott Spalding, DO
Touro University of Nevada
Kinda Sweidan, MD
American University of Beirut
Matt Youngman, DO
Kansas City University
Chief Residents
Chief Residents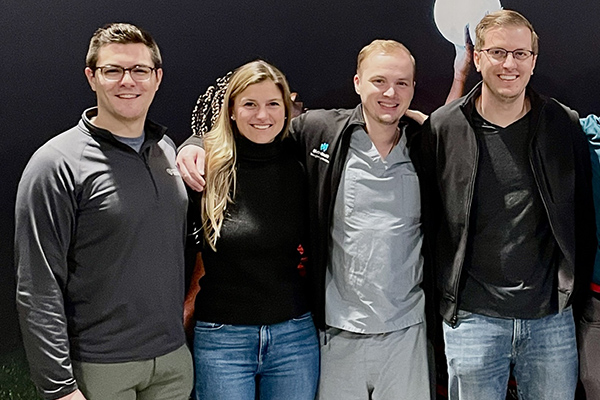 Welcome to the MetroHealth/Cleveland Clinic Emergency Medicine Residency Program!
Our program is unique because of our dual sites. Our shifts at the Cleveland Clinic are some of the most exhilarating, though provoking, and educational shifts in our residency. Cleveland Clinic has been recognized as the #2 hospital in the nation and the #1 hospital for cardiac care. We see rare pathology and diseases multiple times each shift.
We gain extensive knowledge and experience with left ventricular assist devices and the complications that can occur. We treat post- transplant patients after their heart, lung, bone marrow, or small intestine transplants, to name a few. We care for children with rare congenital abnormalities and gain experience in resuscitating these children when they come to our Emergency Department and when we rotate in the Pediatric ICU.
Outside of the ED we also rotate in the Neurology ICU where many of us have treated patients with anti-NMDA encephalitis, Creutzfeldt-Jakob disease, and hemorrhagic and ischemic strokes. We rotate at the Cleveland Clinic regional hospitals for experiences in anesthesia and pediatric emergency medicine.
Our rotations and shifts in the Emergency Department at Cleveland Clinic are an invaluable portion of our residency. Our patients come from all over the world to see us in our Emergency Department. These complex patients start their journey towards receiving care in our department when they have outgrown the resources of their local hospital.
Come train here, learn from our world-renowned staff, and when the rare patient presents to your Emergency Department you can be confident that you can truly handle anything.
Talk to you soon!
Your 2023-2024 Chiefs,
Ryan, Sam, Kirsten, and Steffen
Resident Life
Resident Life
Cleveland is a wonderful place to live, train, and raise a family in addition to being a very affordable city. Cleveland hosts professional sports teams in football, baseball, and basketball, a world renowned orchestra, excellent museums, and a bustling theater district.
Our residents work hard, caring for some of the most critical and complex emergency patients in Cuyahoga County, and as a reward, they can relax, enjoy the outdoors, catch a game, or a show.
If food is important to you, Clevelanders will tell you we are a great city for restaurants. Time Magazine ranked Cleveland #7 for great places to eat, citing the historic West Side Market.
Driving and commuting in Cleveland is easy, thanks to a robust and well planned highway system. In addition, our two hospitals are only five miles apart from each other. As a resident with us, you will not spend too much time driving.
The four seasons are wonderful to experience. Not only will you learn to care for patients with seasonal problems, but our residents get to enjoy the outdoors with the full variety of what nature has to offer. Whether skiing or sledding in the winter, or swimming or boating in the summer, there is always something to do in the CLE.
Living in Cleveland
Living in Cleveland
Cleveland, an ethnically diverse, mid-sized city located on Lake Erie, features a host of cultural attractions, recreational activities, major sporting events and an exploding culinary scene. Cleveland is home to the second largest theater district in the U.S., a park system featuring 23,700 acres in 18 reservations, and is the birthplace of rock 'n' roll, home to the Rock & Roll Hall of Fame and Museum. Cleveland Clinic is located near the University Circle area, which is the cultural epicenter of Cleveland. This area features Severance Hall and the world-renowned Cleveland Orchestra, the Cleveland Museum of Art, several other museums, and Case Western Reserve University. Downtown Cleveland, home to all major sports venues and an exploding culinary scene, is approximately two miles from Cleveland Clinic's main campus.
Medical Students
Medical Students
Cleveland Clinic offers an ED rotation site for third year medical students at Case Western Reserve University (CWRU) and students at the Cleveland Clinic Lerner College of Medicine (CCLCM).