Overview
Overview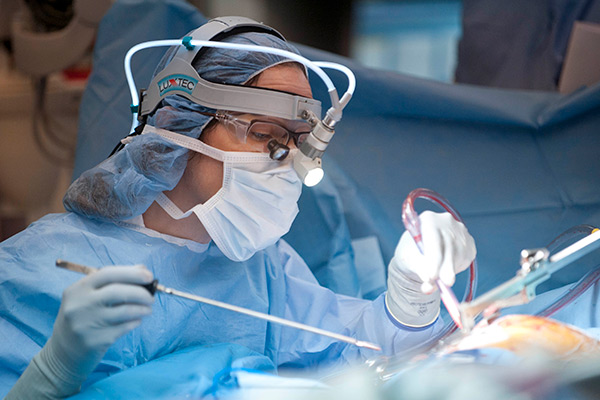 The Department of Cardiothoracic Anesthesia at Cleveland Clinic stands apart from many programs in the United States in terms of both quality and quantity. From a quantity perspective, the size of the clinical operations of Cleveland Clinic brings many unique opportunities within the scope of our clinical practice. These include a tremendous breadth and depth of clinical exposure for the anesthesia care team that includes both severity of patient clinical presentation and high clinical volumes. Both dimensions have helped to create a depth of clinical skill and expertise that is unique to Cleveland Clinic and would be hard to replicate in other programs.
The size of Cleveland Clinic's cardiovascular clinical mission predicts for a fairly large and specialized cardiothoracic anesthesia care model to meet the needs and demands of this nationally recognized dimension of Cleveland Clinic. The Department of Cardiothoracic Anesthesia has attracted some of the brightest and most accomplished cardiac anesthesiologists in the country. They bring a diversity of education and practice to the group that supports Cleveland Clinic's commitment to exceptional care of the patient, advancement of medical education and research, and preparation for health care issues in the 21st century.
Letter from the Chairman
Letter from the Chairman
On behalf of my colleagues in the Department of Cardiothoracic Anesthesiology, it is my distinct privilege to welcome you to our department! We are proud to be a part of Cleveland Clinic and recognized as the national leader in the clinical care of patients with cardiovascular disease. Our department is in unique equipoise: we belong to the Anesthesiology Institute (AI), but we work solely in the Heart & Vascular Institute (HVI). We collaborate with some of the most innovative cardiovascular and thoracic surgeons and specialists in the world in one of the most dynamic hospital systems in the country as noted by Newsweek.
This department has a proud history and celebrates the leadership of its two previous chairmen and giants in the field of cardiac anesthesia, Drs. Fawzy Estafanous and Norman Starr. Now, under the leadership of its Vice-Chair, Dr. Michael Licina, the department continues its remarkable clinical achievements, including our surgical outcomes in over 5800 heart, lung and vascular procedures, 4100 heart surgeries, 157 lung transplants, 140 robotic heart surgeries, and 120 heart transplants and ventricular assist devices over the past year. We accomplished all this work in tandem with the finest Certified Registered Nurse Anesthetists team in the country.
We are very fortunate to work in 16 technologically advanced ORs. Dr. Erik Kraenzler serves as the Director of the Cardiothoracic ORs in the HVI, and keeps our surgical and anesthesia environment up to date with the best equipment, ensuring that every patient receives the world-class care as advertised. Dr. Pierre de Villiers manages the OR staffing and matches anesthetic expertise and educational needs of the fellows with a dynamic surgical schedule. The continuum of excellence in patient care travels from the OR to our 76 bed ICU for cardiac, vascular and thoracic surgery patients. Dr. Eric Kaiser, as the CVICU Director, leads a team of anesthesia intensivists and acute nurse practitioners that emphasizes the value of the patient experience in addition to successful surgical outcomes.
We take great pride in our fellowship program, the largest program in the country accepting 16 fellows yearly under the direction of Program Director, Dr. Michelle Capdeville, assisted by Dr. Lee Wallace. Our staff performed over 1600 intraoperative TEEs this past year alone. This medical staff expertise is the reason why our echocardiography teaching program is the department jewel, and we are grateful to Dr. Andrej Alfirevic who administers this program to great acclaim from residents, fellows, and physicians visiting from other institutions.
Sustained excellence in patient care, in education, and in clinical research has its own rewards and is one of many reasons why the majority of our staff physicians and nurses start and end their professional careers in our department. We are in debt to Dr. Sergio Bustamante, Dr. Anand Mehta and Mrs. Stacey Swantek for chronicling our cultures of clinical excellence, of collaboration and collegiality, and innovation and learning on this web site. They have captured our love for professional growth and the spirit of generosity that weaves these cultures into a single fabric known as the Department of Cardiothoracic Anesthesiology. Thank you and welcome!
Michael O'Connor, DO, MPH
Department Chair, Cardiothoracic Anesthesiology
History
History
The history of cardiothoracic anesthesia at Cleveland Clinic begins in 1969 with the first saphenous vein aortocoronary bypass surgery performed by Dr. Rene Favaloro. Immediately following that landmark surgical achievement, the Section of Cardiothoracic Anesthesiology was established in October by Dr. John Viljoen. During the pioneering days of cardiothoracic surgery, Cleveland Clinic anesthesiologists monitored central venous pressure and left atrial pressure using water manometers, and the administration of intravenous nitroglycerin (produced by dissolving tablets in sterile water in the operating room) and nitroprusside, neither of which were available commercially.
With an increase in demand for bypass surgery and more cardiac surgery operating rooms, Cleveland Clinic's Board of Governors in 1970 granted Department status to Cardiothoracic Anesthesiology, and appointed Dr. Fawzy G. Estafanous as the first Chairman.
Cardiothoracic anesthesiology constantly evolves to parallel changes in cardiac surgery procedures, such as those for heart failure and complex valve procedures.
The Department of Cardiothoracic Anesthesiology is housed in state-of-the-art facilities, which opened in October 2008. The balance of cases are combined CABG and/or valve and/or aortic procedures. Case complexity and acuity has continued to increase along with case volume.
Our group of 27 cardiothoracic anesthesiologists and 15 certified registered nurse anesthetists are involved in increasing numbers and types of "hybrid" cases that feature fluoroscopic and angiographic techniques which are helpful in confirming diagnoses and monitoring intraoperative results. The anesthesiologists involved with these cases are faced with the anesthetic implications related to remote monitor location, and technical challenges involving radiation, large fluoroscopy machines and confined space. Because the trend in cardiac surgery is to minimize the impact on the patient and to decrease the hospital stay, more novel and experimental procedures are introduced. For example, robotic surgery and transfemoral or transapical aortic valve replacement surgeries are becoming frequent. The majority of the cardiac procedures performed utilize intraoperative transesophageal echocardiography (TEE); that challenge is met by the Cardiothoracic Anesthesiologists who are certified in perioperative echocardiography and also receive advanced training in echocardiography through collaboration with the Department of Cardiology.
What does the future hold for the Department of Cardiothoracic Anesthesiology? With the increasing age of the general population, and the still remarkable prevalence of ischemic and valvular disease, the number of cardiac surgery cases will continue to grow. The number of cases is paralleled by increased complexity requiring a constantly evolving knowledge base and range of techniques. Minimally invasive and hybrid procedures require adaptability, an innovative spirit in clinical management, and are supported by evidence-based knowledge.
Leadership
Leadership
Department Leadership
Directors
Section Heads
Education
Education
Our Cardiothoracic Anesthesiology staff is committed to education both inside and outside the operating room and CVICU. Didactics changed this year with more emphasis on case-based learning, simulation and content experts. The breadth of case exposure and educational offerings has made our Cardiothoracic Anesthesiology fellowships a much sought-after training program.
Contact
Contact
Michael O'Connor, DO, MPH - Chairman - Department of Cardiothoracic Anesthesiology
Michael Licina, MD - Vice Chairman - Department of Cardiothoracic Anesthesiology
Colleen Koch, MD, MS, FACC - Vice Chairman Research and Education - Department of Cardiothoracic Anesthesiology
Michelle Capdeville, MD - Program Director, CT Anesthesia Fellowship
Jean-Pierre Yared, MD - Medical Director of the Cardiothoracic Intensive Care Unit
Carol Ratcliff, CRNA - Chief Nurse Anesthetists
Elizabeth Murvine, BS, RRT - Manager, Respiratory Therapy
Kathleen Ridella, MSN, ACNP - Manager, Acute Care Nurse Practitioners
Laura Groselle, MS - Section Head, Clinical Engineering / Department of Cardiothoracic Anesthesiology