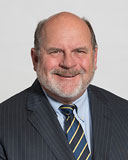 Mark Stevens is retired from his position as a Partner in the Private Company Services division of PricewaterhouseCoopers, a multinational professional services firm. Mr. Stevens had worked for PricewaterhouseCoopers for more than 24 years at the time of his retirement in 2016. He has spent 35 years in both industry and public accounting, having served both privately held and publicly traded companies throughout the course of his career.
Mr. Stevens was a member of the American Institute of Certified Public Accountants and the Ohio Society of Certified Public Accountants. He served as the Treasurer for the Ronald McDonald House Pro-Am Committee and is active in numerous cancer-related fundraising activities.
Mr. Stevens graduated with a Bachelor of Arts degree in accounting from Baldwin Wallace University in 1981.
Cleveland Clinic – Directors
First Elected to Cleveland Clinic Board in 2017
Board Committees: Audit (Vice Chair)
Business Relationships with Cleveland Clinic: PricewaterhouseCoopers provides tax and consulting services to the Cleveland Clinic. Mr. Stevens did not participate in the negotiation or provision of such services prior to his retirement from PricewaterhouseCoopers and continues to have no involvement following his retirement.