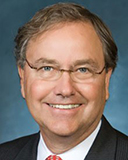 Harold "Lee" Scott, Jr. serves as a member of the Senior Advisory Council Board for BDT Capital. Previously, he served as Walmart's President and CEO from 2000 to 2009. Mr. Scott is widely credited with reinvigorating Walmart's mission and transforming it into a respected corporate leader on many of the major issues facing today's increasingly complex world. In 1979, Mr. Scott joined Wal-Mart as an assistant director of the private truck fleet. He quickly rose through the ranks of Logistics to become the division's executive vice president in 1993. Two years later, he transitioned to Merchandise as that division's executive vice president. In 1998, Mr. Scott was promoted to president and CEO of Wal-Mart U.S. One year later, he was named chief operating officer and vice chairman of Wal-Mart.
Mr. Scott was named in the list of "The 25 Most Powerful People in Business" by Fortune magazine in 2007 and was honored as one of "The World's 100 Most Influential People" by TIME magazine in 2004 and 2005.
Mr. Scott serves on the boards of Pilot Travel Centers, Enterprise Holdings, Weber-Stephen Products and Tory Burch. He is also Executive Partner of Solamere Capital in Boston, MA. He served as a Director at Wal-Mart Stores Inc. from 1999 to June 6, 2014. He served as an Independent Director of The Goldman Sachs Group, Inc. from 2010 to 2011.
Mr. Scott received his Bachelor's of Science in business from Pittsburg State University in Pittsburg, Kansas. In 1995, the University named him an outstanding alumnus. Mr. Scott has also completed executive development programs at Penn State University and Columbia University.
Cleveland Clinic - Director
First Elected to Cleveland Clinic Board in 2016
Board Committees: Finance