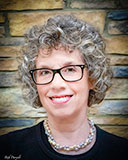 Pamela Miller has been a Medina Hospital Board member for 25 years, serving as Chair since 2009. She is a graduate of Northwestern University. A Medina resident for 37 years, she retired in 2013 from her business of 23 years, Gramercy Gallery, Inc. Previously, she spent nearly 20 years with WDBN-FM.
She served in elected positions as a Medina City Councilwoman At-Large and President of Council, and prior to that, on the Medina City School Board. The former Chair of the Medina County Democratic Party, she is currently Chair of the Medina County Board of Elections.
Active for many years in numerous community organizations, Miller was honored with Leadership Medina County's Excellence in Public Service Leadership Award in 2012.
Cleveland Clinic – Director
First Elected to Cleveland Clinic Board in 2009
Board Committees: Government and Community Relations