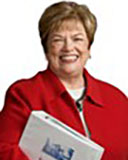 Betty Kemper is a Registered Nurse, President of The Kemper Company and Managing Partner of Kemper House, a residential care facility specifically designed for individuals with memory impairments such as Alzheimer's disease. Since 1994, she has led her own firm in providing facility development and care management for seniors. In addition to management services, The Kemper Company offers development and consultant services that incorporate expertise in senior housing and health care, geriatric nursing, continuous quality improvement, and marketing to older adults.
Prior to founding The Kemper Company, Mrs. Kemper was president and CEO of The Eliza Jennings Group. During her tenure, the organization grew from a local, high-quality provider of services to a large, regional corporation providing multi-dimensional services and programs in wellness, health care, and housing for the elderly. Among her achievements at The Eliza Jennings Group was her role in developing The Renaissance, the first continuing care retirement community in Northeast Ohio at the time.
She is also involved in urban planning and development. She completed an historic renovation of the first chewing gum factory in America, which was an abandoned "five-story" building in Cleveland, Ohio. She is currently developing Chicle Townhomes adjacent to The Chicle Building.
Mrs. Kemper is a director of the Western Reserve Historical Society, a volunteer with the Alzheimer's Association and the Vice President of Pilgrim St. Paul Church in Lakewood, Ohio. She previously served on the board of directors for the Art on Wheels Project. She is a board member and Multi-Family Chairperson for the Ohio Housing Finance Agency, representing all senior housing in the State of Ohio, and a member of the Business Advisory Board for Ohio Northern University.
In 2006, Mr. and Mrs. Kemper received the Art of Caring Award from the Community West Foundation for their inspirational philanthropy and true commitment to charitable giving in the Cleveland community.
Cleveland Clinic – Director
First Elected to Cleveland Clinic Board in 2020