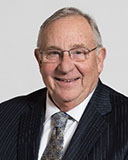 Mr. Benz is the Executive Advisor at Ciuni & Panichi assisting with the firm's strategic planning and business development efforts. In addition, he is advising: Falls River Group, LLC, an investment banking firm; Spire Institute, an athletic complex in Ashtabula County; Surety Title Agency, Inc. in Cleveland and Cuyahoga Community College, where he is an executive in residence. He is the Chairman of the Board of Trustees of South Pointe Hospital.
Formerly, he was the President and CEO of United Way of Greater Cleveland, one of the largest United Way programs in the nation. He also serves as the Executive Vice President of the Greater Cleveland Growth Association and Executive Director of the Council of Small Enterprises (COSE). He was instrumental in bringing the Rock and Roll Hall of Fame and Museum to Cleveland and served as the museum's director.
Mr. Benz serves on the Boards for the Cleveland Leadership Center and the City of Cleveland/Cuyahoga County Workforce Investment Board. He is also a Director of Ingenuity and The Sherwick Fund and Vice Chairman of ReCreation.
Cleveland Clinic - Director
First Elected to Cleveland Clinic Board in 2018