Did you find a lump in your testicle? What about swelling and pain in your groin or gut? Or does it seem like your testicles are shrinking?
---
When things seem off, it's time to get them checked out. And if you already did — and have learned you have testicular cancer — it's important to remember to breathe. The good news? Testicular cancer is highly treatable — and its survival rates are among the highest of all cancers. But even so, we know it's probably a lot to take in and process. You're likely feeling anxious and worried about what's next, and that's perfectly normal.
At Cleveland Clinic, our healthcare providers understand that a cancer diagnosis comes with mixed emotions, stress and fear about your future. Our expert, personalized testicular cancer care keeps the whole you in mind, treating your physical and emotional needs. We're your cancer partner and will guide you through diagnosis, treatment and recovery with compassion and understanding.
Why Choose Cleveland Clinic for Testicular Cancer Care?
Demonstrated expertise:
Our highly-skilled providers care for thousands of cancer patients each year. They have unique expertise in managing complex conditions and recurrent urologic cancers with surgery, medications and minimally invasive treatments, like retroperitoneal lymph node dissection (RPLND), which helps speed up recovery. Meet our team.
Research and innovation:
At Cleveland Clinic, we're known for our research and clinical trials. Our cancer experts have pioneered many treatment methods for urologic cancers and have experience in nerve-sparing surgery that saves your ability to ejaculate in more than 95% of testicular cancer patients.
National recognition:
U.S. News & World Report consistently ranks Cleveland Clinic a top hospital in the nation. Newsweek has also named us a top hospital in the world.
Virtual visits:
We understand treatment can be hard, and you might not feel well enough for an in-person appointment. That's why we offer virtual visits, where you can talk with your providers from the comfort of home using your smartphone, tablet or computer.
Testicular Cancer Diagnosis at Cleveland Clinic
We start by getting to know you. At your first in-person appointment, your provider will ask about your symptoms, talk with you about your medical history and do a physical exam that focuses on your testicles and lymph nodes. Then, they'll do some tests to help confirm a diagnosis and help them figure out how big your tumor is and if your cancer has spread to your organs or lymph nodes. This is called cancer staging.
Imaging tests
All of these tests allow your providers to get a better idea of what's going on inside your testicles — and the rest of your body — by providing pictures for them to take a closer look.
Ultrasound: This test uses high-energy sound waves to check for solid masses (tumors) and abnormal tissues which might be cancer.
CT scan: Using X-rays, this scan creates layered pictures of your insides to give your provider a closer look at your organs. For testicular cancer, they might do scans of your chest, abdomen (belly) and pelvis to see if the cancer has spread to your lungs, stomach, liver, pancreas and other organs.
MRI: An MRI uses radio waves and magnets to take pictures inside your body. It lets your provider see if the cancer has spread to your brain and spine.
Biopsy
If imaging tests show anything abnormal in your testicles, your provider may do a biopsy. This could involve removing the affected testicle (inguinal orchiectomy) through a small cut (incision) in your groin. Then a pathologist at our lab will look at the tissue under a microscope to check for cancer cells.
Tumor marker tests
Your provider may also take a blood sample and test it to measure amounts of tumor markers — certain substances linked to different types of cancers, including ones for testicular cancer. If these markers are high, there's a good chance you have cancer. Other markers might show if the cancer has spread.
Getting a second opinion for testicular cancer
Testicular cancer is certainly not a diagnosis you want to hear. It can be unexpected, scary and overwhelming. But having the best cancer care team on your side is the first important step toward an excellent outcome. That's why at Cleveland Clinic, we believe in getting a second opinion. Our trusted and experienced testicular cancer specialists are here to help make sense of your diagnosis and give you advice on treatment options.
And we'll never do anything to harm your relationship with your provider if you reach out to us. We regularly offer second opinions for cancer diagnoses and work with other providers to make sure you get the best treatment.
We also know that cancer waits for no one. So as soon as you contact us, we'll work hard to get you in to see one of our specialists as soon as possible. Feeling in control of your care is important, and a second opinion can give you peace of mind knowing you're in the most capable compassionate hands as you navigate your cancer journey.
Meet our testicular cancer care team
At Cleveland Clinic, you'll have an experienced team of providers from different specialties helping you. They'll work with you to create a highly personalized care plan that takes your unique needs into account. Your providers could include:
Radiation Oncologists.
Radiologists (imaging specialists).
Pathologists (body tissue specialists).
Nurse practitioners.
Physician assistants.
Who Treat Testicular Cancer
Locations
Our healthcare providers see patients at convenient locations throughout Northeast Ohio and Florida.
Testicular Cancer Treatment at Cleveland Clinic
Once your care team has finished your exam and testing, they'll let you know for sure if you have testicular cancer. And if you do, they'll start working with you to design a personalized treatment plan. Depending on your cancer's stage and other factors, you might have surgery or a combination of surgery and other treatments. Throughout your treatment journey, you're providers will be there to answer all of your questions.
Testicular cancer surgery
Surgery is the most common treatment for testicular cancer. If your provider didn't already remove the affected testicle in a biopsy, they'll do an orchiectomy and remove the testicle through a cut in your groin.
They might also do a retroperitoneal lymph node dissection (RPLND) to remove the lymph nodes behind your abdomen to test them and see if any of the cancer has spread there. This minimally invasive procedure is also used to treat cancer in some cases.
Radiation therapy
This treatment uses high doses of X-rays to kill your cancer cells. Radiation therapy is most often used after surgery to keep your tumor from returning (recurring).
Chemotherapy
Chemotherapy uses a mix of drugs to destroy cancer cells and improve survival rates. Sometimes, providers will decide you might not need surgery and will do chemotherapy instead. This depends on the type of cancer you have. Or, they might have you do chemo after surgery or if your cancer has come back.
Fertility considerations
It's important to know that if your future plans include having biological children, you'll be referred to a fertility specialist before you start treatment for testicular cancer. Cleveland Clinic offers several options for sperm banking, which is the best way to keep your fertility intact.
Taking the Next Step
Surgery. Chemo. Radiation. You didn't expect to find yourself facing all of this, but here you are. It's a lot to digest, but you don't have to go through any of it alone. At Cleveland Clinic, you'll have the support of some of the world's best cancer providers on your side to help you tackle this challenging (but highly treatable) diagnosis. We're here to help you get back to feeling like yourself again.
Make an Appointment
Getting an appointment with Cleveland Clinic's testicular cancer experts is easy. We're here to help you get care.
---
Billing & Insurance
Manage your Cleveland Clinic account. Find billing information and financial assistance, plus FAQs.
---
MyChart
Securely access your personal health information at any time, day or night.
---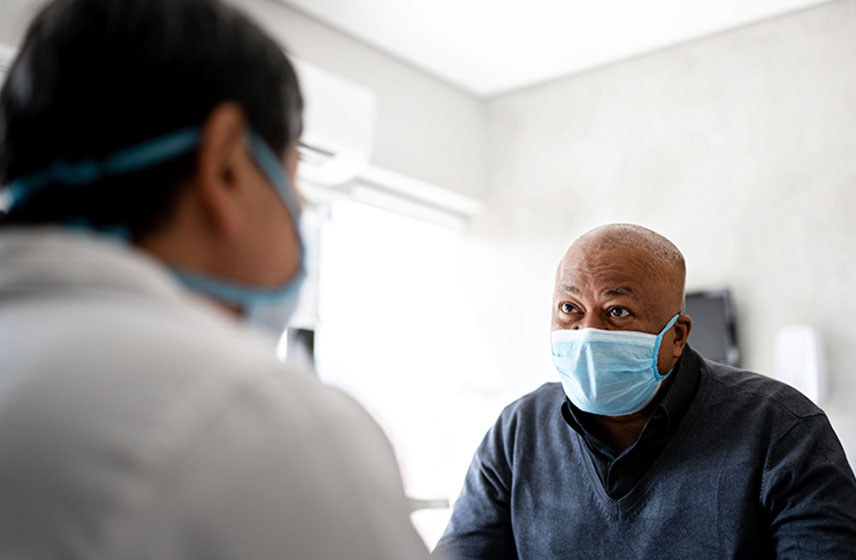 Survivorship
Learning you have cancer can be stressful, shocking and challenging. From the moment you get the news, you're a survivor. As you face the challenges that go along with cancer treatment and recovery — physical and emotional — we'll be right there with you.
At Cleveland Clinic, survivorship care is one part of your journey. We offer a wide range of services, resources, clinics and support groups to help with any physical, emotional, financial and spiritual needs you might have related to your cancer diagnosis. Lending a helping hand along the way, we want you to not only survive, but thrive on this journey and beyond.