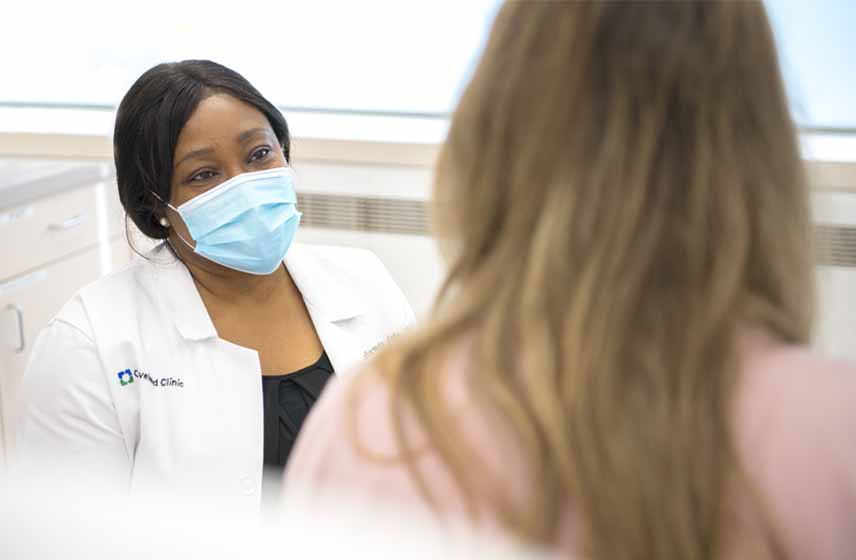 Retained Products of Conception
Fever, missed periods, heavy bleeding, pelvic pain. If you've recently been pregnant and are having any of these symptoms, something might not be right.
---
You may have retained products of conception (RPOC) — tissue left behind in your uterus after a vaginal birth, cesarean section, miscarriage or a terminated pregnancy. It's important to get these leftover tissues out as soon as possible, so you can feel good again and lower your chances of having trouble with any future pregnancies you may want.
You can count on the dedicated Ob/Gyn specialists at Cleveland Clinic for a quick diagnosis and personalized treatment. We take the time to get to know you and understand your health and fertility goals. Working together, we'll help you get the care you need.
Why Choose Cleveland Clinic for Retained Products of Conception Care?
Retained Products of Conception Diagnosis at Cleveland Clinic
The diagnosis process starts with a conversation. We want to hear what you've been feeling and your experience. Because the symptoms of RPOC are similar to other health issues you might have after a pregnancy, we may use these exams and the latest imaging tests to confirm a diagnosis:
Human chorionic gonadotropin (HCG) test: This blood test measures how much HCG hormone you have in your blood. You'll have high levels of HCG with RPOC.
Transvaginal ultrasound: Your provider puts an ultrasound probe covered with a plastic sleeve and lubricating gel into your vagina. This test looks for tissue masses in your uterus.
Color Doppler ultrasound: This ultrasound provides more detail than a transvaginal ultrasound by changing the sound waves into different colors to show the direction of blood flow. It can show if extra tissue in your uterus still has a blood supply.
Saline infusion sonography: This special type of pelvic ultrasound uses sterile fluid (saline) to gently expand your uterus so your provider can get a better look.
Hysteroscopy: Your provider puts a thin tube with a camera (hysteroscope) into your vagina. The camera takes pictures and sends them to a monitor. The pictures will show if there's RPOC in your uterus, if you have an infection or other problems.
Who Treat Retained Products of Conception
Retained Products of Conception Treatment at Cleveland Clinic
Our specialists are experts in treating different conditions that cause abnormal uterine bleeding, including RPOC. When possible, we use minimally invasive techniques so that your uterus stays healthy. And we'll always talk with you about any plans for future pregnancies to make sure we recommend the right treatment for you. Treatment options include:
Misoprostol: This medication can be given by mouth or through your vagina. It's the same drug that's used in pregnant women to start labor. It can also be used to trigger your body to force out RPOC.
Hysteroscopy: Often, if your provider does a hysteroscopy to diagnose RPOC, they may take out the extra tissue at the same time so you can avoid a second surgery. Our experts do thousands of hysteroscopies each year, making us experts in this procedure.
Dilation and curettage (D&C): This minor surgery removes whatever tissues are left in your uterus. Your provider dilates (opens) your cervix and uses a curette (small surgical tool) or suction to remove extra tissue.
Fertility Preservation
When treating RPOC, we always talk with you first about your wishes for any possible pregnancies. Most people who have RPOC treatment can still get pregnant and have a healthy pregnancy. If we think that treatment may impact your future fertility, we work with Cleveland Clinic's fertility center experts.
Taking the Next Step
When something doesn't feel right, chances are it isn't. If you've recently been pregnant and think you might have tissues left inside your uterus, it's important to see your healthcare provider right away. Our Ob/Gyn specialists can let you know what's going on and treat you quickly. Along the way, we'll be by your side — answering your questions and supporting you however we can.
Appointments
Getting an appointment with Cleveland Clinic retained products of conception experts is easy. We're here to help you get the care you need.
---
Billing & Insurance
Manage your Cleveland Clinic account. Find billing information and financial assistance, plus FAQs.
---
MyChart
Securely access personalized health information at any time, day or night.
---