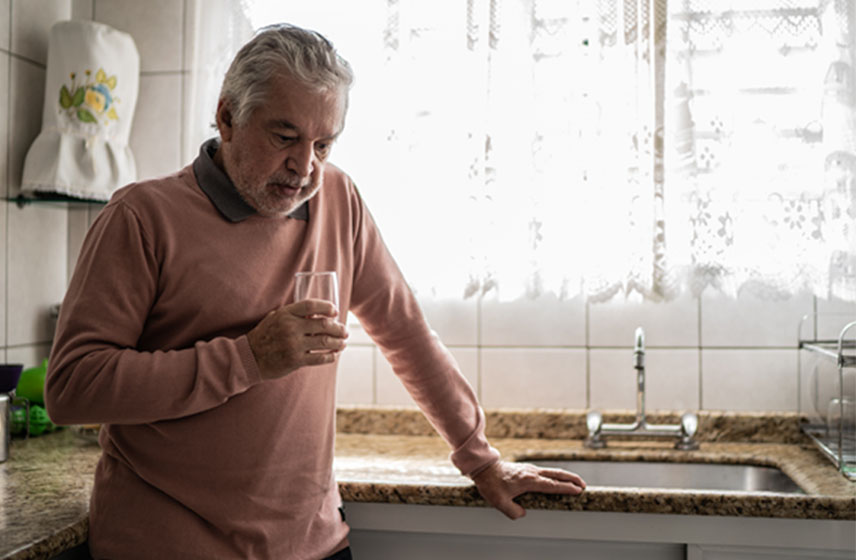 Chronic Obstructive Pulmonary Disease (COPD)
Does every breath you take feel like you're climbing a mountain? Or like you've run a marathon even though you just walked across the room?
---
With chronic obstructive pulmonary disease (COPD), even simple, everyday things — like climbing the stairs, carrying a laundry basket or getting dressed — can leave you huffing and puffing.
But with the right medication and lifestyle changes, you might be able to breathe easier. Cleveland Clinic's COPD specialists can help make the simple, everyday things simple again. We offer expertise, support and the resources you need to turn that huff and puff into a sigh of relief.
Why Choose Cleveland Clinic for COPD Care?
Patient-centered care:
Living with COPD can be frustrating and isolating. We want to help you stay as independent as possible during treatment. So we'll suggest lifestyle changes to reduce your symptoms and enhance your quality of life.
Comprehensive treatment:
Our programs provide well-rounded COPD care. From pulmonary rehabilitation to programs for quitting smoking, we're here to help you reach your health goals — and get your lungs working better.
Specialized equipment:
We offer a wide range of advanced tests to fully understand your COPD and its stage (how far along it is). Our tests include cardiopulmonary exercise testing, exhaled nitric oxide determination, high altitude simulation testing, transcutaneous carbon dioxide measurement and quantitative CT scan of your chest.
Innovation and research:
We're always researching better COPD treatments to help you live a longer, healthier life. With ongoing clinical trials, you may be able to get the newest treatments before they're widely available.
Virtual visits:
Not all appointments need to be in person. Virtual visits let you meet one-on-one with your providers from the comfort of home. You can talk about your progress and concerns using a smartphone, tablet or computer.
National recognition:
Cleveland Clinic is a trusted healthcare leader. We're recognized in the U.S. and throughout the world for our expertise and care.
COPD Diagnosis at Cleveland Clinic
At your appointment, your healthcare provider will take your medical history and do a physical exam. Smoking is a big risk factor for developing COPD, so your provider will want to know if you smoke or have smoked in the past. They'll also ask if you have other typical COPD symptoms, like a cough that won't go away or if you cough up phlegm (excess mucus), if you get short of breath, wheeze or have tightness in your chest.
You may need more tests to see how your lungs are working. These tests help your provider know what stage your COPD is in (how far along it is) and help them plan your treatment goals. Your provider may order a:
Alpha 1-antitrypsin blood test.
Lung volume test.
6-minute walk test.
Oxygen desaturation study for qualification.
Meet Our COPD Team
At Cleveland Clinic, you'll work with a skilled care team of healthcare providers from different specialties. Depending on your needs, this team could include:
Pulmonologists (lung specialists).
Cardiologists (heart specialists).
Respiratory therapists.
Nurse practitioners.
Physician assistants.
Locations
Our healthcare providers see patients at convenient locations throughout Northeast Ohio and Florida.
COPD Treatment at Cleveland Clinic
COPD is a chronic (lifelong) condition. But we can slow it down with the right treatment, helping you feel your best and stay independent and active. Our providers will support you with personalized therapies and rehabilitation to reduce your COPD symptoms.
As we design your personalized treatment plan, we'll go over your test results and talk with you about your goals, health history and COPD stage. Then we'll move forward with the best treatment for you.
Lifestyle changes
Smoking causes about 90% of COPD cases. So kicking a smoking habit (if you have one) is the best thing you can do to slow down COPD. We'll give you the tools and support you need to become — and stay — smoke-free.
Besides making it tough to breathe, COPD can make it hard to clear your airways of things that irritate them. And that increases your risk for infection. We'll make sure your vaccinations (shots) are current. And we'll give you environmental hygiene tips to help prevent lung infections like pneumonia.
Medication
Your provider may prescribe medication for your COPD symptoms. Medications could include a combination of bronchodilators and steroids to open your airways and reduce inflammation. Sometimes, biological treatments, phosphodiesterase inhibitors and long-term, low-dose macrolide therapy may also improve your symptoms and quality of life. You may take these as needed or daily, depending on how bad your COPD is. You and your care team will talk about the right medication for you.
Pulmonary rehabilitation
Our respiratory therapists help you stay as independent as possible with a pulmonary rehabilitation program that's just right for you. During pulmonary rehab, you'll work with our specialized therapists to:
Breathe easier.
Gain strength through exercise.
Understand your medications and oxygen, including when and how to take them.
Reduce symptoms of anxiety and depression.
Become more independent in daily activities.
Reduce your need for hospitalization.
Surgery and procedures
Surgery may be an option if other treatments no longer manage your COPD symptoms. But only a small number of people have the type of COPD that surgery can help. You and your provider will talk about if one of these procedures is right for you:
Bullectomy, to remove air pockets from your lungs.
Lung volume reduction (LVRS).
Endobronchial valve therapy.
Ongoing care
COPD is a progressive disease, so we'll keep a close eye on you to see how you're doing. You'll check in with your care team every few months or when you notice your symptoms have changed. By staying on top of your progress, we can react quickly to changes in how your lungs are working to keep you breathing easier.
Taking the Next Step
Always feeling like you can't catch your breath is no way to live. And coping with COPD can be challenging. But learning how to manage it with medicines and lifestyle changes is an important first step toward taking back control of your health. At Cleveland Clinic, we're here to help you breathe easier and keep on living as independently as possible.
Make an Appointment
Getting an appointment with Cleveland Clinic COPD experts is easy. We're here to help you get the care you need.
---
Billing & Insurance
Manage your Cleveland Clinic account. Find billing information and financial assistance, plus FAQs.
---
MyChart
Securely access your personal health information at any time, day or night.
---