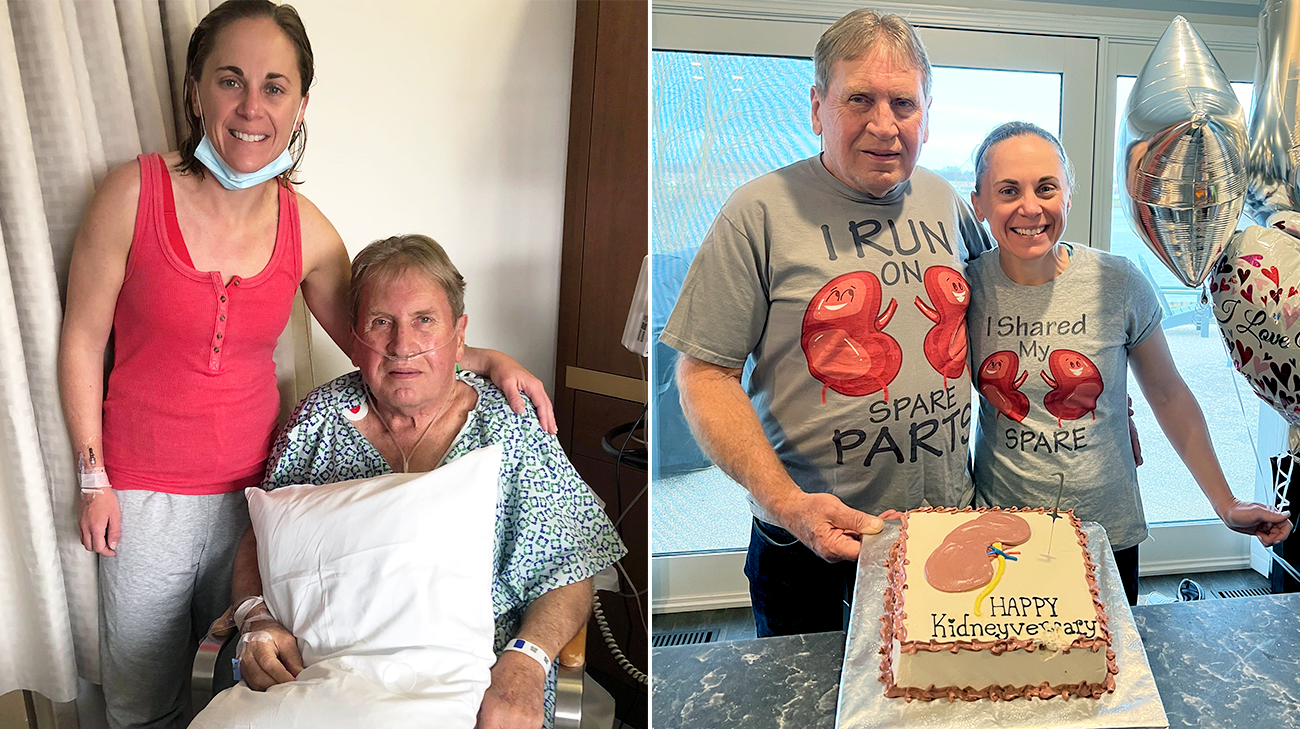 Ask Dan Datkuliak about his daughter Angela, and he'll describe her as a loving person who cares for her mom and dad. When she was born, Dan recalls saying to his wife Paula, "There's your angel." But no one imagined she would be Dan's saving grace when he needed a kidney.
"Right away, Angela said I'm going to give you a kidney. I didn't want her to do that at first because she's young. What if something happened to her remaining kidney? But Angela was adamant about doing it," says Dan, a 71-year-old retired steelworker from Canton, Ohio.
Years before the transplant, Dan was diagnosed with high blood pressure in his 50s. During routine checkups, his doctor noticed higher levels of creatinine in his blood, which can signal an issue with kidney function. Dan's doctor kept a close eye on him for a period of time, but his condition slowly worsened. He eventually progressed to stage 4 chronic kidney disease.
"At one point, his kidney function was at 15%. Without a kidney transplant, he was going to have to be put on dialysis. I didn't want that for him. I wanted to see him get better, so I offered to donate a kidney," says Dan's daughter, Angela Hissner, a 42-year-old avid runner and nurse practitioner.
With Angela and Dan on board with the idea, they were referred to Cleveland Clinic for the transplant. Before surgery, they underwent an array of health tests. It was at this time Dan found out he had two aneurysms and multiple blood clots in his leg.
"In a way, the kidney disease was a blessing because I wouldn't have known about any of these other problems," says Dan.
He had surgery to address the newfound health issues and then experienced a bout with COVID-19. That's when his kidney function was operating at only 15%. He ended up making a quick recovery and switched gears to get ready for the kidney transplant. Angela's surgeon was Alvin Wee, MD, program director of Cleveland Clinic's Kidney Transplant Program, and Dan's was David Goldfarb, MD. Their care teams successfully performed the transplant in March 2021.
After surgery, they recovered on the same hospital floor. Angela wanted to see her dad the minute she got out of surgery and situated in her room.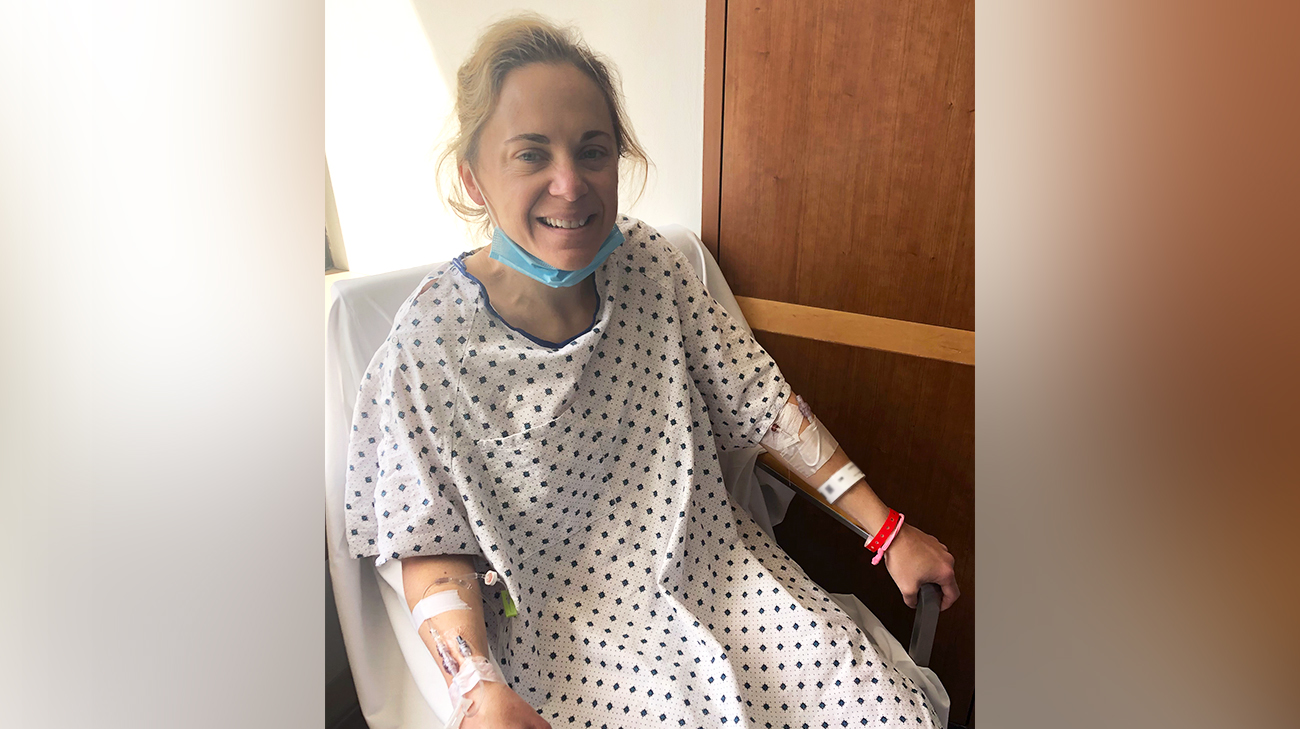 Angela recalls quickly recovering after surgery and walking to her dad's room in the hospital with the help of some caregivers. (Courtesy: Angela Hissner)
"I woke up and the next thing I know, Angela was in my room with a big smile on her face. Everything went well, and there were no problems," says Dan. "It was great to have her there, and it was great to know I had a kidney and would not have to go on dialysis for the rest of my life. I love her so much for that."
Being an athlete with a passion for running, Angela was nervous about how long it would take her to recover after surgery, but she was back to running in three weeks. Angela even ran her fastest marathon at that time six months later.
"I love a challenge, and I like to push myself. It was awesome knowing I had just donated a kidney six months ago, and here I am running my best marathon," says Angela.
As for Dan, his kidney function and blood pressure have drastically improved. There's no longer the fear of him having to go on dialysis. He's also noticed a change in the way he feels overall.
"Before the transplant, I had no energy at all. I was tired all the time. If I wanted to go outside for a walk, I got worn out so quickly. After the transplant, I noticed my energy increased right away, and I felt a lot better. I've been able to do whatever I want to do," says Dan, who's back to enjoying trips with his wife of 50 years.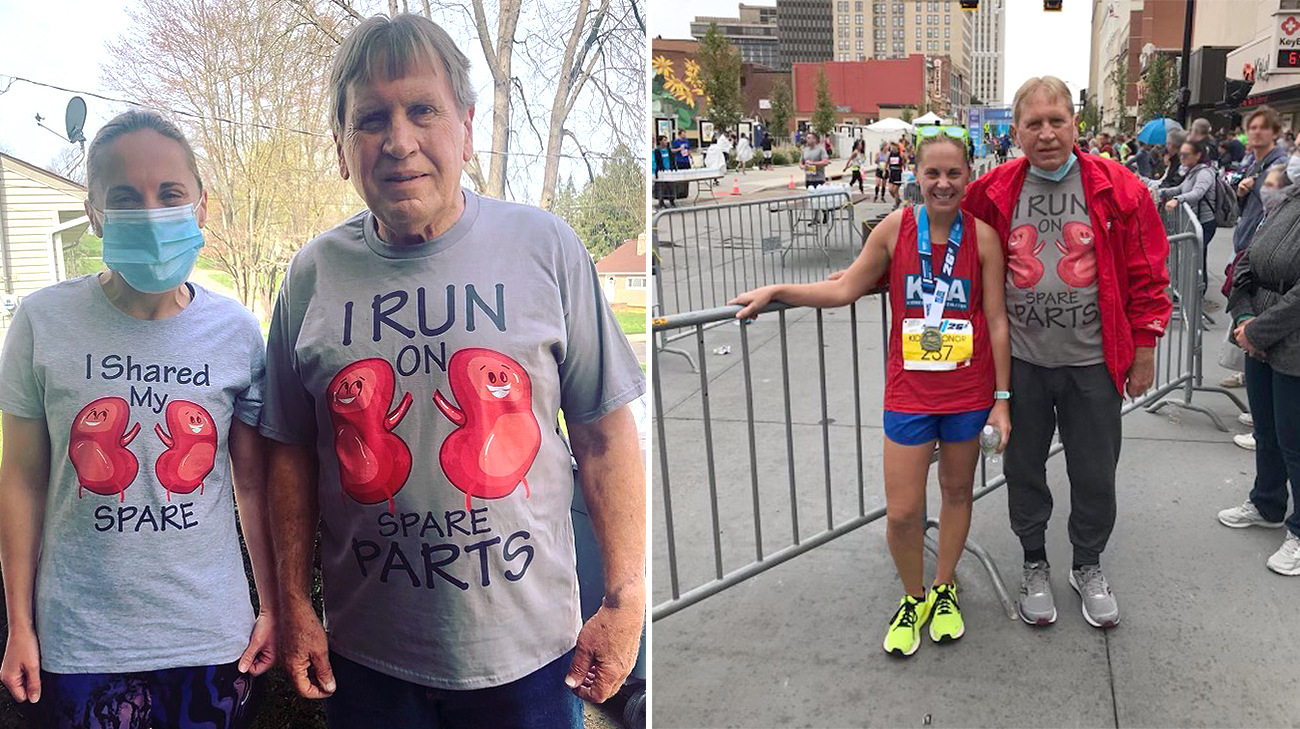 After the kidney transplant, Angela and Dan advocate for organ donation and share their story as an example of why it's so crucial. (Courtesy: Angela Hissner)
Going through this experience together, Angela and Dan learned the importance of organ donation. They both want to continue to raise awareness about the life-saving decision to be an organ donor.
"It saves lives. I see what it's done for my dad, and it's totally changed how he feels, how he acts, how he looks – it's given him a second chance at life. You can save a person's life by signing up for the organ donor registry or becoming a living donor," says Angela.
Dan exclaims, "I never in my life realized there were so many people out there who needed organs. If anyone can find it in their heart to become an organ donor, just do it and save somebody's life."
Even with the United States reaching one million organ transplants in 2022, there are still more than 90,000 people waiting for a kidney. Dr. Wee explains the demand outpaces the number of organs available, which is why raising awareness about organ donation is so crucial.
"Even though we've done more than one million transplants in the U.S., the waitlist is still growing every day. The record pace we're performing transplants cannot outrun the number of people who need an organ. There's an imbalance. That's why organ donation is so important," says Dr. Wee.
Related Institutes: Glickman Urological & Kidney Institute
Patient Stories
Patient Stories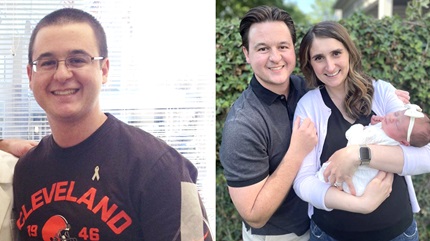 Nov 30, 2023
"At the time of my diagnosis, I was thinking, 'I'm 24. I'm a lifelong nonsmoker. I'm not supposed to get cancer.'"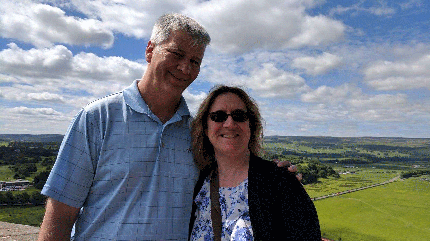 Nov 30, 2023
"I was under enormous stress and having difficulty sleeping, so I reached out to Dr. Saper to see if he had any suggestions as to how I could better cope."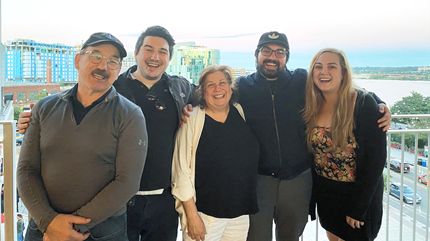 Nov 22, 2023
"I was truly blessed to be with the doctors and the entire cardiac surgery team. They saved my life."