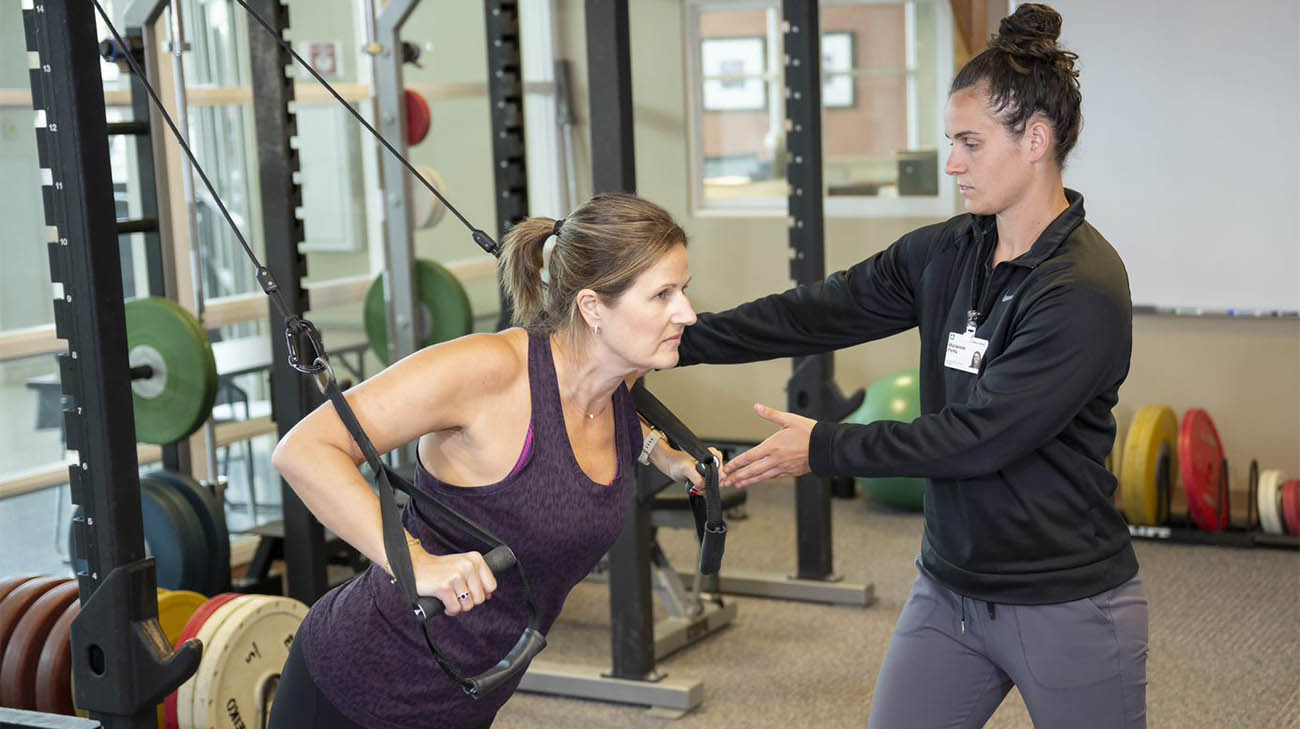 An avid exercise enthusiast, Kathy Johnson, age 53, knew what she was looking for in a new exercise program at the beginning. Although she's tried everything from Jazzercise to CrossFit over the years, her activities were heavily focused on cardio fitness.
"My body wasn't recovering from those intense cardio workouts like it used to and I was having more aches, pains and chronic injuries," she says.
While caring for her 82-year-old mother who has osteoporosis and spinal stenosis, Kathy realized many of her mom's issues were related to not having built up her bone density through strength training when she was younger.
"Watching all the challenges my mom was facing made me rethink how important weight training is as we age," she says.
Looking for a program that had more of a personal training element, she discovered the Adult Strength and Conditioning classes at the Cleveland Clinic Akron General Health and Wellness Center's Bath location.
"I was pleasantly surprised to learn I could buy a 12-class package for a fraction of the cost of most personal trainers," she says. "I wanted a program with that personal element where someone would hold me accountable for showing up."
"Watching all the challenges my mom was facing made me rethink how important weight training is as we age."
After talking with Bath's head sports performance coach, Kenzie Perttu, Kathy was impressed with her knowledge and credentials.
"Kenzie has her master's degree in kinesiology and is currently working on her doctorate," she says. "Her background (she was a college athlete and former head women's basketball coach at Lake Erie College) and knowledge made me comfortable that she wasn't going to allow me to injure myself or exacerbate nagging issues I already have."
Kenzie is careful with Kathy's recurring shoulder and bicep injury and sometimes throws rehab exercises into the mix during her workouts.
"Each person has their own unique history when it comes to their fitness journey," says Kenzie. "Individuals may have past injuries or limitations. There are numerous exercises or modifications I can substitute to help someone complete the workout safely, comfortably and confidently."
The Bath location offers morning, evening and weekend classes; the maximum class size is 6 people.
"The smaller class size allows me to coach to each participant's needs and keep a safe environment," says Kenzie. "I can adjust exercises as necessary and pay close attention to everyone's form."
When Kathy began the program, she told Kenzie that her goal was to gain strength and improve her flexibility and balance.
"There are many factors that can affect a person's flexibility, mobility and balance," says Kenzie. "Someone like Kathy, who has run for 20 years, may need additional work on flexibility. Someone with a sedentary job may need extra work on mobility. Balance and stability usually decline as we age, so putting in a conscientious effort to strengthen those areas can be helpful down the road."
Since Kathy began training with Kenzie, her overall strength has improved in just three months.
"Kathy's movement patterns, especially during heavy lifts or single leg/single arm exercises, have shown improvement," she said. "Her mobility and balance are areas I want to keep working on so we can see continued growth."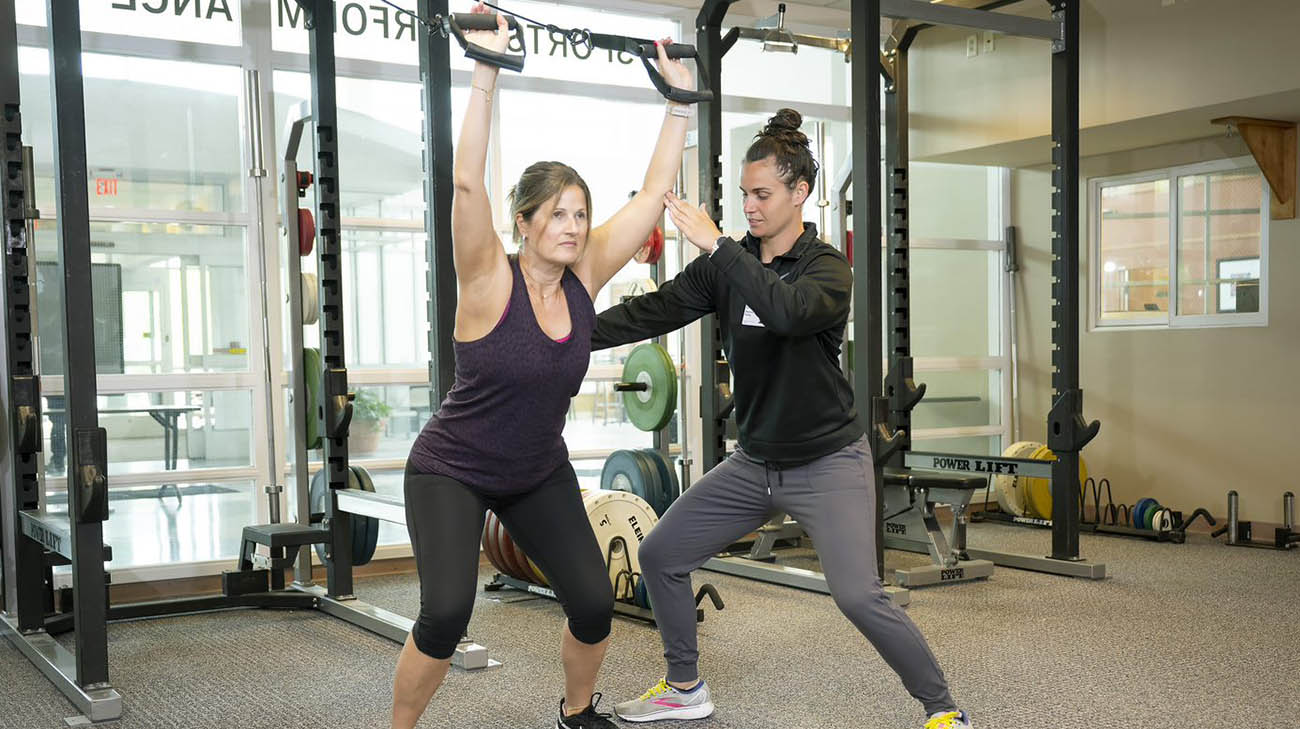 Kathy Johnson training with Bath's head sports performance coach, Kenzie Perttu
Adult Strength and Conditioning classes run in 3-week cycles. Participants see similar lifts from week to week with different rep ranges or variations — allowing them to build on their progress from the previous week. After 3 weeks, the exercises change and a new cycle begins.
"I track weights/reps of all major lifts of each participant, so I can safely prescribe an increase (or not) in weights or reps from week to week," says Kenzie. "My focus is always going to be on good form. While it's great to be able to lift heavier weights, we will only progress once a person's form is on point."
As she prepares for her son's wedding in summer 2023, Kathy has another goal in mind.
"I want my arms and back to look amazing in my strapless dress," she says. "I'm always asking Kenzie for more arm exercises!"
Kenzie is more than happy to accommodate and help each of her participants reach their individual goals.
"I want people to leave class feeling better than when they came in," she says. "I hope to help them build confidence within this space that will translate into more confidence in their daily lives."
Adult Strength and Conditioning classes are held at the wellness centers in Bath, Green and Stow. Class packages can be purchased in sets of 12, 24, 36 and 72 sessions. An online portal makes it easy to purchase sessions and sign up for classes. Class passes do not expire and there is no set commitment to participate.
Request more information about the program by emailing CCAGsportsperf@ccf.org.
Patient Stories
Patient Stories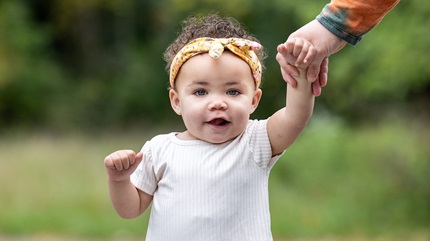 Sep 29, 2023
"Following her procedures, Adaya has defied the odds. She's hit all of her milestones so far. She's crawling and getting around wherever she wants to go."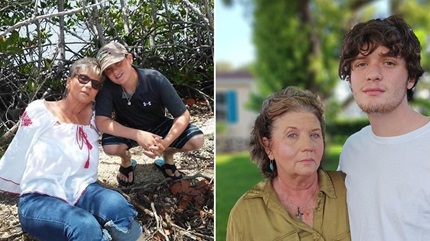 Sep 28, 2023
"It was worth every moment of it to know I was going to be there to see my son grow up."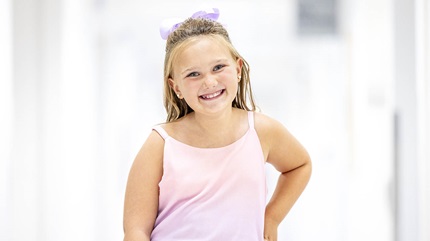 Sep 22, 2023
"This wraps up a chapter in her life we hope we never have to reopen. Audrey handled everything like a champ, and we are so grateful and proud."