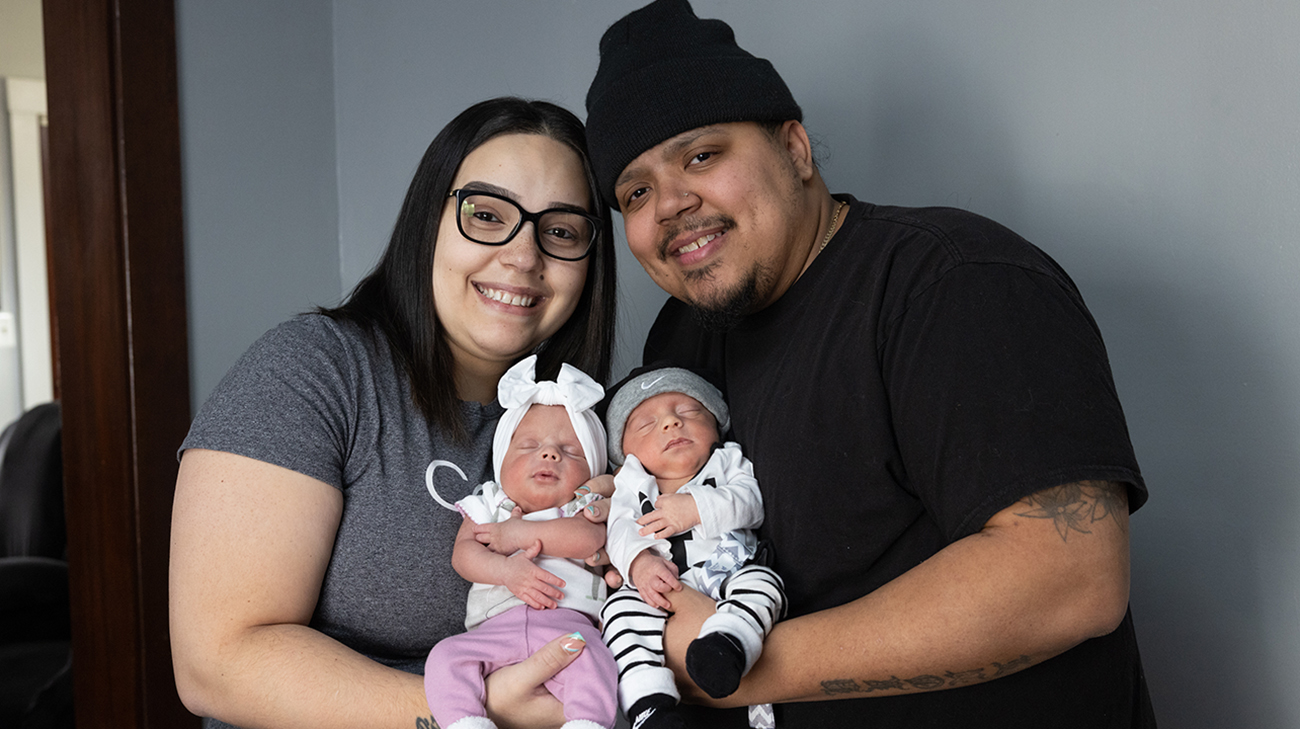 On Jan. 17, 2023, Jeanette Davila welcomed her twins Noah and Juliette into the world. One week prior, the 31 year old was in surgery to remove a brain tumor about the size of a tangerine. A persistent, searing headache that started in her second trimester was the first sign something was wrong.
"It felt almost like a migraine. But as I got into my third trimester, I started feeling a horrible pounding in my head. It was so severe it would make me cry. The pain would wake me up out of my sleep," says Jeanette.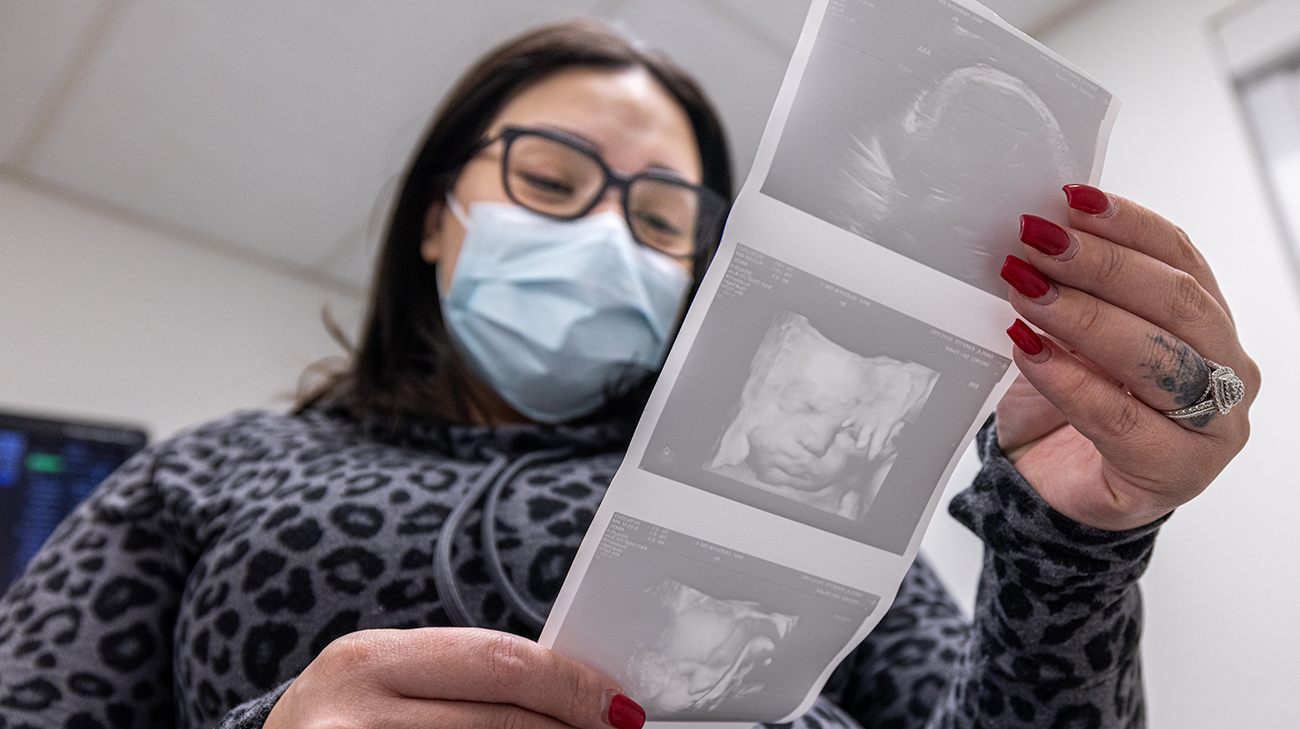 Jeanette vividly remembers her ultrasound and was pleasantly surprised when she found out she was having twins. (Courtesy: Cleveland Clinic)
Vision problems came next. Jeanette noticed vision loss in her left eye at first, and then she woke up one morning with blurry vision in her right eye as well. Her vision loss became so severe she couldn't identify a person standing right in front of her. Around this time, she had been seeking care but not getting any clear answers. She wanted a second opinion.
"I found out I was dealing with something more severe than just a headache when I decided to go to Cleveland Clinic," says Jeanette. "An MRI showed I had a brain tumor. Getting this news while I was expecting was scary, but I remained positive because I felt I was in good hands."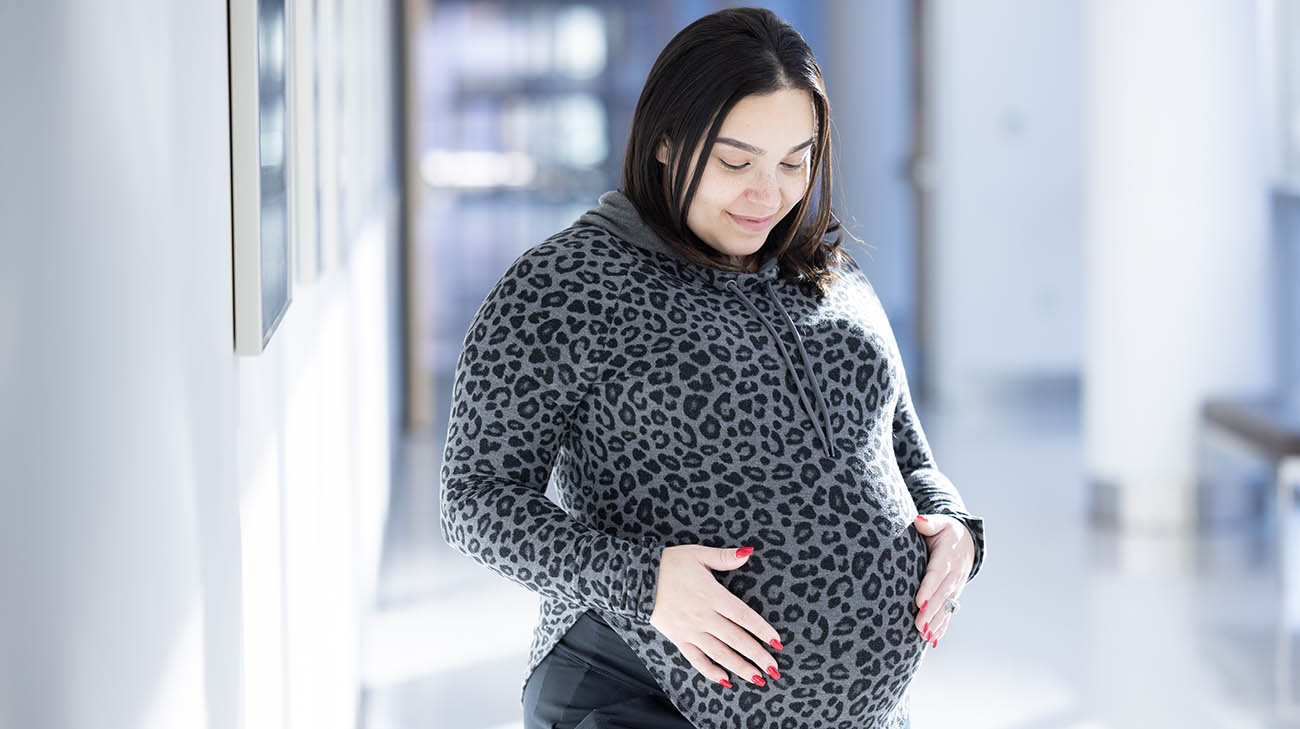 Jeanette tried to remain positive after hearing the news her MRI showed she had a brain tumor. (Courtesy: Cleveland Clinic)
Doctors found Jeanette had a large pituitary adenoma. Although these are most commonly benign tumors that arise from the pituitary gland, Jeanette's tumor had bled and rapidly expanded in size. The increased tumor size was causing her severe headaches, significant pressure on her optic nerves, and vision problems that were possibly going to be permanent. Her care team acted quickly to put a treatment plan together.
"We didn't have control over how much pressure was being exerted on the optic nerve, but we did have control over how long the pressure would be there," explained Pablo Recinos, MD, a neurosurgeon with the Brain Tumor and Neuro-Oncology Center. "That's why we recommended Jeanette have surgery while she was pregnant to avoid any permanent vision loss."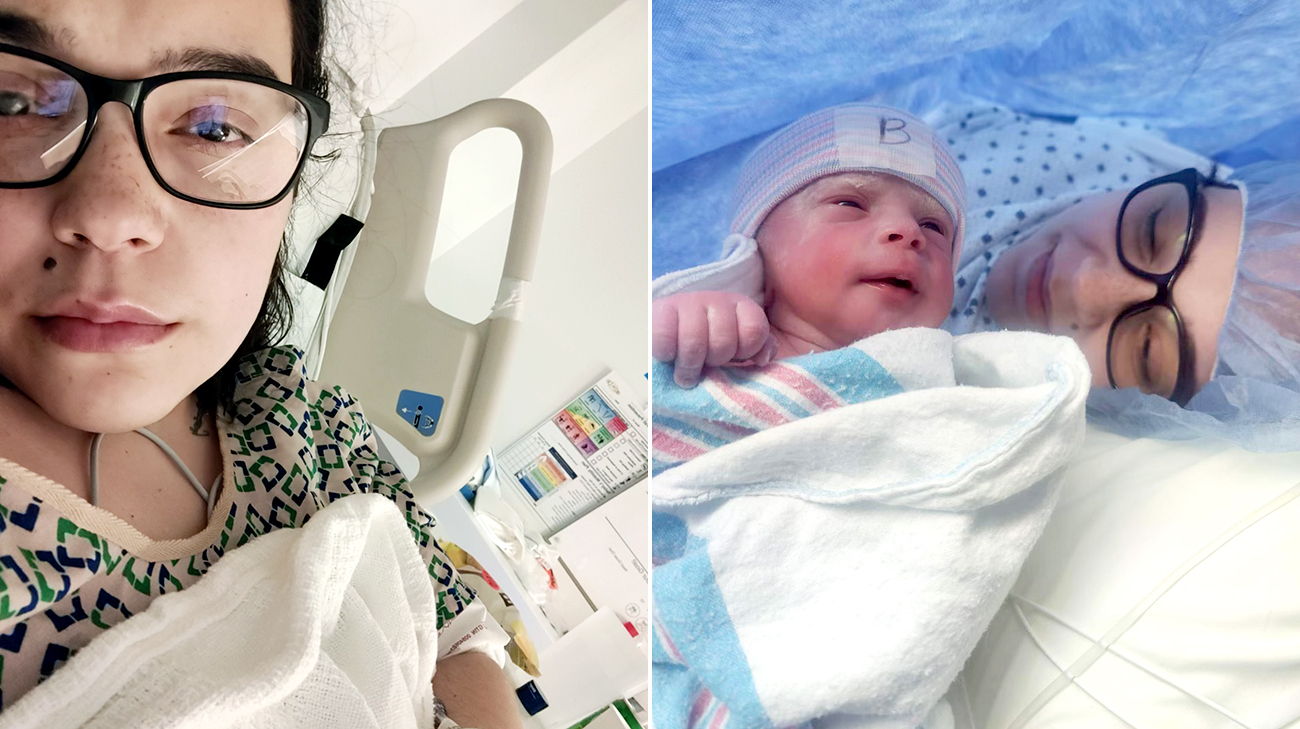 Jeanette the day after surgery to remove her brain tumor.(left) Jeanette after delivering her twins.(right) (Courtesy: Jeanette Davila)
The day after her MRI, Jeanette was in surgery. Since she was 36 weeks pregnant at the time, it took a multidisciplinary team to remove the tumor, including specialists from the Neurological Institute, Head and Neck Institute, Endocrinology and Metabolism Institute, Anesthesiology Institute as well as Maternal-Fetal Medicine. Otolaryngologist Raj Sindwani, MD, began the surgery by using a minimally invasive technique to aid in reaching the tumor.
"Dr. Sindwani used a small camera called an endoscope inserted through the nostrils, along with small instruments to create a corridor to get to the base of the brain without making any open incisions in the face or head," says Dr. Recinos. "Then, the neurosurgery team came in, and we removed the tumor. The third part of the surgery was reconstruction, which required the expertise of both Dr. Sindwani's team and my team to ensure there were no complications afterward."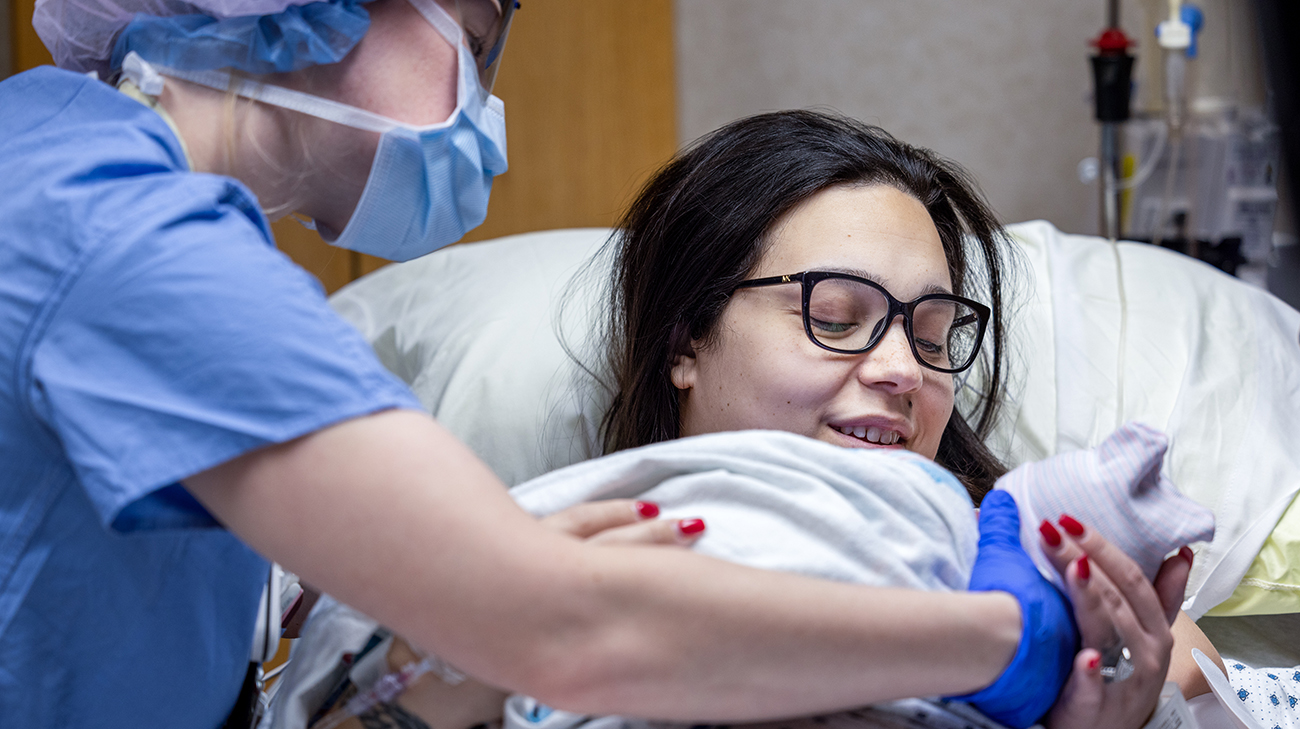 Jeanette welcomed Noah and Juliette into the world on Jan. 17, 2023. (Courtesy: Cleveland Clinic)
Following the procedure, Jeanette quickly recovered and her vision immediately improved. She began to prepare for the delivery of her twins, and a C-section was scheduled one week after her surgery. With her family and fiancé Daniel by her side, Jeanette successfully delivered twins, Noah and Juliette.
"Going through this experience makes me feel strong, empowered – like I can overcome anything. My twins are a blessing," says Jeanette, who is now back at work and enjoying watching her twins grow and thrive.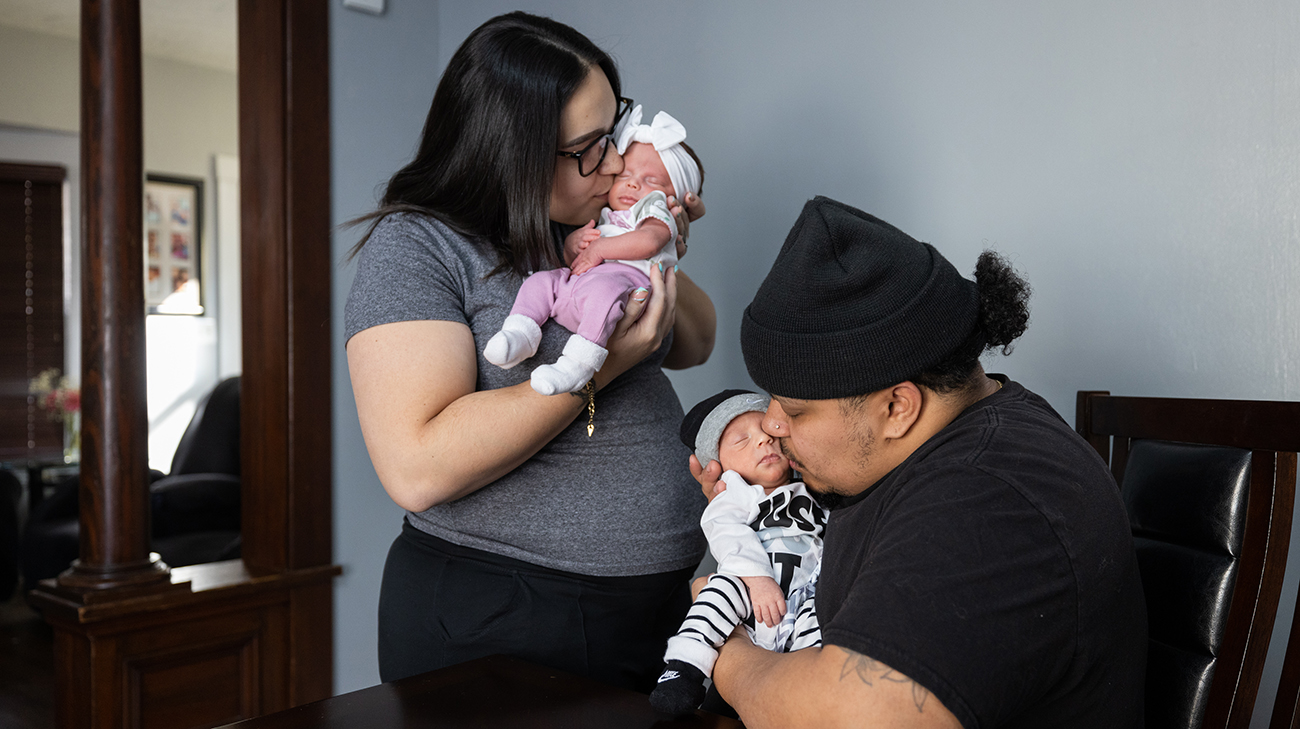 Jeanette and her fiancé, Daniel, of Old Brooklyn, Ohio, with their twins. (Courtesy: Cleveland Clinic)
As Noah and Juliette grow, Jeanette continues to follow up with Ob/Gyn Amol Malshe, MD. Dr. Recinos will also monitor her to ensure the tumor doesn't recur. In the meantime, Jeanette's vision is restored. She's also regained her sense of taste and smell since undergoing the surgery to remove her tumor.
Looking back, Jeanette stresses she ultimately received the care she needed and avoided any permanent damage by getting a second opinion.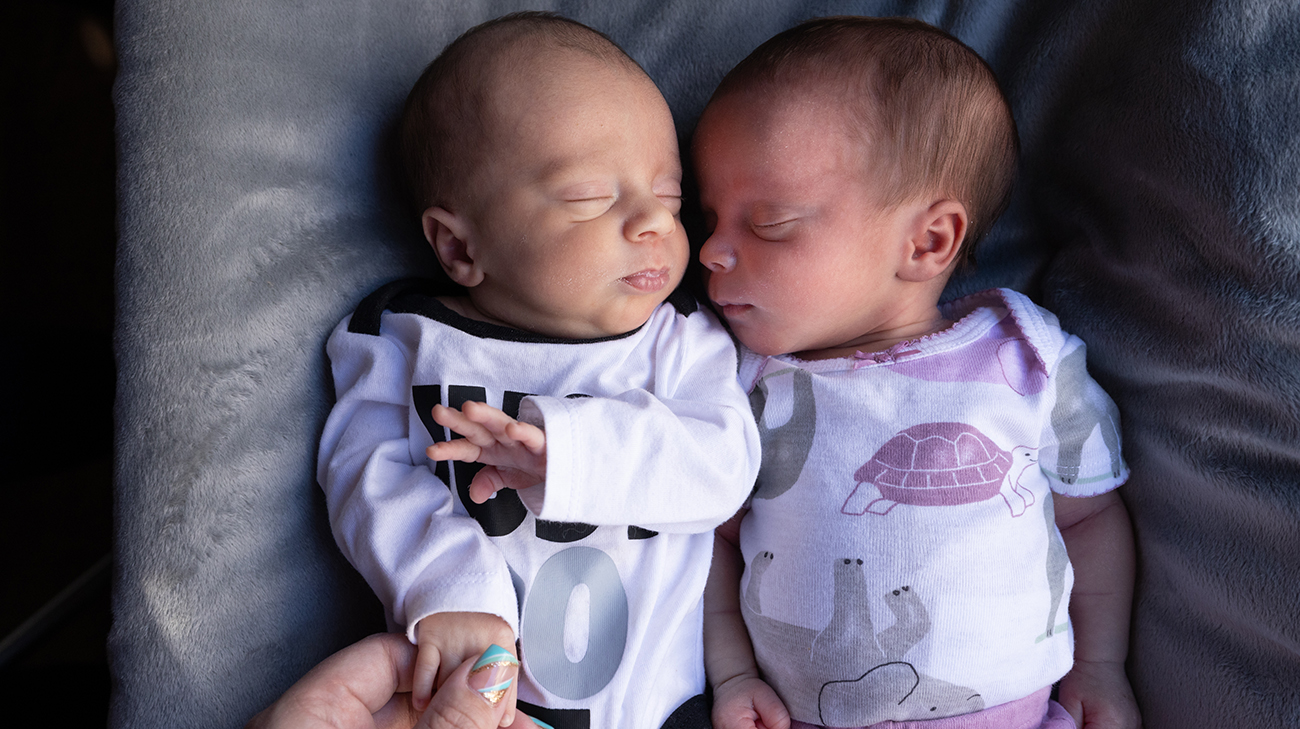 As their personalities develop, Jeanette says Noah and Juliette are very friendly and have a strong bond between them. (Courtesy: Cleveland Clinic)
"Jeanette advocated for herself. If something doesn't feel right, and you're not getting answers, you can do as Jeanette did and get a second opinion. Thankfully, we had the exact combination of team members to care for her quickly and comprehensively," says Dr. Recinos.
Jeanette adds, "Follow your gut instinct and get a second opinion if you think it's necessary. If I didn't follow my gut, things could have turned out differently. I'm thankful to the whole Cleveland Clinic team for their care."
Related Institutes: Anesthesiology & Pain Management, Endocrinology & Metabolism Institute, Head & Neck Institute, Neurological Institute, Ob/Gyn & Women's Health Institute
Patient Stories
Patient Stories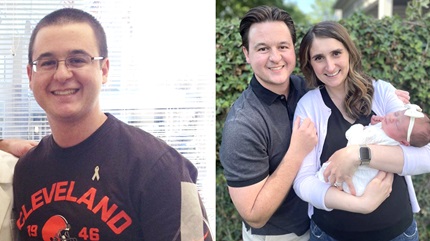 Nov 30, 2023
"At the time of my diagnosis, I was thinking, 'I'm 24. I'm a lifelong nonsmoker. I'm not supposed to get cancer.'"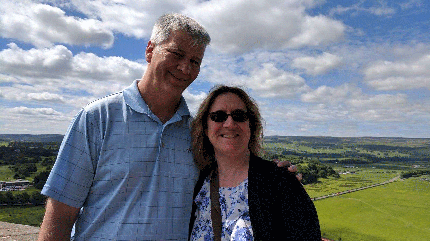 Nov 30, 2023
"I was under enormous stress and having difficulty sleeping, so I reached out to Dr. Saper to see if he had any suggestions as to how I could better cope."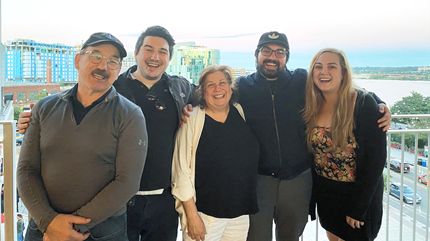 Nov 22, 2023
"I was truly blessed to be with the doctors and the entire cardiac surgery team. They saved my life."