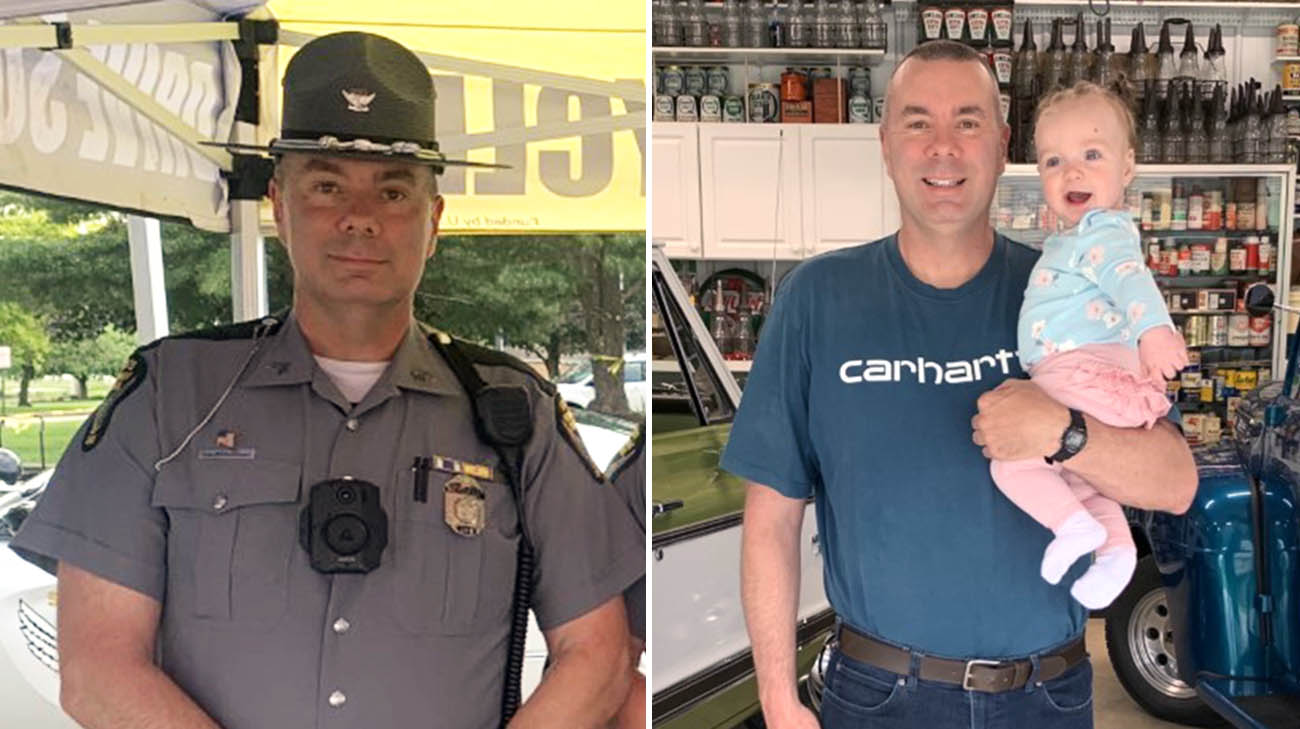 After Gary Wolfe underwent an innovative surgical procedure to remove his prostate, he was thankful for how quickly the surgery allowed him to get back to his grandkids and work as an Ohio state trooper. Doctors discharged Gary four hours after his surgery. He had no complications, no long-term need for a catheter (it was removed in just three days), no blood transfusions, and perhaps best of all, no severe pain – and thus no need for narcotics to control it.
"I only needed aspirin a few times after the surgery," says Gary, age 50, who is nearing retirement from his position as Ohio State Highway Patrol sergeant. "They make a small incision in your (bladder), and the machine goes in, does its job, and they put it all back together again. It all went so smoothly."
Gary is among the first 100 patients with prostate cancer in the U.S. to have undergone a transvesical robot-assisted radical prostatectomy (RARP) at Cleveland Clinic. The urologic robotic surgical technique was pioneered by his surgeon, Jihad Kaouk, MD, and is now also being performed at several other hospitals.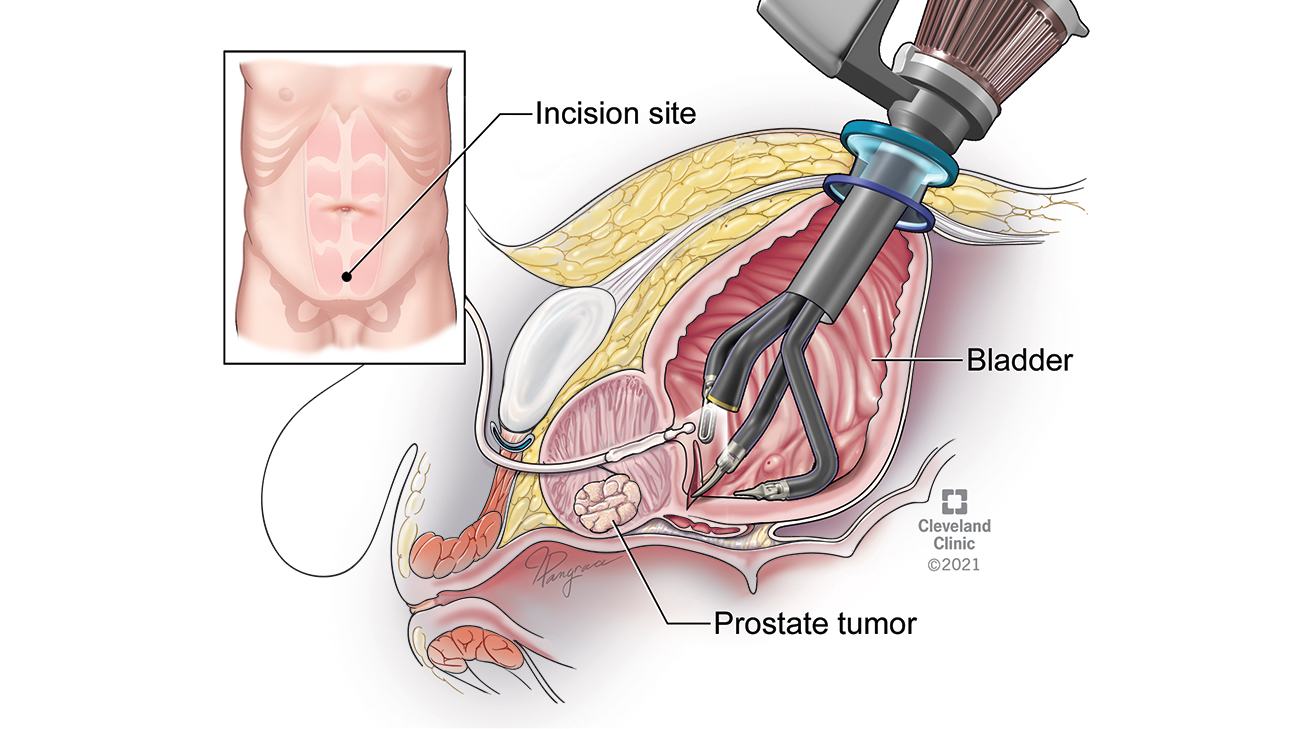 Dr. Kaouk made a single incision in the lower abdomen. A single canula was used to insert the robotic device, which consists of a camera and all necessary surgical instruments. By regionalizing the surgery specific to where the disease was located, Dr. Kaouk removed the prostate without disturbing any surrounding organs. (Courtesy: Cleveland Clinic)
"For years, robotic surgery has been an excellent application for patients with prostate cancer," says Dr. Kaouk, who is Director of the Center for Robotic and Image-Guided Surgery at the Glickman Urological & Kidney Institute. "But by using a new, purpose built single-port robot, we have been able to modify the surgery to minimize the pain and quicken the recovery for the patient. We regionalize the surgery to target specifically where the disease is located, maintaining excellent outcomes."
The unique aspect of Dr. Kaouk's approach is that the surgery is done by accessing the prostate through the patient's bladder. Unlike traditional robotic prostatectomies, which require one or more incisions through the lower abdomen, the transvesical RARP avoids impacting the bowel and other organs and tissue to decrease pain levels, minimize complications like incontinence and sexual dysfunction, and enhance recovery.
Dr. Kaouk and his colleagues first used the approach on patients with so-called "hostile" abdomens due to extensive scarring from previous abdominal surgeries. More recently, the team has broadened the use of the technique to men – like Gary – who have low- to intermediate-risk prostate cancer and a normal-sized prostate.
RARP is the second major surgical procedure Gary has undergone at Cleveland Clinic. In 2014, after he sought treatment due to severe headaches, Gary successfully had a golf ball-sized brain tumor removed during a craniotomy performed by neurosurgeon Alireza Mohammad Mohammadi, MD.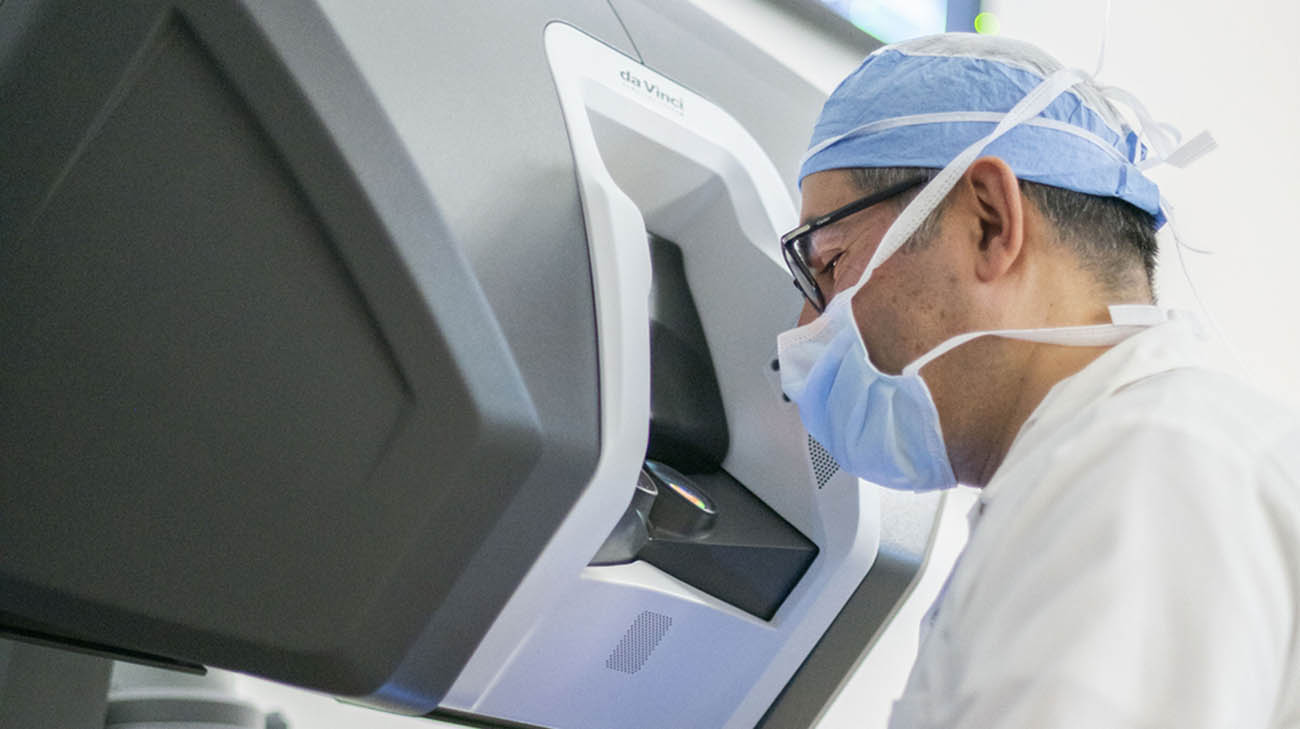 Dr. Kaouk looking through the robotic system. (Courtesy: Cleveland Clinic)
So, when routine physical exams revealed Gary's prostate-specific antigen (PSA) levels – a marker for prostate cancer – were rising, Gary knew he wanted to seek prostate treatment at Cleveland Clinic. He didn't hesitate to choose the new transvesical RARP procedure as an option, when Dr. Kaouk informed him he was eligible for this approach.
"Maybe it's because of my (police) training, but anytime they give you bad news, and you know what's broken, I say 'let's fix it' the best way possible," explains Gary. "And I have a lot of faith in Cleveland Clinic. I've been there twice for major surgeries, and they've saved my life both times."
For Gary's RARP, Dr. Kaouk made a single incision in the lower abdomen. He used a single canula to insert the robotic device, which consists of a camera and all necessary surgical instruments. The prostate was dissected and removed, intact or in fragments, and the bladder was sutured. As a result of the robot operating in a smaller anatomical space, Gary had only minimal and short-lasting postoperative pain. The procedure took about two hours.
"I can't tell you how good I feel," exclaims Gary, who had no family history of prostate cancer and recommends all men be checked by a healthcare provider regularly. "It's just unbelievable."
Related Institutes: Glickman Urological & Kidney Institute, Cleveland Clinic Cancer Center
Patient Stories
Patient Stories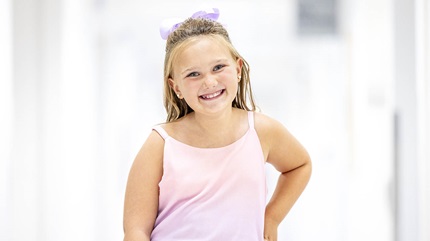 Sep 22, 2023
"This wraps up a chapter in her life we hope we never have to reopen. Audrey handled everything like a champ, and we are so grateful and proud."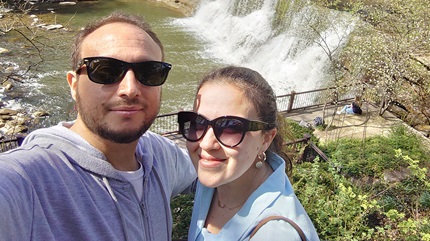 Sep 18, 2023
"Besides my first transplant, I've had other noninvasive surgical procedures, and I needed pain medication for all of them but not this time."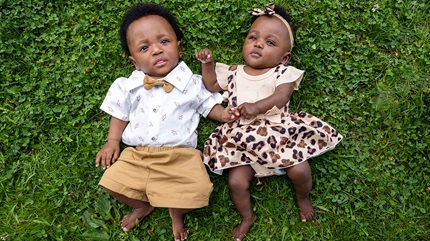 Sep 15, 2023
"Thinking about everything Kimyah and DJ have been through, it was hard to imagine us ever getting to this point. It was unclear if they would be able to do anything by themselves. Now, they're trying to do everything by themselves."