Sharon Shaffer, a 58-year-old Shaker Heights woman, grew up in a musical family. Her Belgian mother taught Sharon and her three sisters to play instruments and sing in four-part harmony.
"We performed at Jewish resorts wearing go-go boots, matching outfits and had shag haircuts. We sang in Yiddish, Hebrew, French and English. We were like the Jewish Jackson Five," says Sharon.
But, Sharon sang a little differently than her sisters — she was a musical and vocal child prodigy.
Her vocal talents earned Sharon her first professional opera role at 19. "I knew I had a special gift and left college to start my professional career. I went on the road and toured with opera companies and had leads in the U.S. and abroad," reminisces Sharon.
In 2005, Sharon ended up in Cleveland studying for her master's degree and teaching singing. It was during that time she noticed vocal issues — tension in her neck and throat was causing difficulty singing high notes.
"Before my issues began, I was a dramatic coloratura with a big, fast-moving voice and was able to hit the highest notes in the soprano range," says Sharon.
Over the next few years, Sharon was losing control of her voice and was in pain. Some doctors and voice teachers said it was the result of getting older; one doctor told her it was all in her head. Sharon suspected it was neurological.
Despite her vocal issues, Sharon was able to maintain her membership in The Cleveland Orchestra Chorus, even though she was unable to sing the most demanding passages in the music.
In 2010, the answer to her voice problems literally walked into chorus practice. There was a new tenor in The Cleveland Orchestra Chorus — Paul Bryson, MD, MBA, laryngologist and Director of Cleveland Clinic's Voice Center.
Dr. Bryson specializes in voice, airway, and swallowing disorders involving the voice box and the throat. His passion for music and singing lead him to laryngology.
Sharon explained her vocal problems and made an appointment to see him. "An exam revealed Sharon's vocal cords were pristine, but there were issues with the muscles surrounding those healthy cords," explains Dr. Bryson.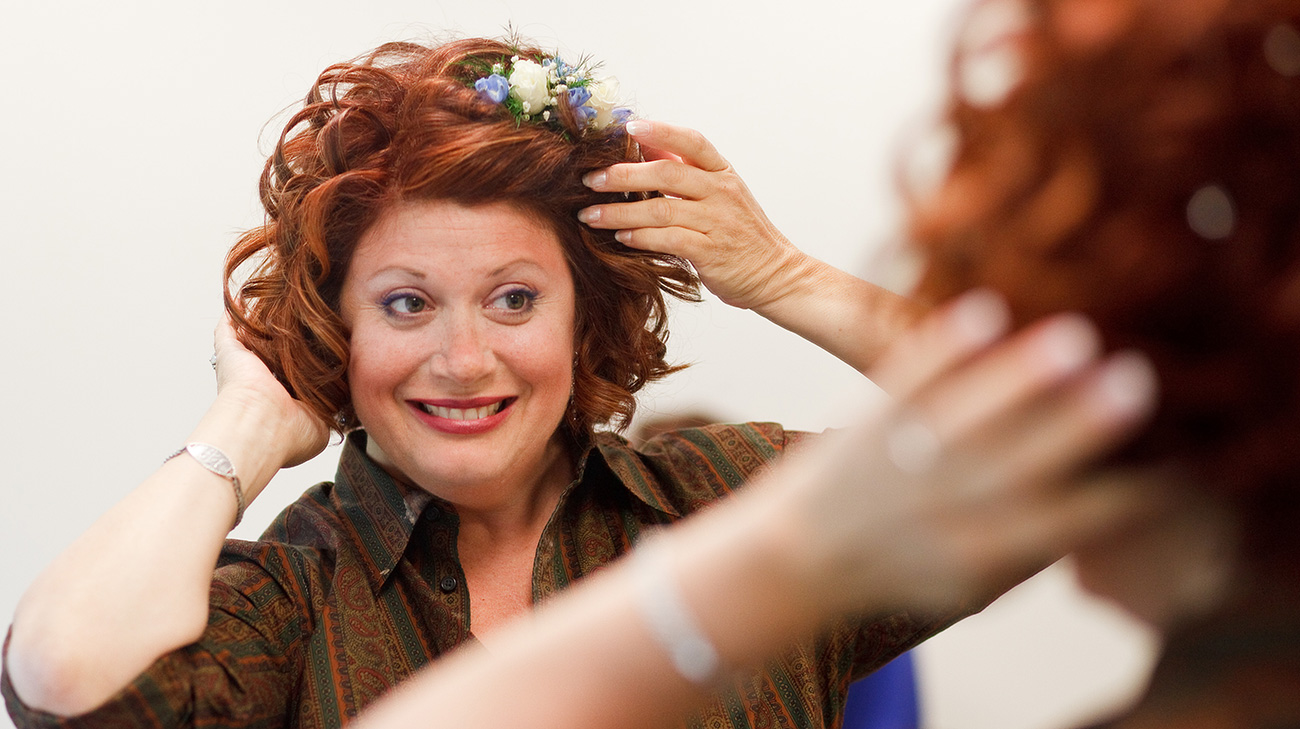 Sharon styling her hair in the mirror, with a big smile on her face. (Courtesy: Sharon Shaffer)
Dr. Bryson diagnosed Sharon with vocal dystonia (spasms of the muscles of the voice box), and laryngeal tremor (a neurological condition which causes involuntary movements that have a disabling effect on the voice) — and told her the vocal issues were definitely not in her head.
"And that was the most wonderful thing that ever happened to me," Sharon says with tears in her eyes. "I finally had a diagnosis. I knew I wasn't crazy."
Eleven years later, in 2019, Sharon's vocal condition started to worsen and her treatments (medications and targeted Botox injections) weren't helping; she was also experiencing tremors in her hands and legs. A Cleveland Clinic neurologist diagnosed Sharon with mixed tremor and Parkinsonism. She was treated with Parkinson's medications and, astonishingly, the medication stopped the shaking and grabbing of the muscles around her vocal cords.
Because of the positive vocal change, she made an appointment with Dr. Bryson. He introduced Sharon to an integral member of her voice rehabilitation team, Michelle Adessa, BM, MS, CCC-SLP, a speech pathologist and singing voice specialist at Cleveland Clinic's Voice Center. Michelle is also an accomplished singer.
"The medical issues Sharon has won't disappear, but through therapy, we're able to negotiate vocal techniques and work around her instability to meet Sharon's vocal demand," says Michelle.
Over the next year, Michelle worked with Sharon to condition her voice doing different series of vocal exercises to relearn how to sing.
"I was teaching Sharon's brain to build new pathways and to sing in another way. At the same time, I was also teaching her how to shape her throat space to create the sound she needed," explains Michelle. "Her voice won't be exactly the same as it was, but she is able to perform, teach and enjoy singing again."
Through her vocal rehab sessions with Michelle, Sharon has regained her confidence and a lot of her vocal ability. "Sharon's rehab illustrates the empathetic, multidisciplinary approach we have at the Voice Center. Our team of experts have many different skill sets that come together to treat each patient," says Dr. Bryson.
Her ongoing vocal therapy enabled Sharon to audition for a local theater company. She was stunned when she was cast in a lead role. She also sings in her Synagogue's professional choir, and is looking forward to future performances.
"My Cleveland Clinic vocal team members treated me like an intelligent woman and validated my first instincts," says Sharon. "I continue to receive incredibly competent care with a gifted approach from the finest experts in the field. They are responsible for bringing me back to my art, my profession. I can't thank them enough."
Related Institutes: Head & Neck Institute
Patient Stories
Patient Stories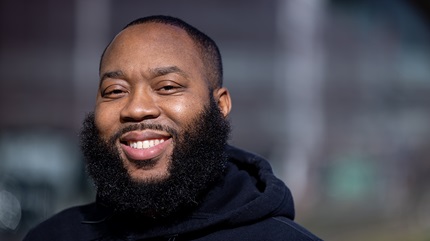 Dec 1, 2022
"Although you may have HIV, there is still a chance for you. There are options for you. You can still get a kidney. You can still come get back to a normal life."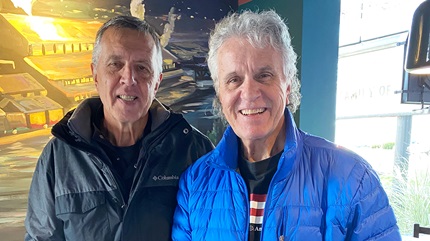 Nov 23, 2022
"Pay attention to your body. If you feel like there's something not right, there's probably something not right."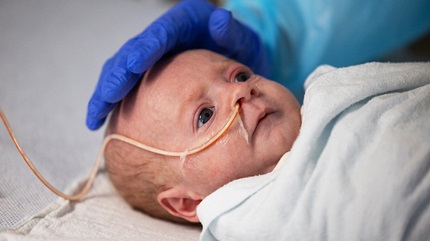 Nov 22, 2022
"I'm so glad we got Max examined right away."