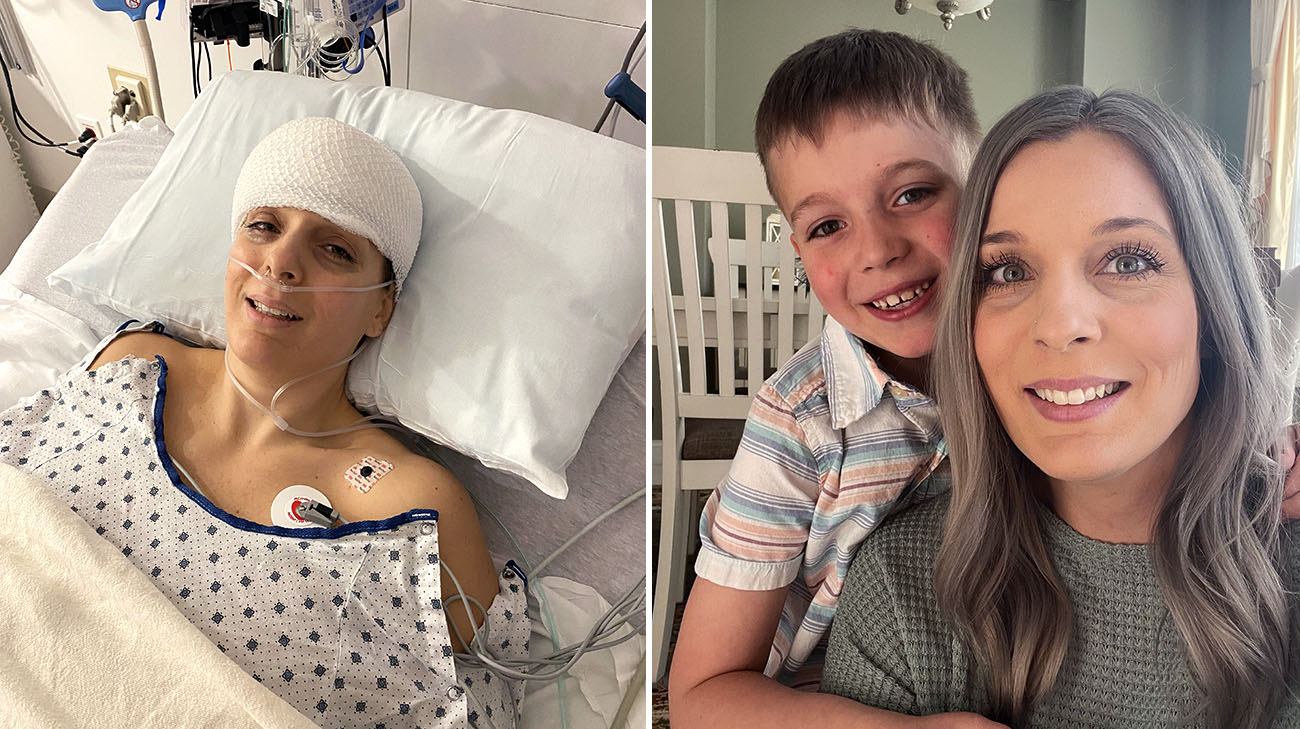 Her test results were in. Jessica Scheeser quickly opened the app on her phone and was shocked by what she read. The 36-year-old mother of two learned the cause of her constant headaches, tingling, searing pain and numbness on the right side of her face was due to a massive tumor in her brain. Alone in her home, as husband Rick was picking up their oldest child from school, Jessica assumed the worst -- that her life would be cut short.
"For a minute, I just froze. I didn't know how to process it," recalls Jessica. "I had lost my dad to esophageal cancer when I was 7 months pregnant with my first son. So, I thought this was the end for me. I started looking for caskets online."
Jessica spoke with her primary care physician's assistant. She learned the mass woven through or pressing against several nerves in her brain was a trigeminal schwannoma. It's a skull base tumor that is usually not cancerous. However, to alleviate her constant pain and discomfort, and to prevent the tumor from growing and causing further damage, it would require immediate attention.
That's what led Jessica to meet with Cleveland Clinic's Pablo Recinos, MD, a world-renowned neurological surgeon with the Brain Tumor & Neuro-Oncology Center. Immediately, her outlook on her future turned 180 degrees.
"That man is a godsend," states Jessica. "I don't know how I would have gotten through any of this without him. I know that skull base neurosurgery is his specialty, but his effect on me went so much beyond him being a surgeon. The care and consideration he showed me, my husband and my mom, from that very first appointment, was incredible."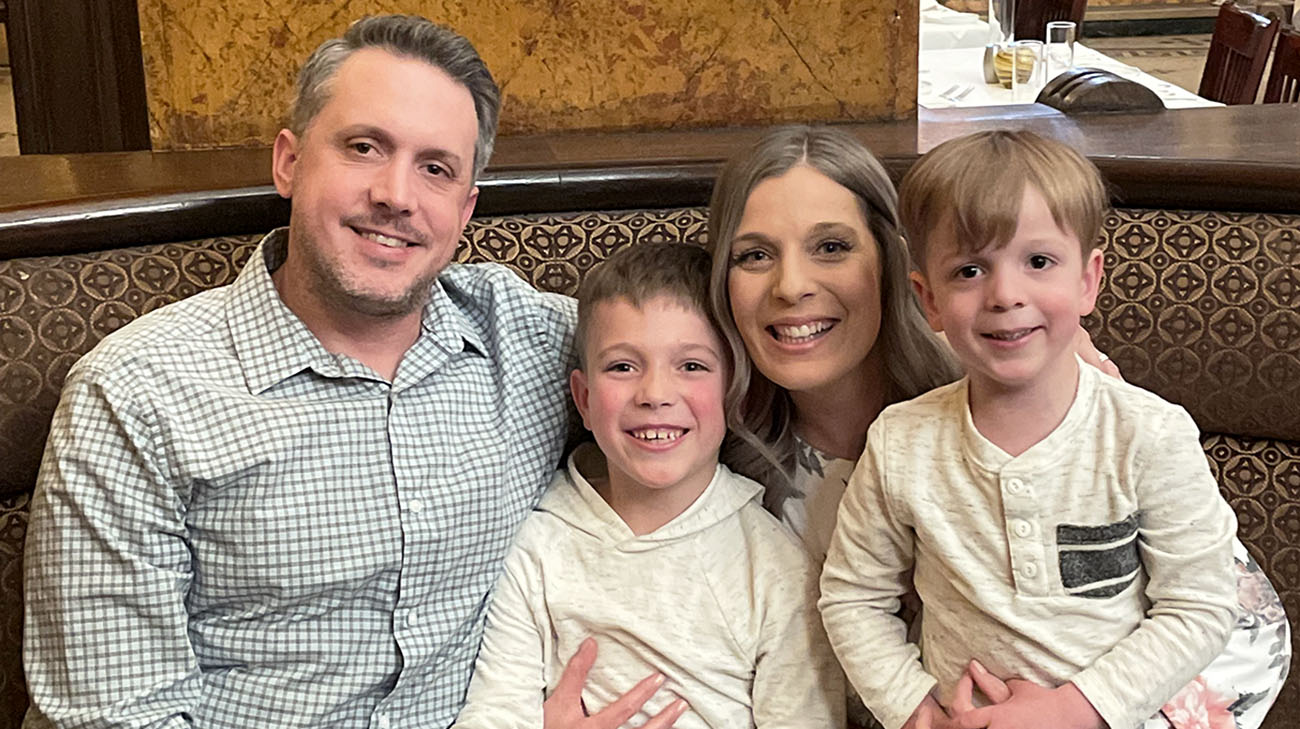 Jessica calls her husband and two boys her biggest supporters. (Courtesy: Jessica Scheeser)
According to Dr. Recinos, patients with a trigeminal schwannoma typically have three options. One, is observation to monitor if the tumor is continuing to grow. "That wasn't a good option for Jessica," he explains. "She was already having symptoms, and the tumor was pretty sizable, with multiple compartments that extended from her intercranial space toward her brainstem."
She also wasn't eligible for less invasive Gamma Knife radiosurgery. The treatment typically prevents the tumor from further growth, but it wouldn't reverse the damage and symptoms Jessica was already experiencing.
That left one option: craniotomy. It's an open brain surgery in which the surgeon removes a piece of skull to access the impacted area, and then replaces it afterwards. It's an intricate procedure, but Jessica felt a sense of calm when the surgery was explained to her, "I just knew it would give me my life back."
Jessica first experienced symptoms in late 2018, after her second son was born. Initially, it was just intermittent numbness and tingling above her right eye. She assumed her allergies were flaring up or the pain was caused by a problematic filling in one of her teeth.
Over time, the symptoms intensified into searing pain, especially when she would yawn or chew. Even bubblegum could trigger the pain. "One time at the gym, I took a drink of water and a piece of ice popped into my mouth," Jessica recalls. "When I bit down on it, I dropped the water bottle. It was one of the most intense pains I'd ever felt."
Jessica is in the gym up to five days a week following her surgery. (Courtesy: Jessica Scheeser)
Jessica tolerated the various symptoms for nearly three years, but she knew it was getting worse. In October 2021 she met with her doctor, who suspected she might be suffering from a trigeminal schwannoma. When an MRI confirmed the diagnosis, she quickly moved into a surgery mindset, based on Dr. Recinos' empathetic guidance.
As he explains it, the surgery would require him to burrow deep into her skull, where the tumor was embedded into one of several "bundles" that form the trigeminal nerve. "The tumor arose from just one of those bundles, so we would need to push the rest of them aside to reach it. Our goal is to take out this huge tumor, not damage the brain and leave the rest of those fiber bundles intact. It's pretty complicated."
Nevertheless, Jessica found herself to be "ridiculously calm" in the days leading up to the procedure. She stayed positive for her two boys, "I fought so hard to get through this because I refused to have my kids feel what I feel every day missing my dad."
Jessica's positive feelings were bolstered by a long discussion she had with a former patient of Dr. Recinos who had successfully undergone the surgery. "He didn't sugarcoat anything and answered every question I had," recalls Jessica. "He said there is nobody better than Dr. Recinos for this surgery."
The 9-hour operation proceeded smoothly. Using a variety of micro-dissection instruments, Dr. Recinos painstakingly removed the tumor piece by piece. His work was supplemented by a device that used ultrasonic waves to break up hard-to-reach sections of the tumor into smaller pieces that were then suctioned out.
Jessica also appreciates Dr. Recinos carefully made the lengthy incision – requiring 40 staples to close – along her hairline. When she wears her hair down, there's no sign of the scar. "When people who know I've had the surgery first see me, they are so confused. They wonder where my scar is!"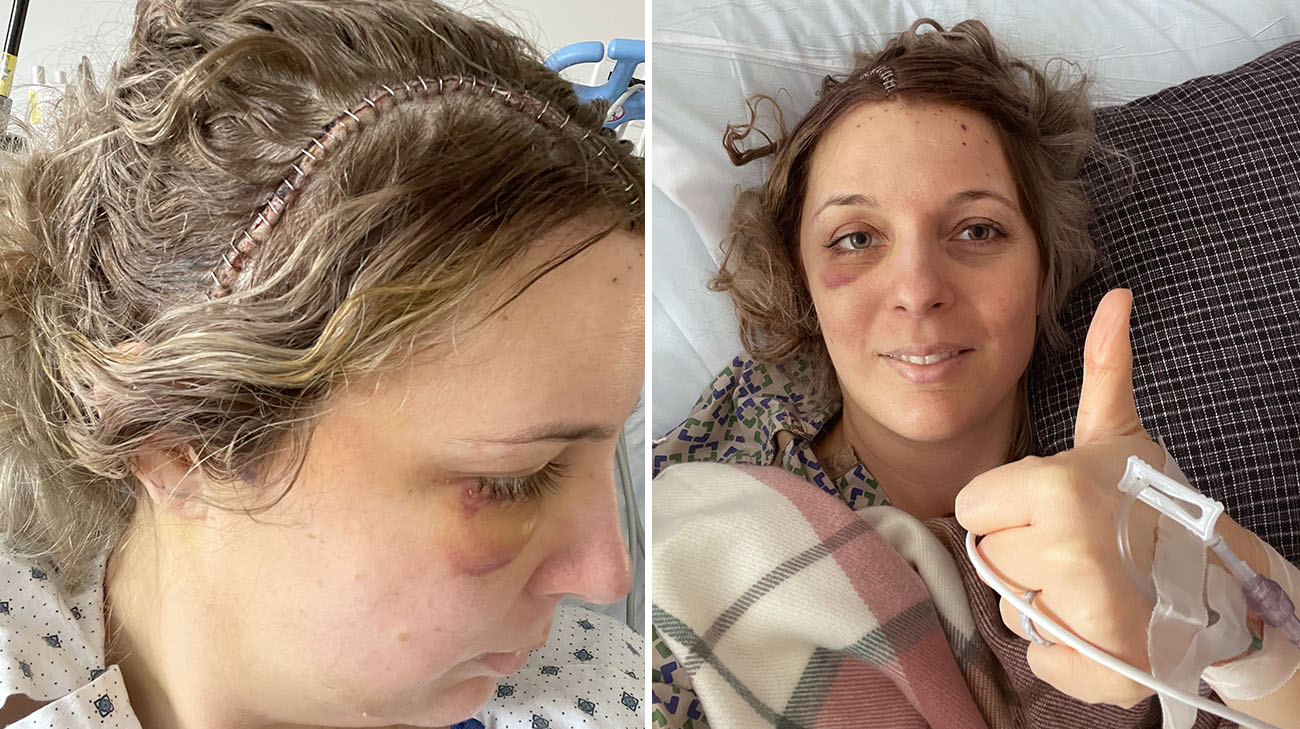 Jessica needed 40 staples to close her incision. She appreciates it was carefully made along her hairline, making it easier to hide. (Courtesy: Jessica Scheeser)
A follow-up MRI revealed no further signs of the tumor, which was indeed benign. Four days later, Jessica went home. She returned to work in a few weeks, got back to her workout routine and is enjoying time with her family. While still experiencing some numbness and soreness, which is expected for a time after this operation, Jessica has none of the tingling or searing-pain spasms that dominated her life for so long.
"I'm so humbled and grateful for Dr. Recinos and everyone at Cleveland Clinic. He did an incredible job and I truly owe my life to him." Jessica adds.
Related Institutes: Neurological Institute
Patient Stories
Patient Stories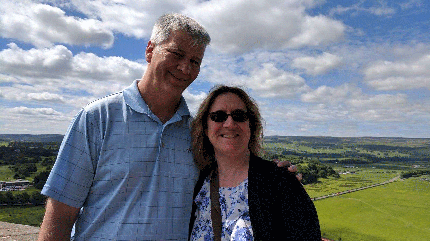 Nov 30, 2023
"I was under enormous stress and having difficulty sleeping, so I reached out to Dr. Saper to see if he had any suggestions as to how I could better cope."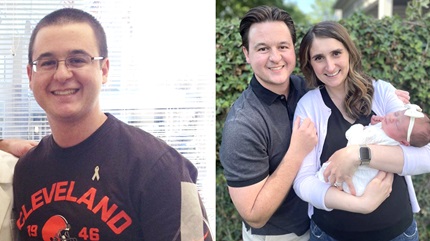 Nov 30, 2023
"At the time of my diagnosis, I was thinking, 'I'm 24. I'm a lifelong nonsmoker. I'm not supposed to get cancer.'"