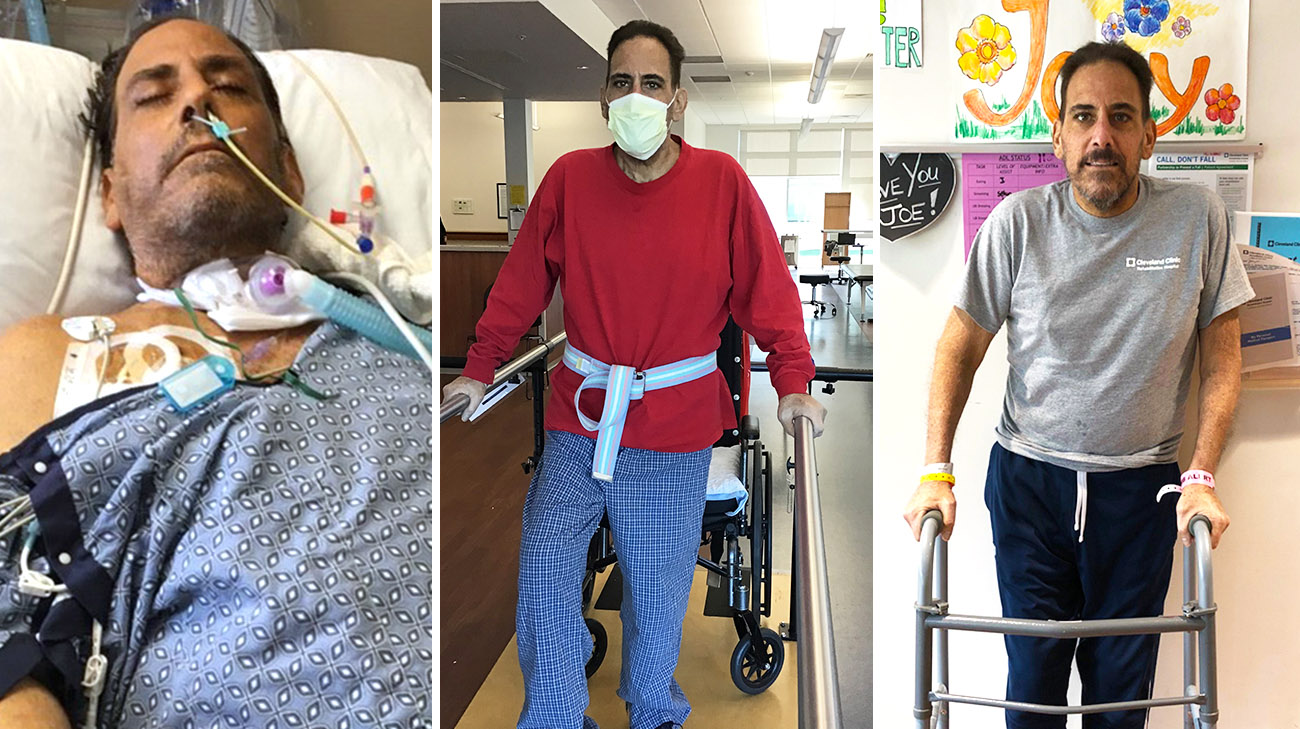 "Basically, I was dead a couple of times," says 58-year-old Joe Nero. Joe is among the patients who have contracted long-haul COVID, which produces a myriad of symptoms that impact individuals for weeks, months and – in Joe's case – years after the initial diagnosis.
Joe returned to his job in radio advertising in late December 2021 – 595 days after being hospitalized. "I couldn't have made it through without many great doctors, nurses and my support system, especially my wife, Laura, who has been such an inspiration for me. And I had a lot of people praying for me, more than I could ever have imagined."
From the first time he came to Cleveland Clinic Hillcrest Hospital with severe abdominal pain and numbness in his extremities, Joe's problems snowballed into an avalanche of health issues that many people wouldn't endure during their entire lifetime. Conditions included: blood clots in his small intestine leading to its partial removal; severe liver injury; removal of his gallbladder; respiratory failure requiring an emergency tracheostomy; kidney failure; septic shock. The list goes on and on, ultimately Joe spent 190 days as an inpatient in several Cleveland Clinic hospitals and rehabilitation facilities. During his medical journey, he lost 67 pounds from his original weight of 220. He also had a number of symptoms including high heart rate, low blood pressure, fatigue and brain fog.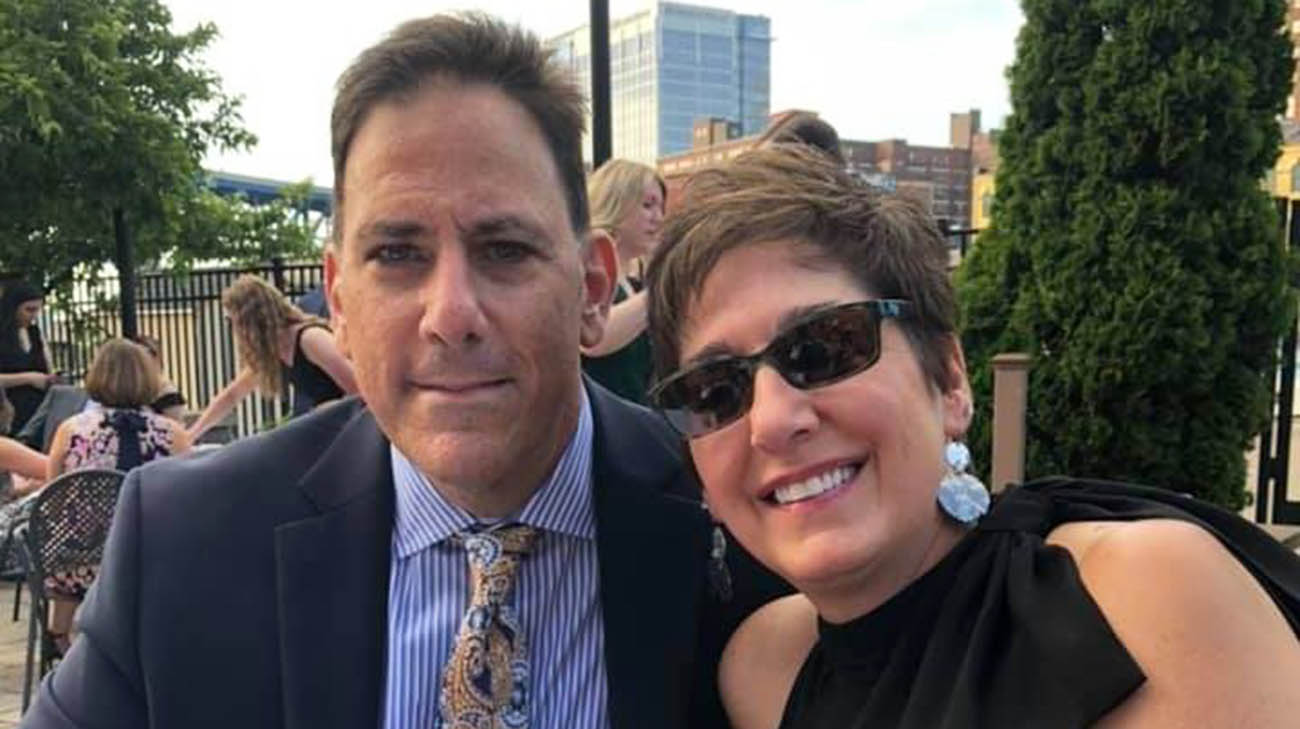 Joe says his wife, Laura, has been one of his biggest sources of inspiration throughout his medical journey. (Courtesy: Joe Nero)
According to William Lago, MD, the medical director of Cleveland Clinic's reCOVER Clinic for patients with long-haul COVID-19, "Like COVID-19 itself, long COVID-19 can include a wide array of symptoms. This is a complex condition and one that we are understanding more about every day. By taking the time to perform multidisciplinary, comprehensive evaluations, we believe we can put together treatment plans to set patients on a path to wellness."
It was a long, winding and barrier-filled path to wellness for Joe. As he wrote in a lengthy daily memoir of his journey, at the suggestion of one of his therapists, to help him improve his mental acuity during recovery, giving up would have been understandable on several occasions.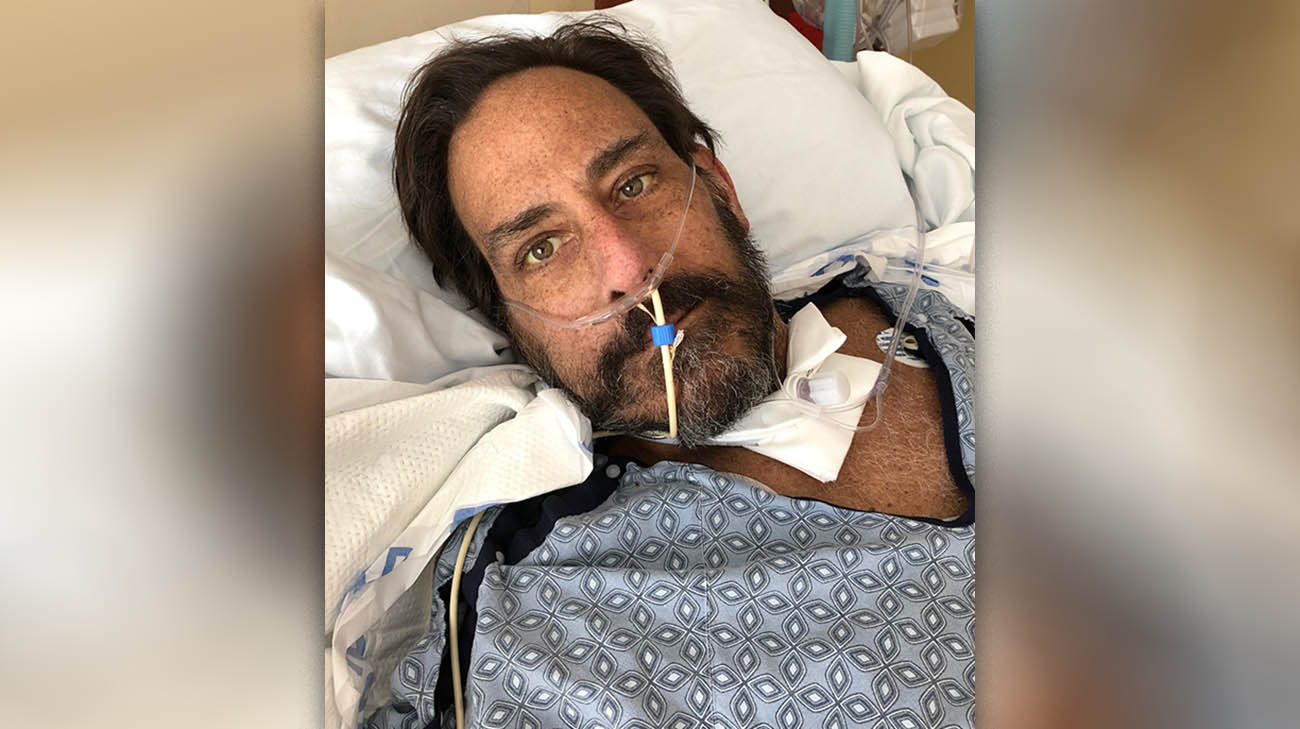 Joe spent 190 days as an inpatient in several Cleveland Clinic hospitals and rehabilitation facilities. (Courtesy: Joe Nero)
"It's easy to give up. It's easy to lay in bed under the covers and not let the world in around you," he states. "But God has given us gifts, including the gift of being alive. So, trust in the nurses, our unsung heroes. Trust in the doctors. They know what they're doing, and know there is a light at the end of the tunnel. You can overcome!"
However, with each new affliction, Joe's battered and weary body would struggle to fight it. Formerly fit and healthy, Joe lost all of the musculature in his arms and legs. He was unable to move without a wheelchair. After months and months of rehabilitation, he slowly regained the ability to walk on his own –a rigorous chore in and of itself.
Interestingly, Joe didn't test positive for the coronavirus. Since his odyssey began early in the pandemic, around April 27, 2020, testing wasn't readily available nor as sensitive in detecting disease. He and all his physicians agree, by the time effective COVID-19 tests were established, Joe was well into a physical and mental ordeal with COVID-19 that continues to plague him to this day.
"Life is only as good as we make it," implores Joe. "I would encourage anyone who is struggling to recover to stop sitting, get up and try walking. If you sit all day in a wheelchair, you'll just waste away. First, walk two steps, then 20 and then walk for 20 minutes. It takes motivation and determination."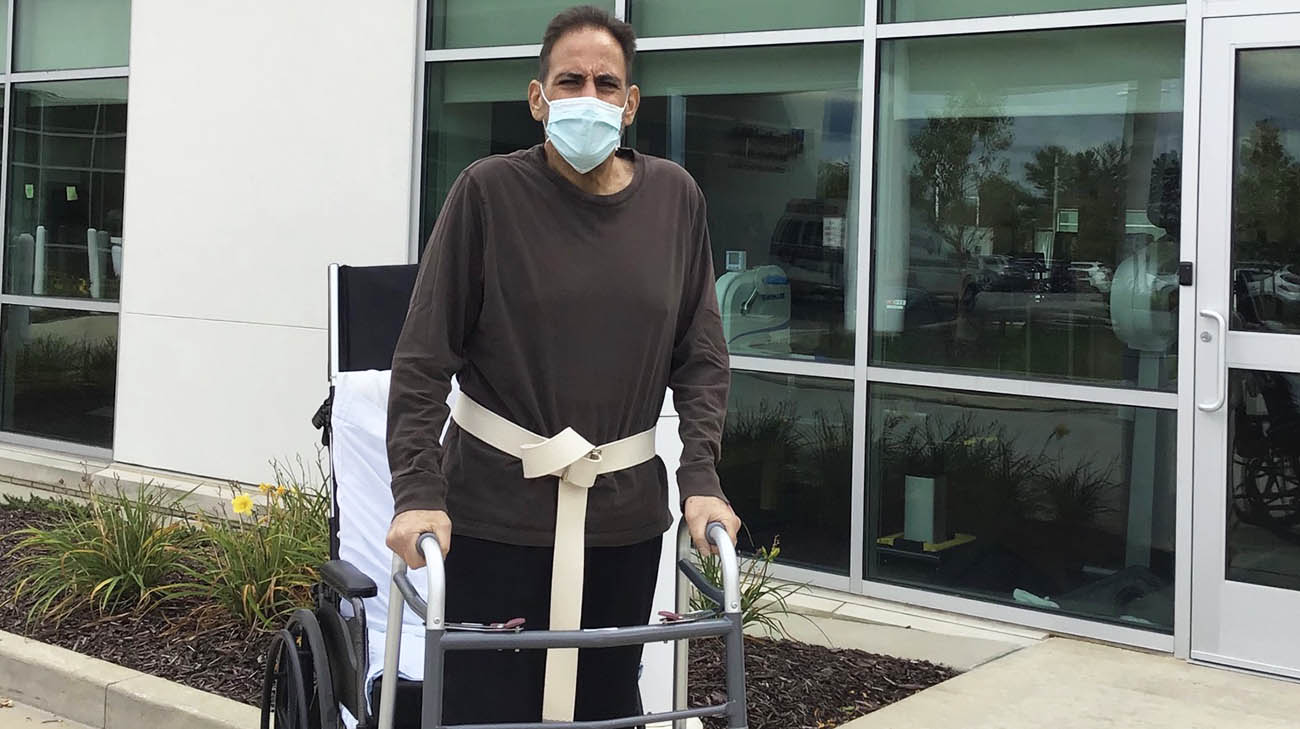 Joe continues working hard to reestablish a sense of normalcy in his life. (Courtesy: Joe Nero)
One physician who treated Joe later in his ordeal, after suffering postoperative bleeding and other complications from hernia surgery, is gastroenterologist Michael Pollack, MD. Initially shocked by the length and severity of Joe's medical record, Dr. Pollack also marveled at the continuous support of both his caregivers and family.
"Joe's wife and other family members were always beside him, and his faith has also been so important to him," says Dr. Pollack, who also cited the commitment of countless, multidisciplinary caregivers who treated Joe and other patients with COVID-19 despite the risk to their own lives. "The nurses and support staff and everyone else on 'Team Joe' were able to deal with complex factors and provide him with the highest level of care. Given the conditions, that is amazing."
Joe agrees Laura has been the main supporter in his recovery. "She has been amazing, and I learned just how strong my wife is. All that she had to go through, and had to deal with, not knowing if I would ever come home. She devoted her whole life to taking care of me, and I'm blessed to have her as my wife."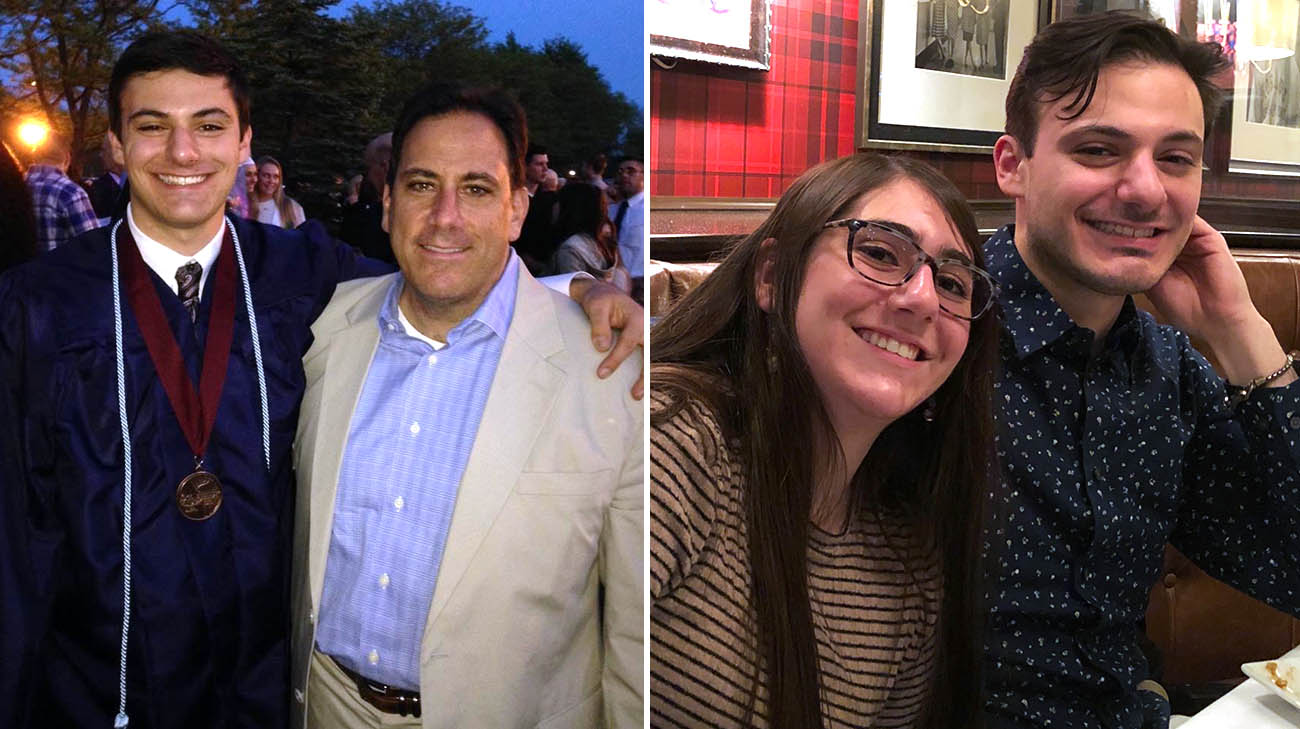 Joe treasures every moment he has with his family, including his son, Christopher, and daughter, Lexie. (Courtesy: Joe Nero)
As Joe strives to return to a sense of normalcy, he treasures every moment with Laura and their children, 24-year-old Christopher and 16-year-old Lexie. While admittedly a workaholic, he is also devoting time to other pursuits, such as his lifelong ambition of wanting to learn to play the violin.
He hopes his story of endurance, in overcoming numerous COVID-driven problems and never giving up, will inspire others facing uphill medical battles. "My advice is to enjoy the journey and not be so driven by goals," Joe states. "Don't take life for granted. Every day is a gift."
Related Institutes: Respiratory Institute, Digestive Disease & Surgery Institute
Patient Stories
Patient Stories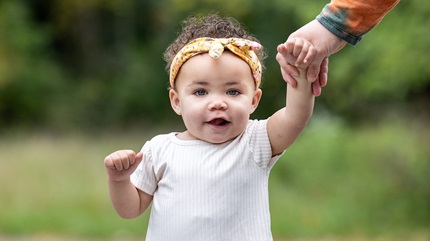 Sep 29, 2023
"Following her procedures, Adaya has defied the odds. She's hit all of her milestones so far. She's crawling and getting around wherever she wants to go."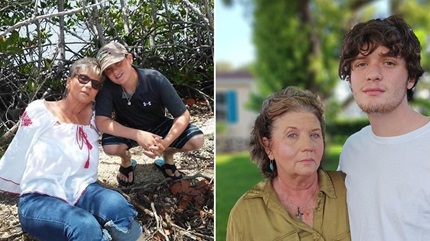 Sep 28, 2023
"It was worth every moment of it to know I was going to be there to see my son grow up."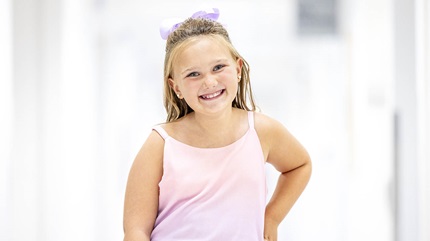 Sep 22, 2023
"This wraps up a chapter in her life we hope we never have to reopen. Audrey handled everything like a champ, and we are so grateful and proud."