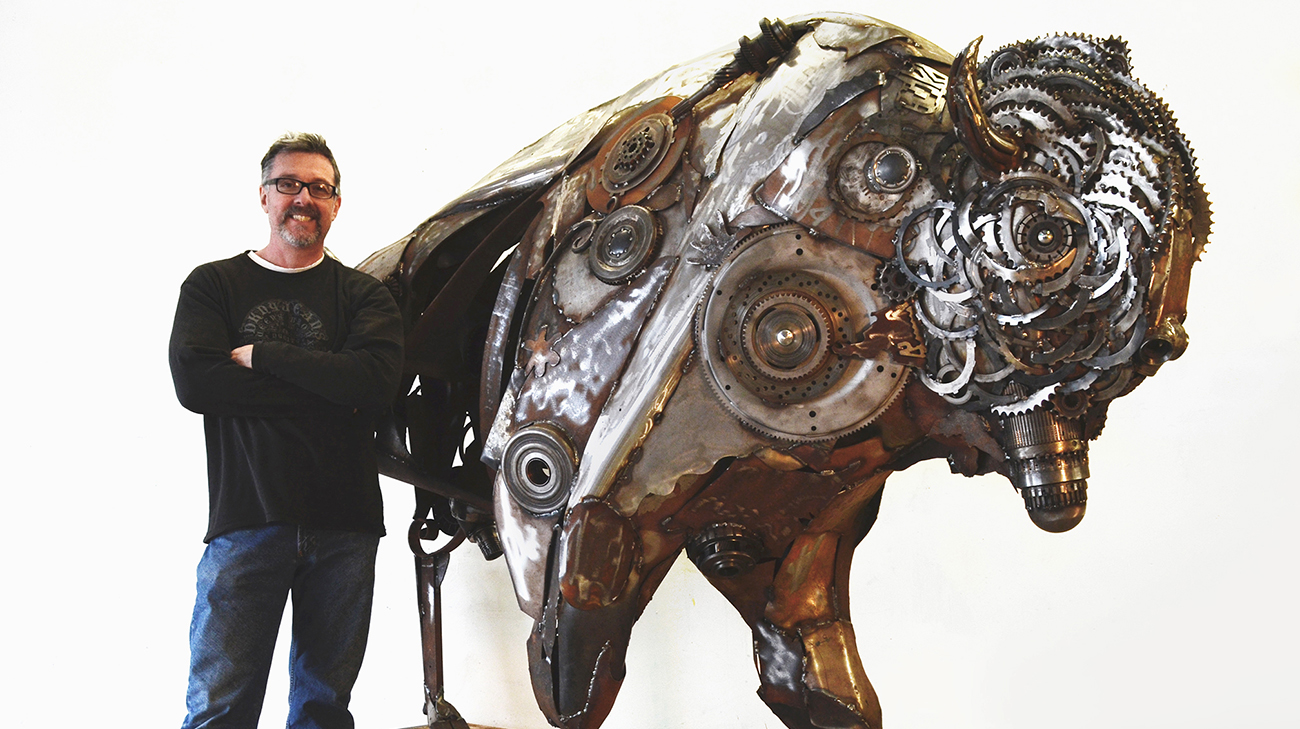 Metal sculptor Donald Gialanella always relied on a steady hand in creating distinctive art for public spaces across the country. His works employ ordinary, everyday plastic or metal objects, such as transmission parts, assembled to form a greater whole. "They encourage recycling awareness and are like cultural time capsules," he says.
This has been his livelihood for 25 years, since he left an Emmy-winning career as a graphics producer for a television network in New York. "I always wanted to be an independent fine artist," he says. "I studied sculpture in college before going to the network, and I finally got up the courage to quit and return to my first love."
However, in recent years, Donald has been challenged by tremors related to Parkinson's disease. By the fall of 2021, they were so severe that he couldn't even hold a coffee cup, much less a welding torch, grinder, hammer or drill. In addition, he says, "everything I do starts with a sketch, and sketching with my right hand was virtually impossible." He worked around this with a computer-assisted design program but was forced to rely on other people to do what he loved most, bending and shaping metal to his will.
When Donald sought help, he was referred to Sean Nagel, MD, a neurosurgeon at the Cleveland Clinic Center for Neurological Restoration in Ohio. Dr. Nagel uses MRI guided high frequency ultrasound, a new technique in treating tremor that has some advantages over the other options.
In October 2021, Donald traveled from his home in St. Petersburg, Florida, to Cleveland for assessment. He then returned for the procedure, which took place Nov. 11. It required that he remain immobile and alert in order to communicate with his medical team as they targeted specific areas of his brain.
"Some might find this process unpleasant, but I experienced the opposite sensation," he says. As the tremor dissipated, a sudden stillness overtook him. "It was very euphoric for me, especially with that final blast of ultrasound. I spun away into a calm place, like a dizzy kind of flying away. It felt good."
Afterward, he says, "I was ready to travel the next day. My initial results were extraordinary, and for the first few weeks, my hand was rock steady." He experienced complete freedom from tremors for about two weeks. Then, they returned, but at about half of what they had been. "Despite some bad tremors, I still have had great relief," he says.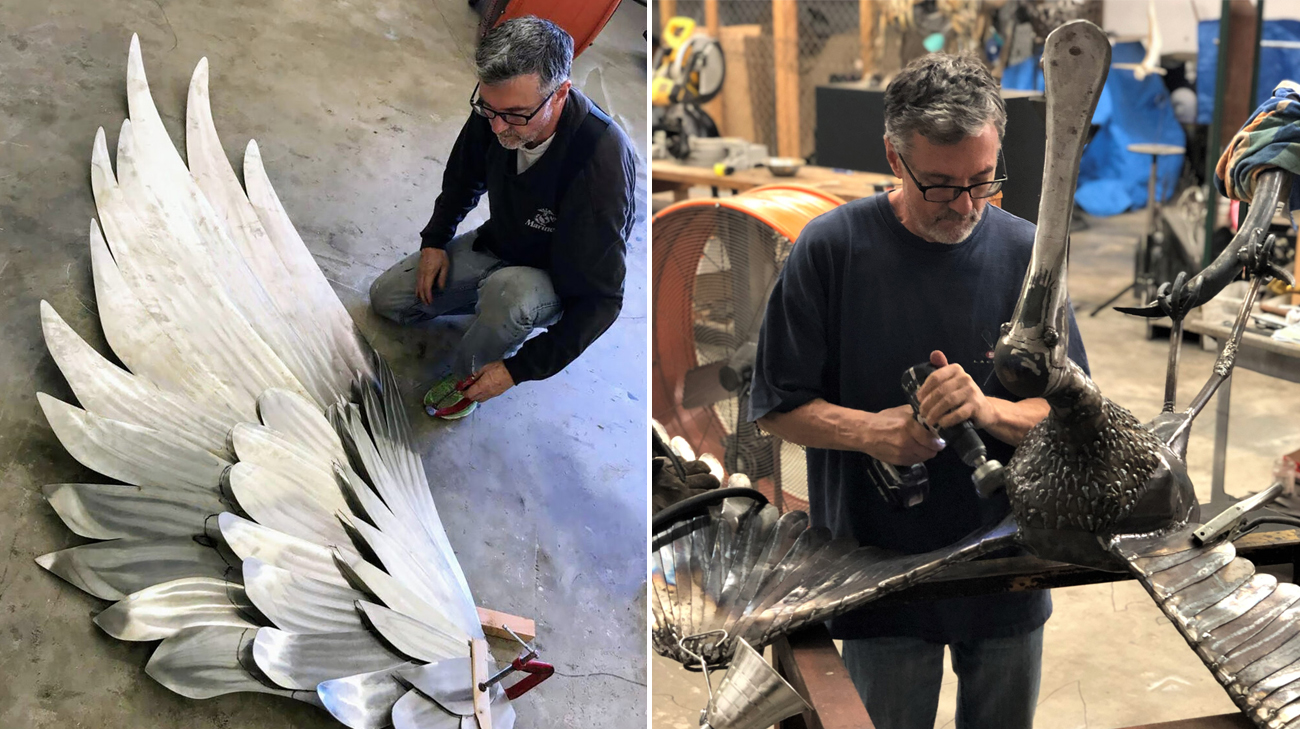 Donald Gialanella works on sculptures in his studio. (Courtesy: Donald Gialanella)
This innovative, FDA-approved treatment became available to Cleveland Clinic patients at the end of 2018, Dr. Nagel says. He explains that tremor is related to abnormal activity in some brain circuits. "In one part of the brain, the activity becomes abnormal. If we deliver stimulation to that part of the brain, or create a small lesion, it disrupts this abnormal activity of the nerve cells and relieves the tremor."
The device uses MRI for imaging and as a kind of thermometer to detect temperature changes in the brain, he says. A transducer helmet is attached to a membrane placed atop the patient's head.
"Ultrasound energy from 1,000 directions is delivered to a preselected target," Dr. Nagel says. "It increases the temperature of the brain at a very specific spot, making a small opening, usually less than a centimeter in diameter. This device lets us increase the energy slowly enough that we can modify the target slightly in real time until the tremor improves."
The patient's head is bathed in ice-cold water throughout the procedure to control the temperature; The device is activated for 15 to 20 seconds about eight to 12 times — a total of around two minutes in a two-hour procedure. The rest of the time is for imaging, planning and decision-making, Dr. Nagel says.
"Ultrasound is targeted at a part of the brain called the thalamus, a structure deep in the brain that's been known for many years as a site important for tremor control," he says. "Most patients experience only a sense of heating in their heads, tilting or floating, and sometimes tingling in their fingertips or face."
"Cleveland Clinic did everything they could to make it as easy as possible. The doctors, nurses and hospital staff were just amazing — I can't say enough about them. Everyone was so nice, helpful and professional. I really felt like I was in good hands."
To date, Dr. Nagel and his team have used high frequency ultrasound to treat about 100 patients. He says that Donald's post-treatment response is typical. "Our goal is for a 60% to 80% reduction during the day of the treatment," he says. "Not uncommonly, some of the effect of the treatment will wear off, with a 50% improvement in the normal range of outcomes. This is often related to the severity of the tremor to start, underlying disease and energy we are able to deliver before seeing side effects. We're not disrupting the natural history of the patient's condition. Their tremor continues, and we're only treating the part of the brain or the cells affected at that particular moment." At present, MRI guided high frequency ultrasound is a one-time treatment, he says.
Donald says he knows this procedure has not cured him of Parkinson's. However, he adds, alleviating his symptoms has greatly enhanced his quality of life.
"The tremor was a huge impediment for me in creating my sculptures," he says. "It's a very physical art form, and now, I can have much more involvement. The lessening of the tremor also has made everyday activities easier, from brushing my teeth, washing my face and getting dressed to drinking out of a glass, driving and working on a computer."
Treatment also gave him self-confidence, which is important in his field, he says. "The work of art is the final period at the end of a sentence. There is so much before that — creating a proposal, getting it accepted, working with city engineers and subcontractors, dealing with insurance. Afterward, there are dedications and public speeches. I'm working on a lot of projects right now. The most intriguing is that I was selected to do the cauldron for the 2022 Special Olympics USA Games."
Although traveling for his care and having a procedure were stressful, he says, "Cleveland Clinic did everything they could to make it as easy as possible. The doctors, nurses and hospital staff were just amazing — I can't say enough about them. Everyone was so nice, helpful and professional. I really felt like I was in good hands."
Related Institutes: Neurological Institute
Patient Stories
Patient Stories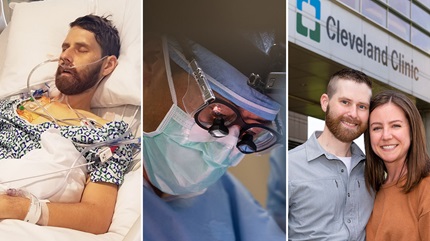 Jul 4, 2022
"We're taking it one day at a time and enjoying every day."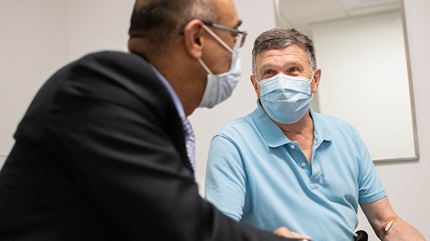 Jul 4, 2022
"I tell Dr. Desai every time I see him I have more energy now than I can ever remember."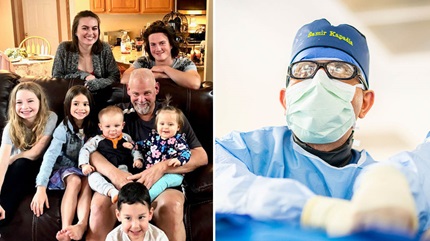 Jun 29, 2022
"There were many times when I thought I wasn't going to make it. Dr. Harb and other Cleveland Clinic specialists were godsends. They saved me."