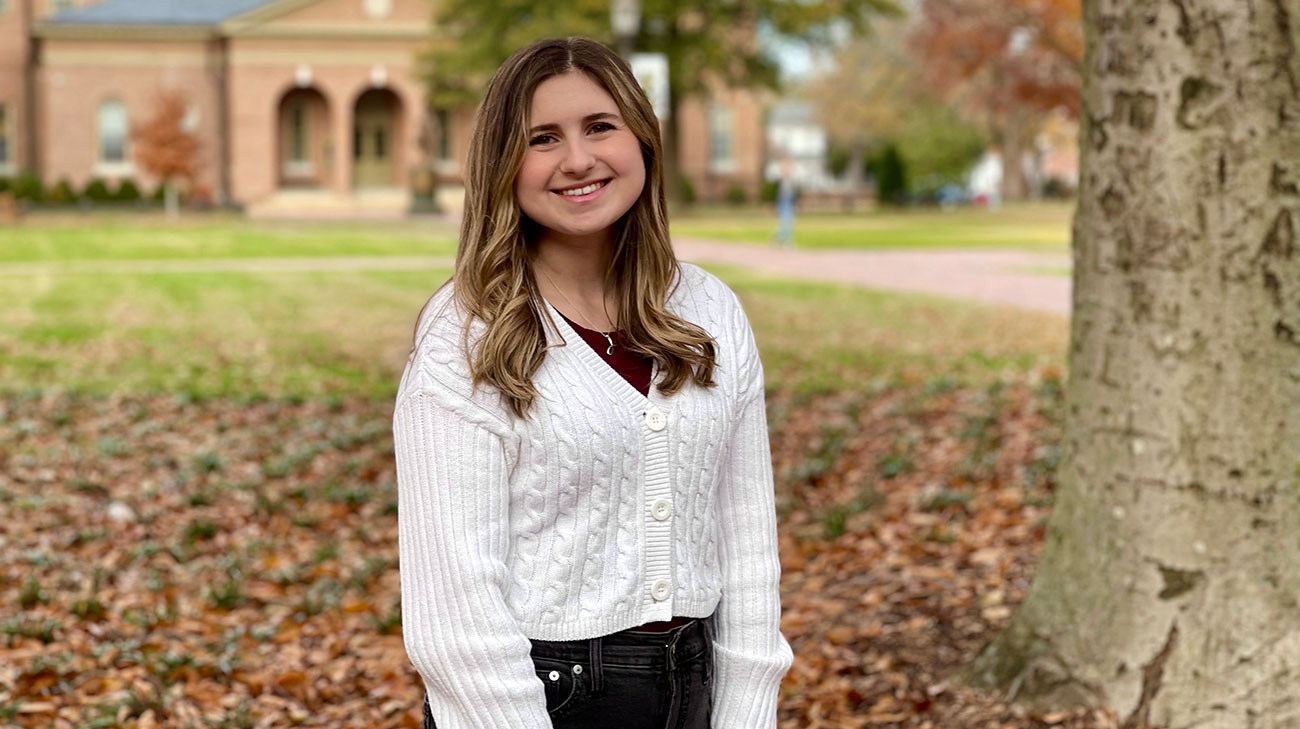 Sometimes our lives are shaped by our life experiences. And, that's what is guiding Julia Merti — a sweet girl with a sunny disposition and an urge to help others — as she makes choices for her future.
Julia, a 23-year-old college student from Williamsburg, Virginia who is co-enrolled at Thomas Nelson Community College and William & Mary, had life-long gastrointestinal (GI) issues. Her problems escalated in 2015, resulting in a total colectomy (the removal of the large intestine).
Additional surgeries were needed. The small intestine was shaped into a J-pouch (a reservoir created for bowel contents to exit the body). Then, a loop ileostomy was placed (part of the small intestine is lifted above skin level in order to reconnect the bowel later). Finally, the ostomy was closed by reattaching the loop ileostomy with the small intestine, allowing her to go to the bathroom normally.
But Julia's GI issues worsened after surgery — she was plagued with constipation and endured constant, severe pelvic pain — causing her to have GI surgeries multiple times.
In April 2019, Julia's bowel was completely obstructed leading to a six-month stint in the hospital where she endured three additional surgeries and her J-pouch was disconnected and converted to an ileostomy. During this time, Julia had to rely heavily on opioids to make her life bearable.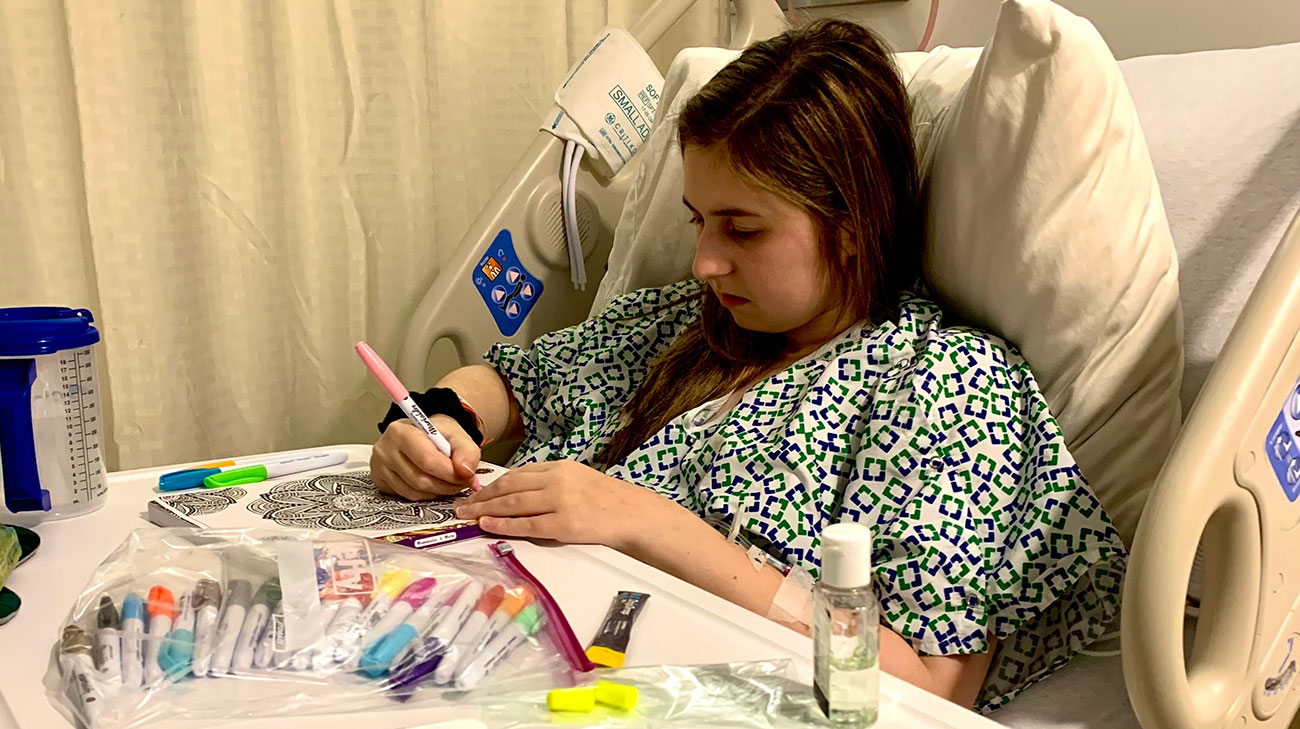 Coloring was one way that Julia kept herself distracted and helped pass the time in the hospital. (Courtesy: Julia Merti)
"One year later and I was still in a great deal of pain and desperate for help. My dad had always heard about the great medical advances at Cleveland Clinic, so he called to make an appointment. I was scheduled for a virtual appointment on the same day. I was sleeping, but my mom was so excited that she came running into my room to wake me up so I could get ready for the appointment," laughs Julia.
Two hours later, Julia and her parents met virtually with Stefan Holubar, MD, MS, a colorectal surgeon at Cleveland Clinic. "I thought Julia most likely had a twisted J-pouch that was malconstructed during her initial surgery. I'd be able to see if this was the case during surgery, but it intuitively made sense due to her symptoms," says Dr. Holubar.
A week and a half later, Julia and her parents travelled to Cleveland Clinic to meet with Dr. Holubar and have various tests in preparation for her surgery. During that visit, Julia learned some interesting information — Dr. Holubar has a J-pouch.
"Learning that Dr. Holubar has a J-pouch was very comforting to me. I felt it gave him more compassion because he knew what I was going through. Also, it gave me hope seeing that he is living a full life with a functioning J-pouch. I felt even better with him as my surgeon because on top of his incredible skill and ability to do these surgeries, he also knows what it's like to have the surgery," remembers Julia.
In September 2020, less than a month after her first virtual appointment, Julia was scheduled for surgery. "During the procedure, I saw what I suspected — Julia's pouch was twisted 180 degrees. I disconnected the twisted pouch from the anus, untwisted it and hand-sutured the otherwise healthy pouch to the anal canal," explains Dr. Holubar.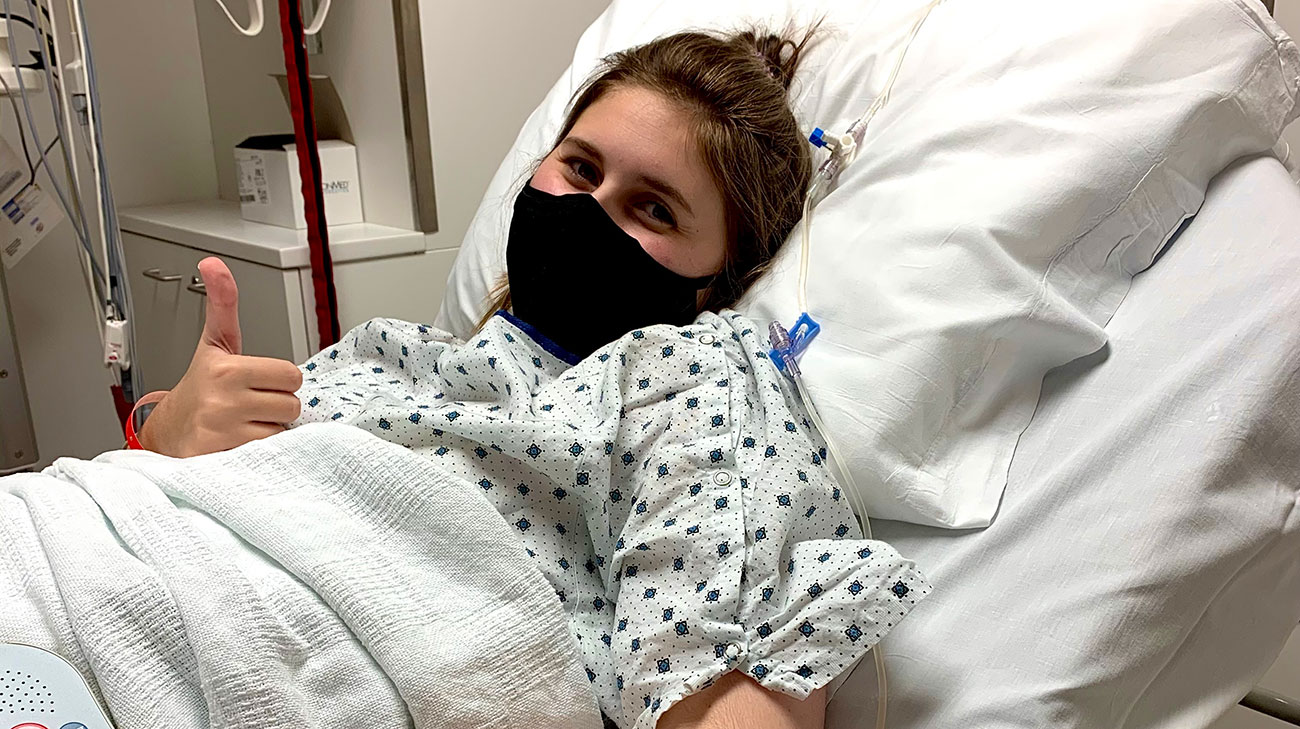 Julia is feeling better and gives the "thumbs up" after surgery at Cleveland Clinic. (Courtesy: Julia Merti)
The temporary loop ileostomy was closed three months later. The surgery has enabled Julia to live pain- and opioid-free, with normal pouch function. She has a dramatically improved, normal quality of life. "I'm proud of Julia and how she handled her situation. It's difficult to be in constant pain and not taken seriously," says Dr. Holubar. "Her mother provided tremendous support, which helped Julia deal with the physical and emotional pain."
Curious about other twisted-pouch cases like Julia's, Dr. Holubar was surprised when he searched through a medical literature database. "I assumed that someone had recognized this before but I found nothing," says Dr. Holubar. "That inspired me to search Cleveland Clinic's Pouch Registry for similar cases."
Dr. Holubar reviewed 25 years of data on more than 5,000 pouch surgeries which revealed that 29 patients referred to Cleveland Clinic ultimately had the same triad of obstructive symptoms as Julia — erratic bowel habits, and abdominal or pelvic pain — and underwent redo pouch procedures. He named this twisted pouch syndrome (TPS).
Because of Julia's care at Cleveland Clinic, she decided to major in engineering physics and applied design with a specialization in medical device engineering. "The quality of care I received at Cleveland Clinic made me decide to focus on helping others," says Julia. "Dr. Holubar changed my life. It was such a relief to finally be understood and have someone believe my complaints weren't imaginary."
Related Institutes: Digestive Disease & Surgery Institute
Patient Stories
Patient Stories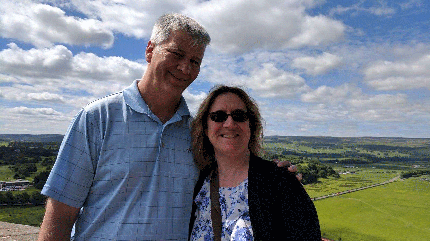 Nov 30, 2023
"I was under enormous stress and having difficulty sleeping, so I reached out to Dr. Saper to see if he had any suggestions as to how I could better cope."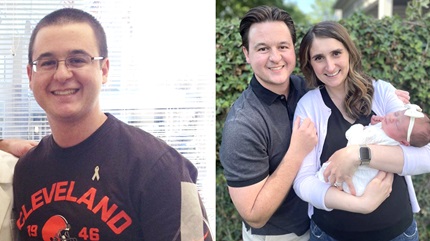 Nov 30, 2023
"At the time of my diagnosis, I was thinking, 'I'm 24. I'm a lifelong nonsmoker. I'm not supposed to get cancer.'"