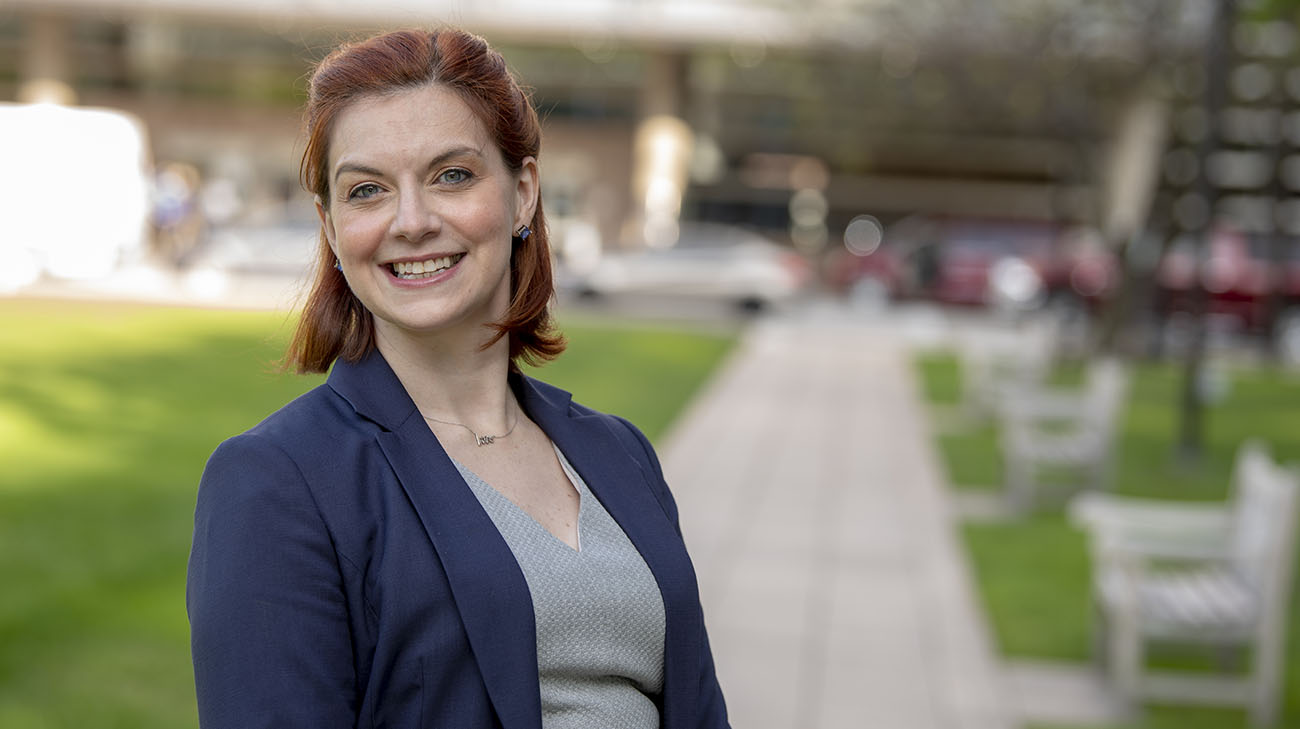 Suzanne Fink, MSN, RN, often compares herself to Ariel in "The Little Mermaid." Like Ariel, she experienced a sudden loss of her voice. And like her, she also had it restored – only not by magic, but rather through the expert care of Cleveland Clinic's Voice Center.
Throughout her life, Suzanne, a nurse at Cleveland Clinic, has faced challenges from a movement disorder known as early onset childhood dystonia, which causes involuntary muscle contractions and spasms.
"Everything always took me longer," she says. "I had a lot of ambition and goals, but chronic illness is an uphill climb." Her physical condition varies from day to day, allowing her to walk or putting her in a wheelchair. "Some people think I have a twin because I go from wheels to heels," she jokes.
Even with these difficulties, after graduating from Kent State University with a bachelor's in healthcare administration and still dreaming of a nursing career, she began as a service relations coordinator at Cleveland Clinic. The timing was perfect — shortly thereafter, the organization announced an onsite program to train nurses. With the support of her supervisor, she worked days and went to school every night, graduating in 2007. Since then, she has had a successful and varied career, including as a neonatal nurse and a flight nurse. In February, she returned from over a year in London, where she was helping Cleveland Clinic to establish a new hospital. She now works as a lead systems analyst in Nursing Informatics.
"I wanted to attempt something new by going abroad with my wheelchair and crutches. I'm always in the mindset of seeking to push boundaries and do new things."
When she was a toddler, her future seemed uncertain to her parents who were alarmed by Suzanne's difficulty in walking, and to the doctors who diagnosed her with a spinal deformity. As a child, she dreamed of being a nurse but was told by her doctors that this was unlikely as she would never be able to lift patients. She endured numerous spine surgeries from her teenage years until her final one at 21 years old. "But I still had difficulties tilting my head to my shoulder and turning and moving my head and neck, and I was having all this pain," she says. The doctors said it wasn't related to her back or the surgeries, and some suggested that "maybe it's in your head."
It wasn't until 2004, when she was 24 years old, that she was diagnosed by Cleveland Clinic as having dystonia. Since then, Suzanne says, she has been helped by "an amazing primary care team," along with neurological care, physical therapy and psychiatric care to manage the disease and the stress it causes. The spasms in her larynx, leading to the loss of her voice, started in 2017. This, she says, is the most frustrating and daunting symptom of all, affecting her self-confidence, her self-expression and her livelihood.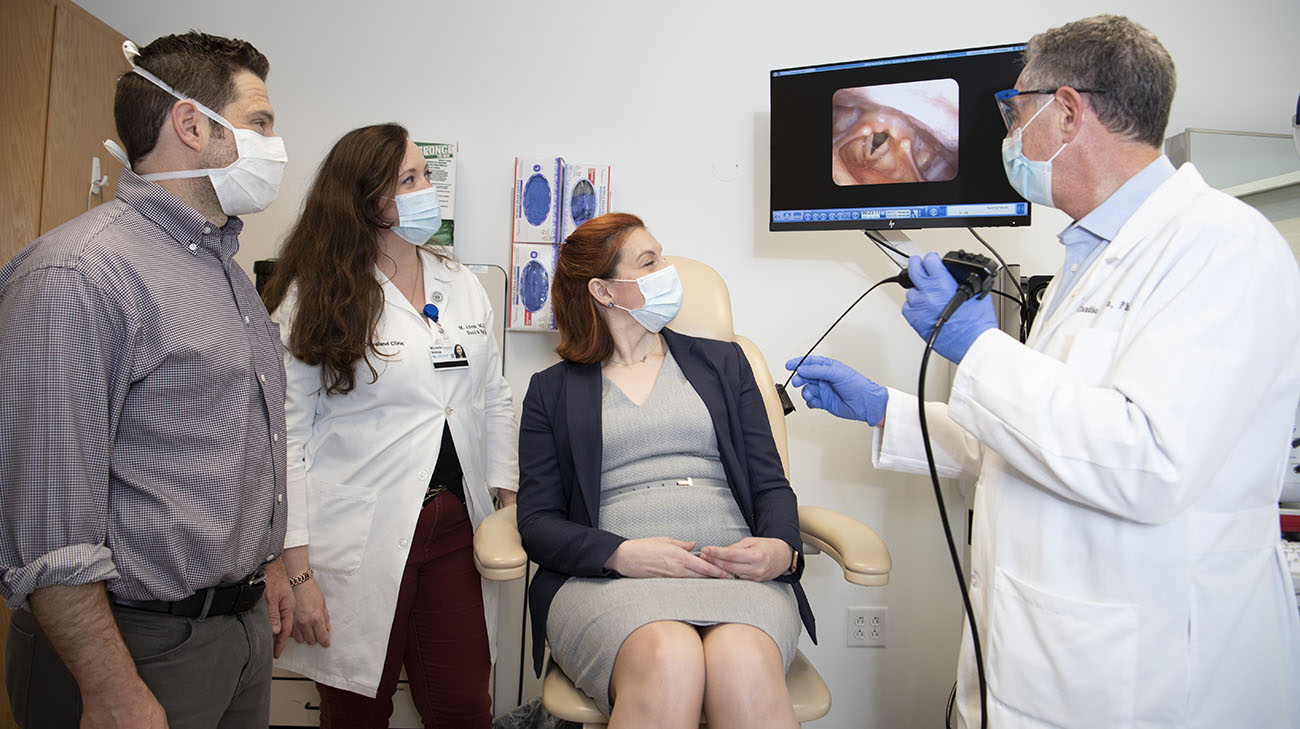 (Left to right) Dr. Bryson, Michelle Adessa and Suzanne listen as Dr. Milstein reviews images from a scope of Suzanne's throat. (Courtesy Cleveland Clinic)
At the Voice Center, Suzanne is supported by a medical team experienced in treating her disorder, including Center Directors Paul Bryson, MD, a laryngologist, and Claudio Milstein, PhD, CCC-SLP, a speech language pathologist.
Dr. Bryson injects a drug, Botox®, into the muscles around her vocal cords to relax them. The procedure takes about 15 minutes and targets the muscle for each vocal cord responsible for the spasms.
"It takes about 48 hours for the Botox to start working to stop the dystonia in the muscle and allow Suzanne to have more normal speaking and better muscle balance in her larynx," Dr. Bryson says. "If left to spasm, the muscle would cause the vocal cords to open during speech instead of closing as they should, reducing her voice to being very choppy, whispery and quiet."
"Laryngeal dystonia has two main variations – one makes the voice very tight and strained, and the other, which Suzanne has, makes the voice very weak and breathy," Dr. Milstein says. "She also has dystonia in her neck that is pretty significant and oral mandibular dystonia, with her face and neck moving in directions that she can't control. It's frustrating for her and impairs her ability to communicate."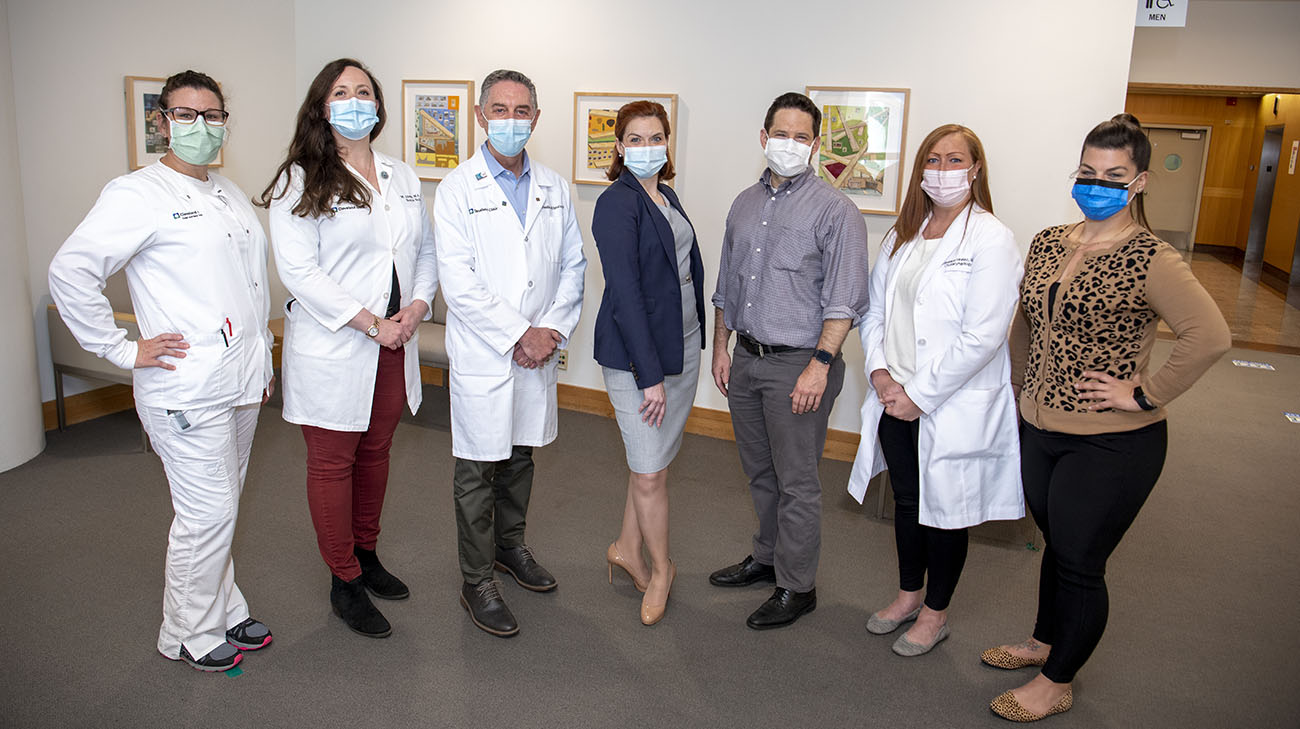 Suzanne Fink (center) is grateful to her care team in the Voice Center (left to right): Lynn Skeen, RN; Michelle Adessa, MS, CCC-SLP; Claudio Milstein, PhD, CCC-SLP; Paul Bryson, MD, laryngologist; Candace Hrelec, MD, laryngologist; and Nina Chalhoub,Voice Center coordinator. (Courtesy Cleveland Clinic)
The Botox treatments are highly personalized, Dr. Milstein says. "We really work closely with each patient in trying to get the very best results every time. We involve the patients in discussions about their treatment options, and when they return to the Center, we check to see how the last injection worked and custom tailor the next dose to that. The patient is always part of the discussion."
Suzanne's Voice Center team also includes speech language pathologist Michelle Adessa, BM, MS, CCC-SLP. Michelle's role is similar to Dr. Milstein's. Both assist the Voice Center physicians during the treatment and, afterward, in learning how effective it was. "We are assessing the perceptual quality of the voice, how the patient responded to the Botox, what the patient experienced and then fine-tuning the dosage," Michelle says.
She says that Botox is considered "the gold standard" in treating patients like Suzanne, although the amount needed varies with each patient, as does the frequency of the injections. "We meet each individual's needs as best we can to optimize the treatments so that their good voice days are many, and the bad days are few."
Dr. Bryson, Dr. Milstein and Michelle cite a close attention to each patient's needs as a reason for the excellence of the Voice Center. "Team work, expertise, years of experience, and tailoring treatment make us a really good team and center," Dr. Milstein says.
Dr. Bryson adds, "What also sets us apart is our large clinical volume and high degree of diversity in the vocal pathology that we see. Laryngeal dystonia is very uncommon, but because of the practice we've built over three decades, the Voice Center is a home for patients with these disorders. We enjoy collaboration with our colleagues in neurology and movement disorders, and in functional neurosurgery, and we have a large volume of patients with dystonia and vocal tremor, which I call movement disorders of the larynx."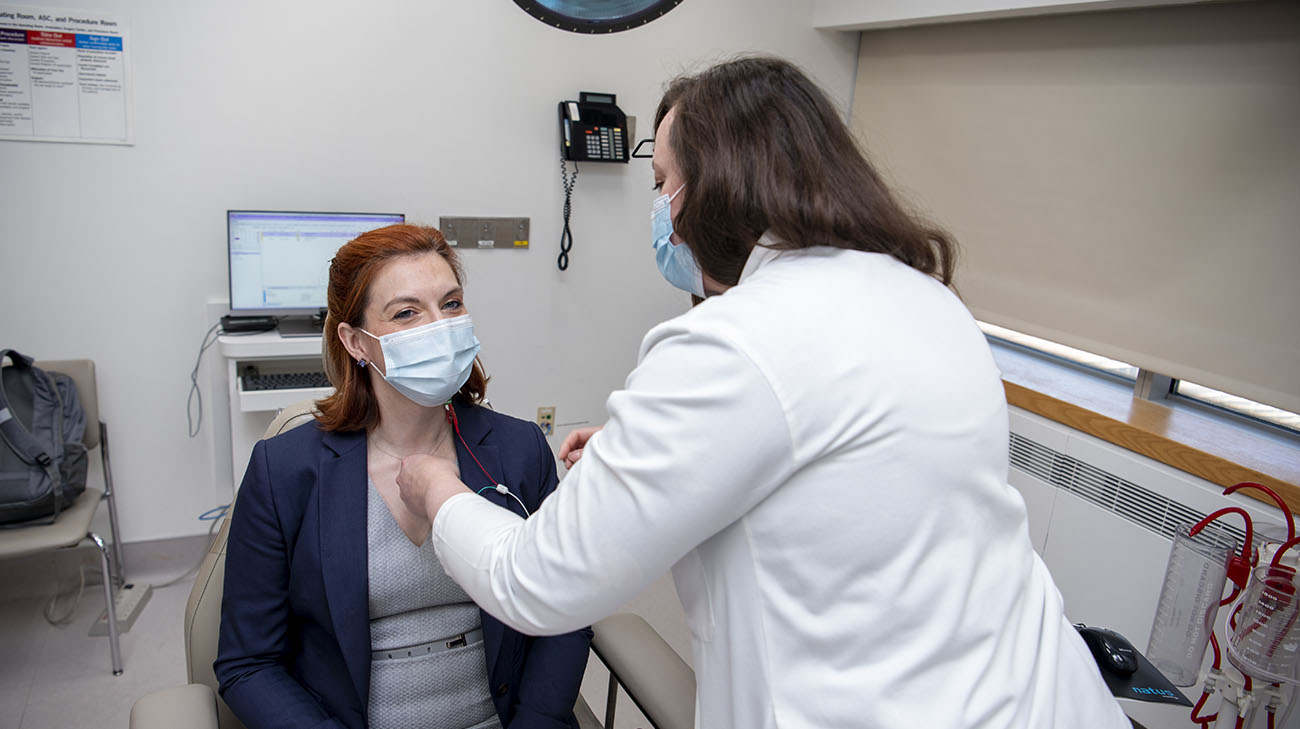 Michelle Adessa, MS, CCC-SLP, examines Suzanne. (Courtesy Cleveland Clinic)
Suzanne gives an example of how the Center's care has worked for her. In 2018, she was recognized by Cleveland Clinic with a Nursing Innovation award for helping to develop a hospital bedside early warning system called Vital Scout, and that same year, she represented Cleveland Clinic at a meeting of the national Health Information Management and Systems Society. She spoke to an audience of hundreds of people about Vital Scout – very soon after receiving a series of Botox injections.
"No one in the audience would ever know what it took for me to stand at that podium," she says.
Suzanne says that surmounting such difficulties helps her to be a better nurse. "I've experienced what it is to be very limited and disabled and what it is to get a lot of function back," she says. "Whenever I struggle through it, I think I'm in a great position to advocate for others."
That same care is what she says she experiences at the Voice Center. In a note to Cleveland Clinic's Office of Patient Experience about her medical team, she wrote:
"I will never be able to fully explain the empathy and compassion that the team has for its voice patients. How hard they fight for us, how much they believe in us. For me, it's a lifelong relationship as I require Botox injections every three to five months. The impact is akin to a miracle – a bit shaky at first, but I become clear as a bell. I sing, I yell, I chat, I commiserate. I communicate. I am not trapped. I am set free. It isn't just the treatment. They heal their patients. They see me, they hear me – even when the words refuse to come."
Related Institutes: Head & Neck Institute
Patient Stories
Patient Stories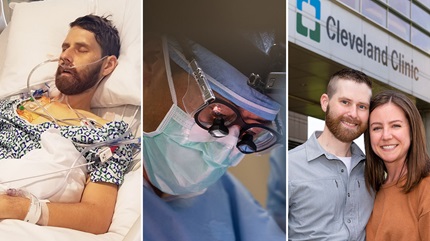 Jul 4, 2022
"We're taking it one day at a time and enjoying every day."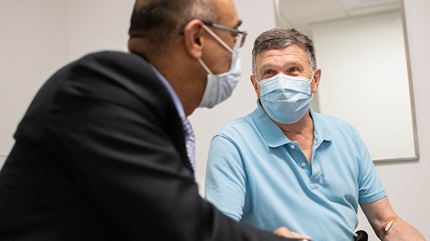 Jul 4, 2022
"I tell Dr. Desai every time I see him I have more energy now than I can ever remember."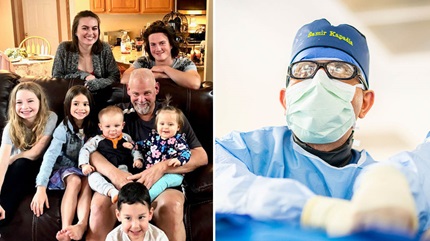 Jun 29, 2022
"There were many times when I thought I wasn't going to make it. Dr. Harb and other Cleveland Clinic specialists were godsends. They saved me."