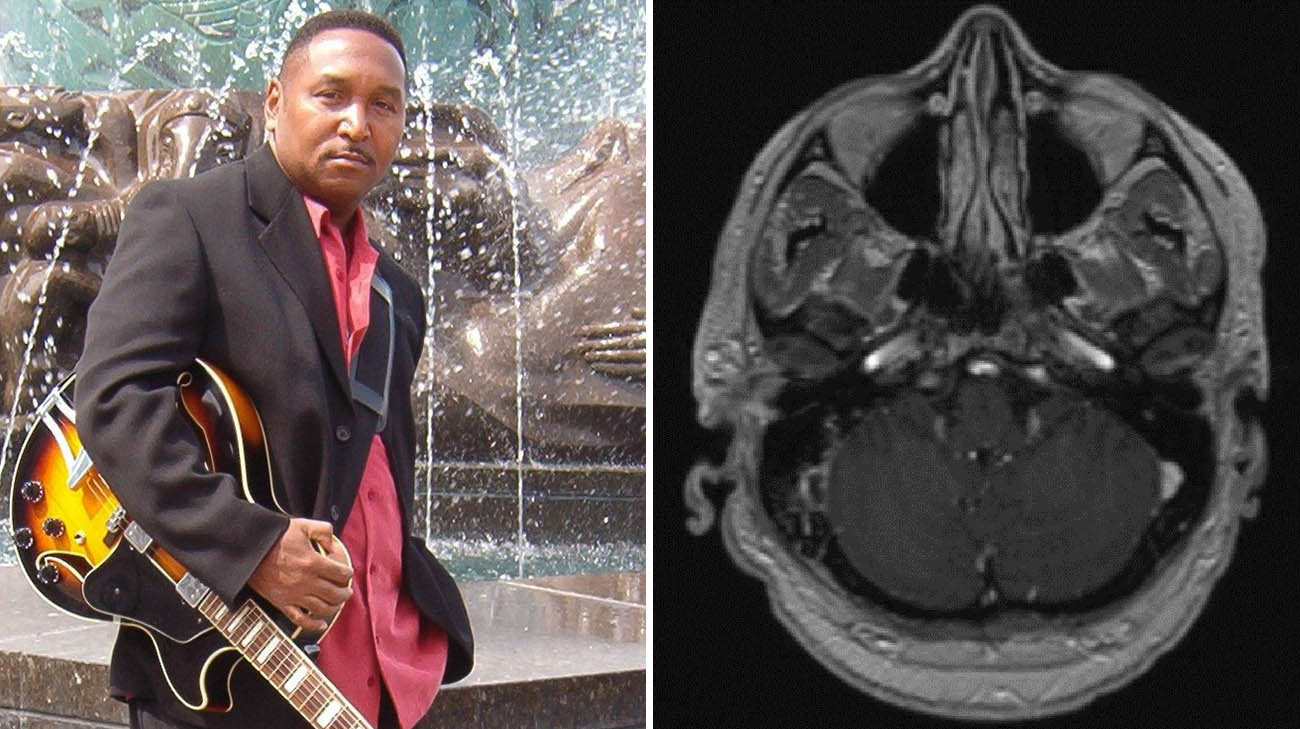 Upon being discharged from Cleveland Clinic Hillcrest Hospital, after a five-day stay, Tim Tyus thought his worst days of having COVID-19 – and pneumonia -- were behind him.
However, early the next morning he awakened with searing pain in his head, like he'd never experienced before. "I knew this was no regular headache. My face was getting tight, and it felt like my eyes were about to bust right out of my head," recalls Tim, who is 60-years-old and lives in Cleveland. "I just knew it was something different."
Soon after, an ambulance took him to Cleveland Clinic's main campus. Doctors discovered Tim had a condition called cerebral venous sinus thrombosis (CVST), a rare form of stroke caused by a blood clot in the veins of the brain. An MRI revealed there was hemorrhaging in the brain. Initially, there was also concern Tim had a vascular malformation, which would have required surgery.
Cleveland Clinic vascular neurologist G. Abbas Kharal, MD, instead prescribed a counterintuitive measure –a blood thinning medication.
"CVST is one of the very few indications in neurology when, despite blood in the brain, we put the patient on blood thinners," Dr. Kharal explains. "If you don't treat that clot, and get those veins to drain properly, you're going to have more pressure build up and more hemorrhaging."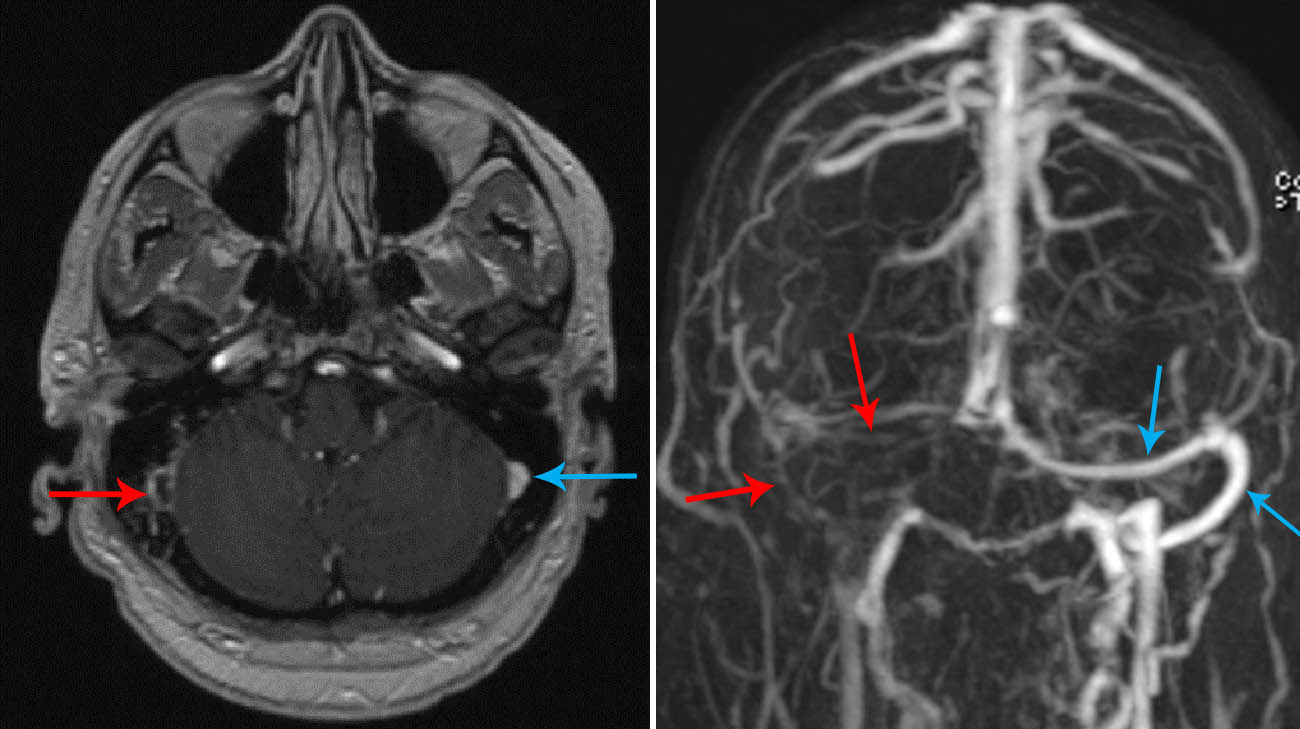 Magnetic resonance venogram, or MRV, of Tim's brain. The red arrows indicate the clot in the venous system where there should have been normal blood flow. The blue arrows show the contrast, where there was normal blood flow. (Courtesy: Cleveland Clinic)
The treatment worked. Within 24 hours, Tim showed improvement, he was sent home a few days later, and continues taking blood thinning medication for six months. While CVST is rare after a COVID-19 infection, Dr. Kharal knew to look for it based on Tim's symptoms, as he had read reports of its presence in certain COVID-19 cases.
Dr. Kharal says certain patients with COVID-19 incur a thickening in their blood, which has been discovered in a few cases when autopsies were performed on deceased patients. "My hypothesis is Tim had an inflammatory response to COVID while he was infected by it, which made his blood become thicker. That coagulation formed (a clot) in the venous part of the brain."
Tim isn't sure how he contracted COVID-19. He felt the onset of symptoms shortly after getting a routine blood draw.
"As soon as I stood up and started walking to my car, I felt really faint and nauseous," Tim says. "It's unbelievable how fast it happened." He managed to make it to a nearby Cleveland Clinic urgent care facility, where a nurse – seeing he was having difficulty responding to her questions – called 911. Soon after, Tim was admitted to Hillcrest Hospital, where he was treated for COVID-19 and pneumonia.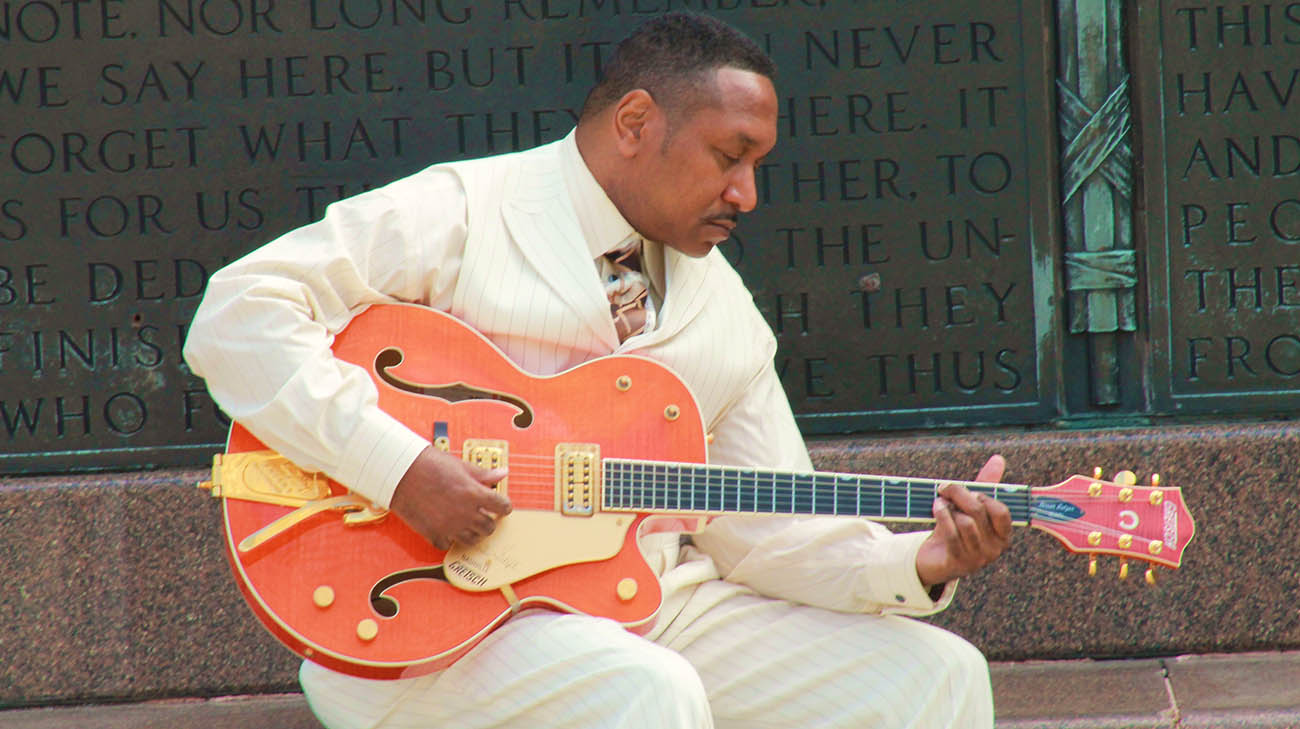 Tim has been playing guitar since he was 12 years old. After experiencing a stroke, he continues playing and hopes to create a jazz album one day soon. (Courtesy: Tim Tyus)
He's grateful he didn't assume his headaches were a normal side effect of COVID-19. "If I'd waited to get treatment, I don't think I'd be here speaking with you," Tim adds.
Dr. Kharal says Tim's prognosis for a full recovery is "excellent," and he's enrolled him in Cleveland Clinic's Minority Stroke Program. It is designed to raise awareness about stroke prevention and to provide specialized care for stroke patients in racial and ethnic minorities who have higher stroke rates and risk factors than other populations.
"By doing more patient outreach, we help care for these patients' needs and ensure they stay on track with their medications and stroke-related care," explains Dr. Kharal. "We offer resources to help patients cope mentally, too, which is especially important for those who are also dealing with COVID-19."
Tim has dealt with high blood pressure for a number of years. He encourages everyone – especially minority populations – to take proper care if they see signs of a problem. Although he can't be sure, Tim thinks, "If I wouldn't have had a COVID infection, I might have been OK and not gotten the clots," he states. "That's why I'm speaking out, so I might help somebody else."
Related Institutes: Neurological Institute, Respiratory Institute
Patient Stories
Patient Stories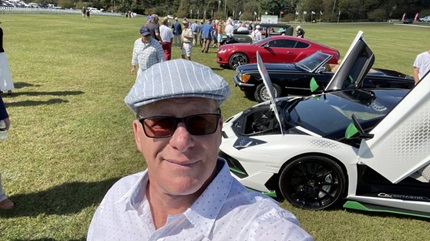 Nov 19, 2021
"Because of the care I received, I healed beautifully, my mind was eased and I'm back doing what I love."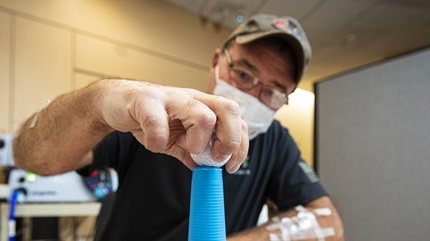 Nov 10, 2021
"The study did help me, and I know that what (the researchers) learned will help a lot of other people in the future."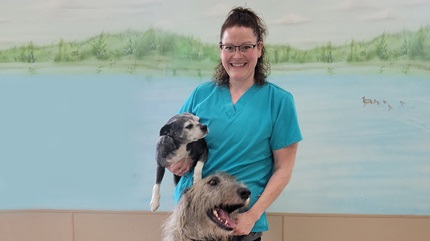 Nov 5, 2021
"I had the mindset that I wanted this, and I was ready for it. I just stuck to what Dr. Diwakar told me to do. She believes in me which helped me believe in myself."