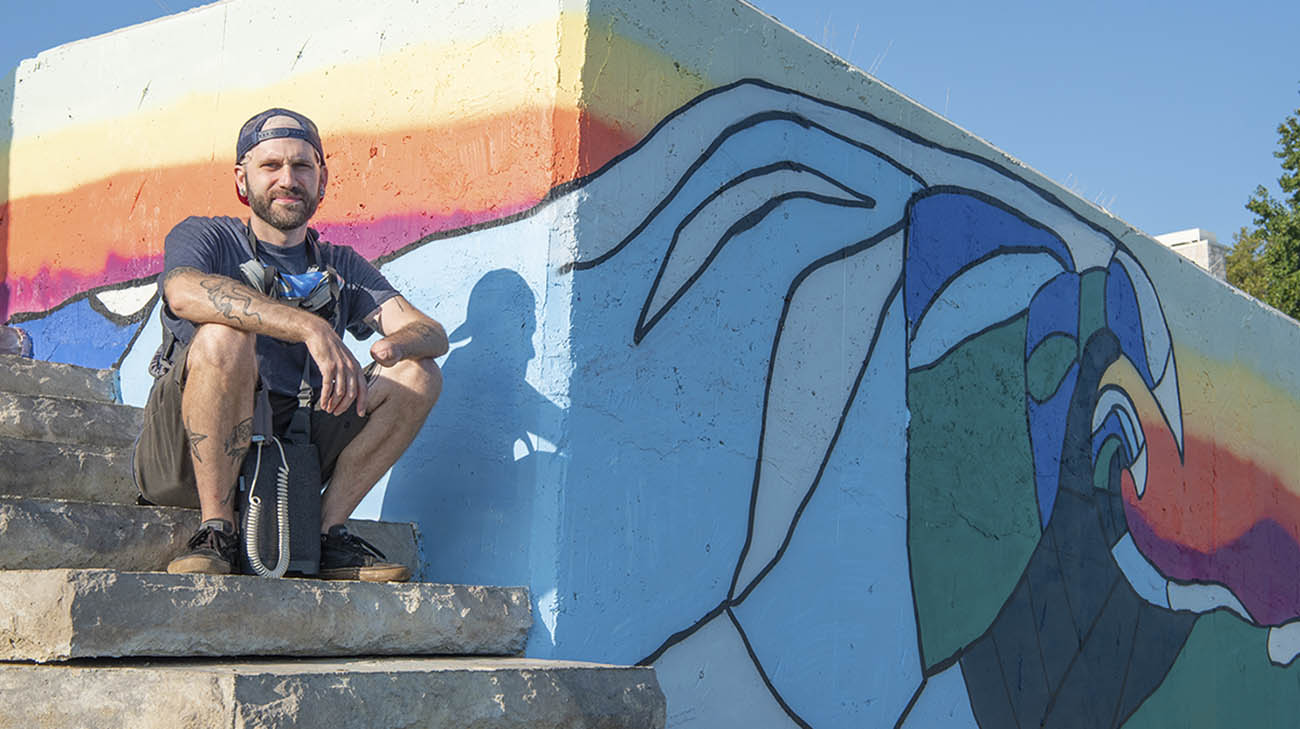 This summer, street artist Jon Sedor has braved blistering heat to complete two colorful outdoor murals for Cleveland-area clients – one in Edgewater, on the banks of Lake Erie, and another in the Shaker Heights, Ohio, district of Van Aken.
When temperatures get really hot, he'll briefly take off a device – which looks like a bathing cap – that is otherwise adhered onto his daily-shaved head for 18 or more hours every day. The 32-year-old Cleveland Heights resident, who is being treated for a form of malignant brain cancer called glioblastoma (GBM), is hopeful the device's battery-powered electrodes will prolong his life.
"Usually, I don't even notice I have it on," says Jon, who is also finishing up a 12- by 25-foot indoor mural, at the Music Settlement community music school's new campus in Ohio City. "But (the device) isn't breathable, so sometimes I have to take it off, just for a while, when I'm painting in the sun."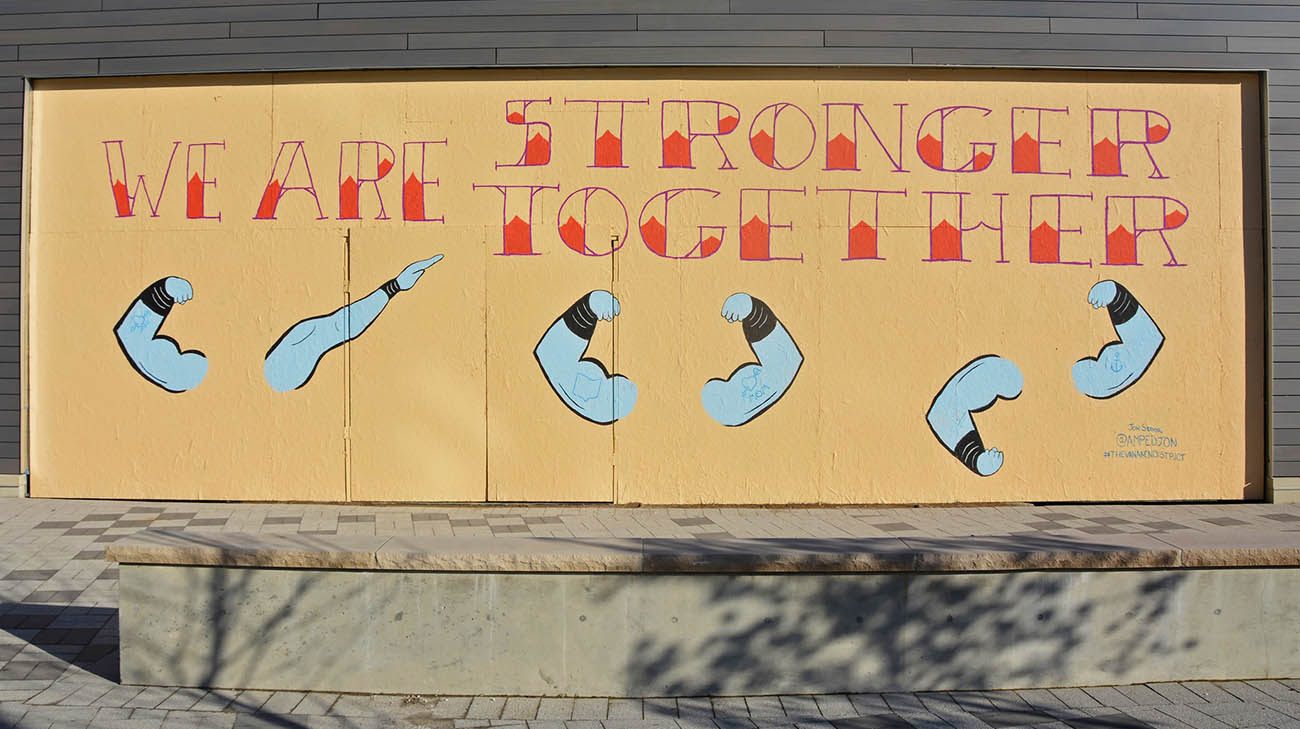 Jon created this mural in the Van Aken District, in Shaker Heights, Ohio, during the COVID-19 pandemic. It is meant to be an uplifting reminder for individuals to support each other. (Courtesy: Jon Sedor)
The device delivers low-intensity alternating electric currents, called tumor treating fields (TTFs), into Jon's brain and is designed to prevent rapidly-growing GBM cancer cells from spreading throughout the brain and elsewhere.
"TTFs create an electrical field that actually disrupts the process necessary for GBM cells to divide," explains David Peereboom, MD, a Cleveland Clinic neuro-oncologist treating Jon. "It's effective for many patients. We're seeing more and more who are living five years or more with GBM, and part of this is due to TTF."
In September 2019, while Jon was living in St. Petersburg, Florida, he began suffering from migraines. The headaches didn't prevent him from pursuing two of his passions, long-distance road bicycling and rock climbing, which he mastered despite losing his left hand in a firecracker accident as a teenager.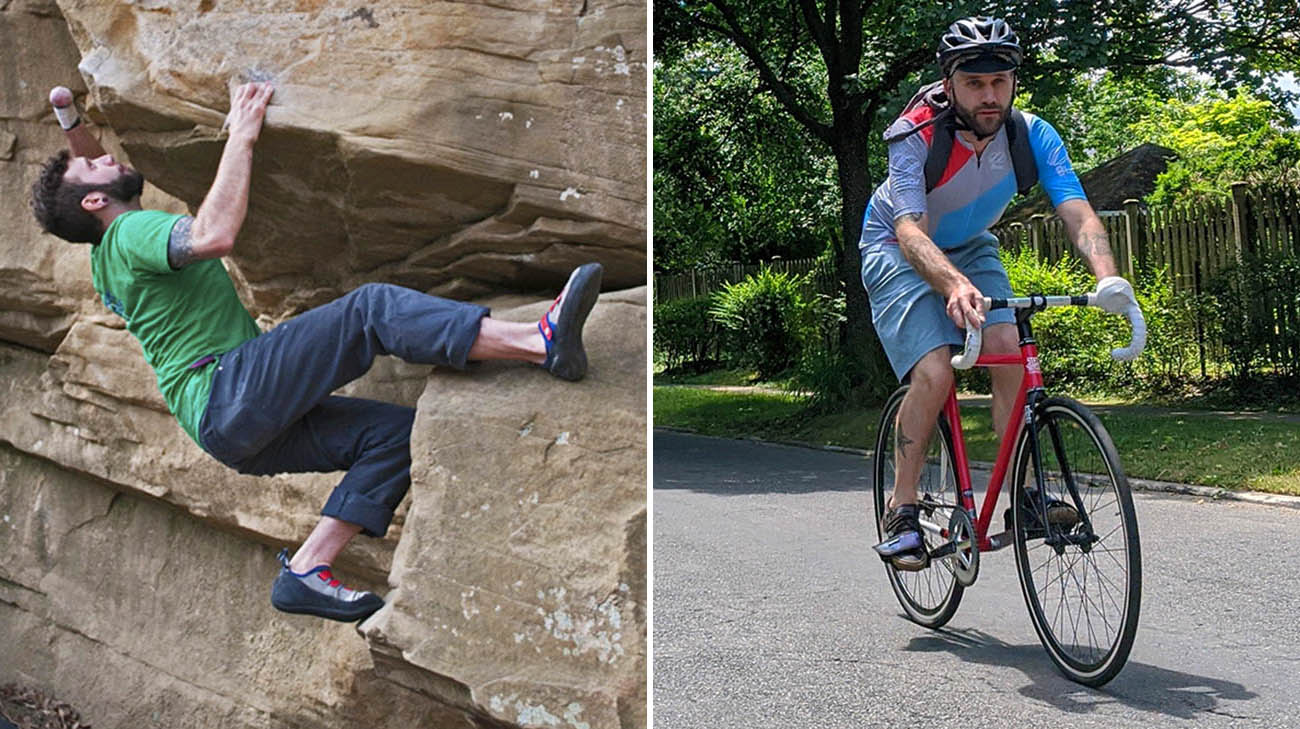 Jon hasn't let anything stop him from enjoying his pastimes, including rock climbing and bicycling. (Courtesy: Jon Sedor)
It wasn't until he woke up, confused and disoriented, in the emergency room at a local hospital that Jon understood the magnitude of the problem. In his sleep, he had suffered a grand mal seizure and his girlfriend, Allison Lupica, was unable to awaken him. She called 911.
A CT scan at the hospital revealed an enormous brain tumor. "They found a mass about the size of a softball in my right frontal lobe," Jon recalls. "I had no idea. That's the weird thing. I never felt sick, per se. I wasn't affected beforehand except by the migraines."
Unable to treat GBM locally, his physicians suggested Jon seek expertise at another hospital. He chose Cleveland Clinic, in his hometown. At the Cleveland Clinic Brain Tumor and Neuro-Oncology Center, Jon quickly began the standard treatment regimen for GBM. It included surgery to remove as much of the mass as possible, followed by rounds of intense radiation and chemotherapy. Surgeon Alireza Mohammad Mohammadi, MD, performed a craniotomy, telling Jon afterwards they were able to remove all they could.
"GBM is not a type of tumor where you have a clear cut border and can take the whole thing out, like you often can in some patients with lung or breast cancer," notes Dr. Peereboom. "It is typically mixed in with normal brain cells and extends beyond what you see on the MRI scan."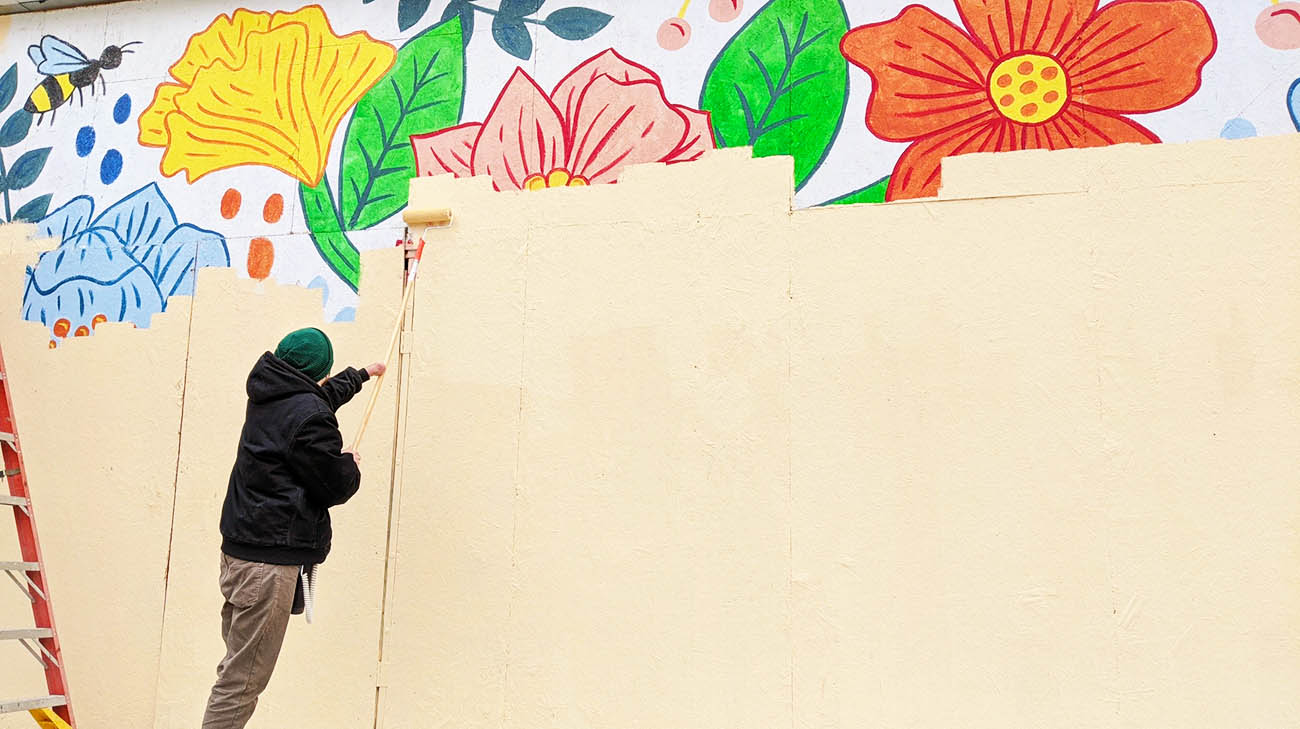 Jon applying a base coat to a mural in Shaker Heights, Ohio, while wearing the device that helps him manage his glioblastoma. (Courtesy: Jon Sedor)
Two days later, Jon was in his parents' home, recovering. Shortly thereafter, he began seven rounds of radiation and chemotherapy treatments, with progressively stronger doses, until June 2020.
"Sometimes, I'd be laid out by the chemo for a week and a half," says Jon, who is now beginning to regain some of the 45 pounds he lost during treatment and continues to rock climb when he can. "I don't have the strength I used to have, but I'll get it back."
According to Dr. Peereboom, Jon was an excellent candidate for TTFs and that treatment began in February 2020. "TTFs, administered in addition to radiation and chemotherapy, is a good treatment for many patients. They wear it as long as their cancer is not growing, and that can be months, or for some patients, years."
For Jon, the treatment enables him to maintain normal activities and a good quality of life, which is especially important as his art career continues to blossom. Indeed, in fall 2020, he is scheduled to paint a mural in Chattanooga, Tennessee, at a local business. It's run by a friend who happens to be a leg amputee Jon met while competing in paraclimbing events.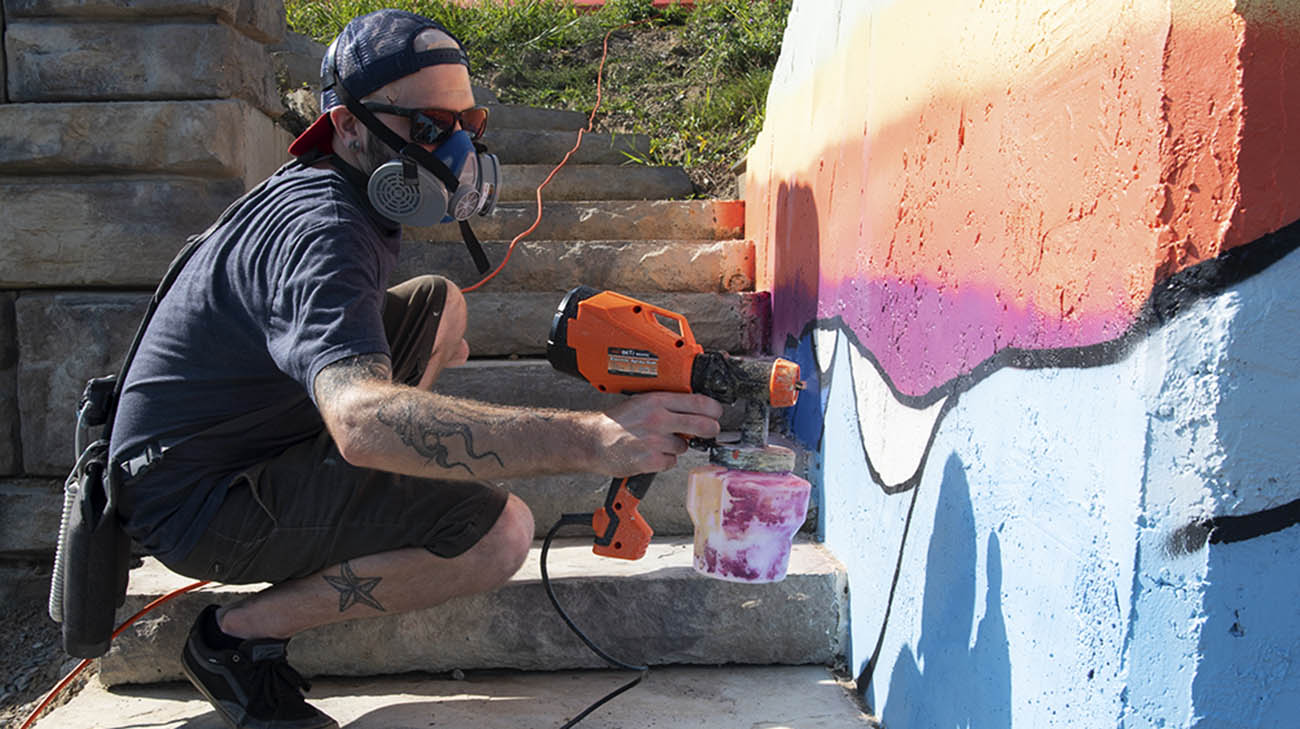 Jon spraying a solvent on a mural he created at Edgewater, in Cleveland, Ohio. The device that helps him manage his cancer is under his hat. He wears it every day. (Courtesy: Cleveland Clinic)
Having dealt with adversity before, when he lost his dominant left hand and then had to teach himself to create art with his right hand, Jon is both realistic and optimistic.
"I want to make the most of the time I have left, however long that is," Jon says, matter-of-factly. "I'm inclined to keep pushing forward, to prove myself creatively and see how far I can go with my art career. I definitely want to get as much done as possible, every day."
Dr. Peereboom, too, has high hopes for Jon's prognosis. "He's young, healthy and motivated, so his prognosis could be significantly more than the average. He has a shot at being one of our five-year-or-more survivors."
Related Institutes: Neurological Institute
Patient Stories
Patient Stories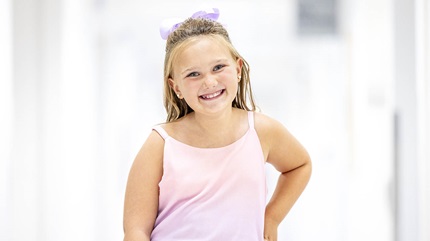 Sep 22, 2023
"This wraps up a chapter in her life we hope we never have to reopen. Audrey handled everything like a champ, and we are so grateful and proud."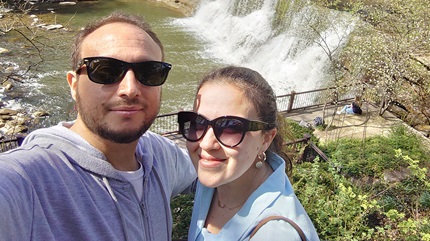 Sep 18, 2023
"Besides my first transplant, I've had other noninvasive surgical procedures, and I needed pain medication for all of them but not this time."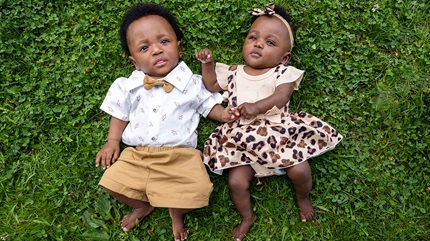 Sep 15, 2023
"Thinking about everything Kimyah and DJ have been through, it was hard to imagine us ever getting to this point. It was unclear if they would be able to do anything by themselves. Now, they're trying to do everything by themselves."