For a very long time, Vinny Mercurio was "asleep." Now age 11, the Brunswick fifth grader has no recollection of Thanksgiving 2017. Nor does he remember Christmas that year, or anything that occurred before the end of February 2018.
Vinny slept, as he prefers to call it. On November 12, 2017, he suffered a sudden and severe hemorrhagic stroke, the most serious type, while playing basketball in the front yard with his younger brother, Tony.
The stroke was caused by sudden bleeding from a weakened blood vessel in his brain. It forced a large amount of blood into a very small area, damaging brain tissue and blocking the flow of his spinal fluid. Just minutes after complaining to his parents, Betty and Chuck Mercurio, of a severe headache, Vinny was in the hospital, fighting for his life.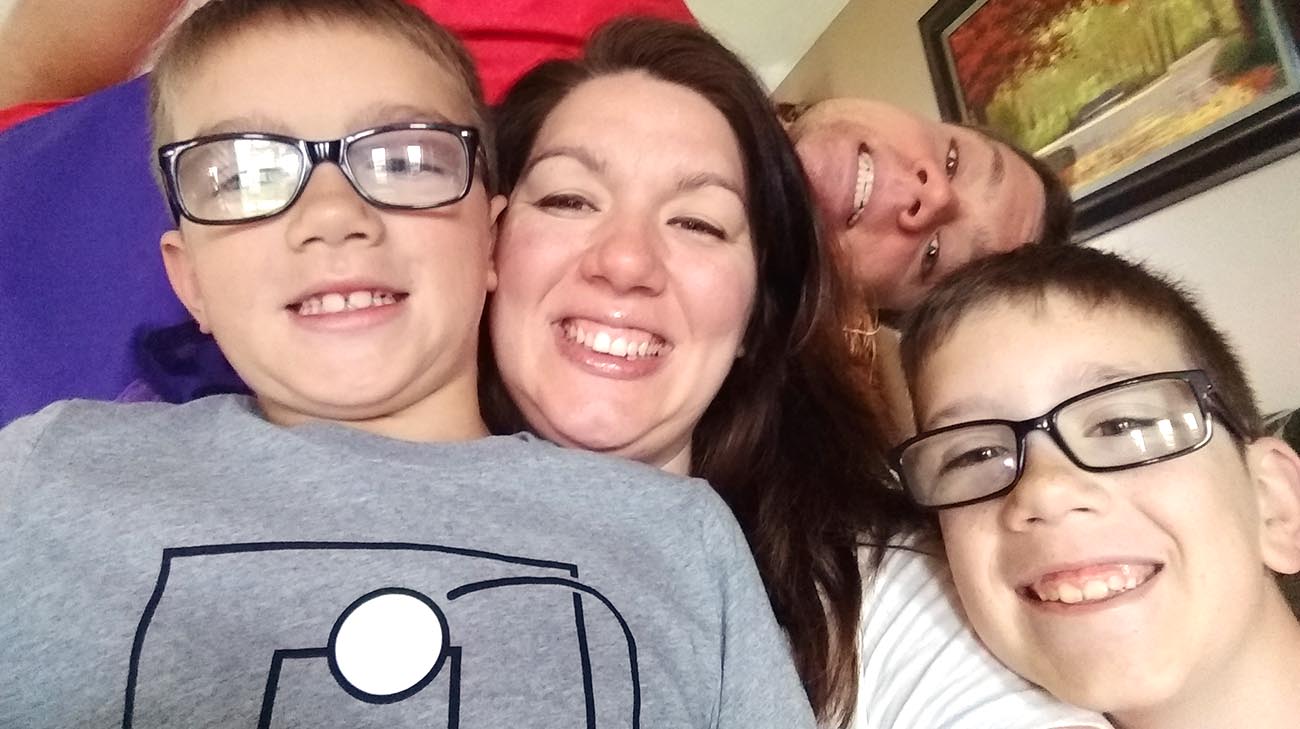 Vinny's brother, Tony (bottom left), Vinny's mom, Betty, dad, Chuck, and Vinny (bottom right). (Courtesy: Betty Mercurio)
"We weren't sure he was even going to make it during the first days," says Betty. "Or that he would be able to respond to rehabilitation. To see how far he's come has exceeded our expectations. We're so proud of him."
The first day after learning about Vinny's grim-sounding "brain bleed," surgeons at Cleveland Clinic Children's performed surgery to relieve intracranial pressure from his brain. Two days later, they cleared the blood clot and bleed. Medically stabilized, the long road to recovery began. Vinny remained unconscious or in a minimally-conscious state for much of the 129 consecutive days he was hospitalized.
The once-active, straight-A student was nourished by a feeding tube. He couldn't sit up, or even hold up his head. Nor could he walk or talk. He was on seven medications.
More than a year later, Vinny is medication-free and he can do all of those things – and much, much more. For his courageous efforts in battling back from the brink of death to becoming a lively kid again, Vinny Mercurio was recognized as the 2019 Courage Award Honoree at the 29th Annual Cleveland Clinic Children's Gala.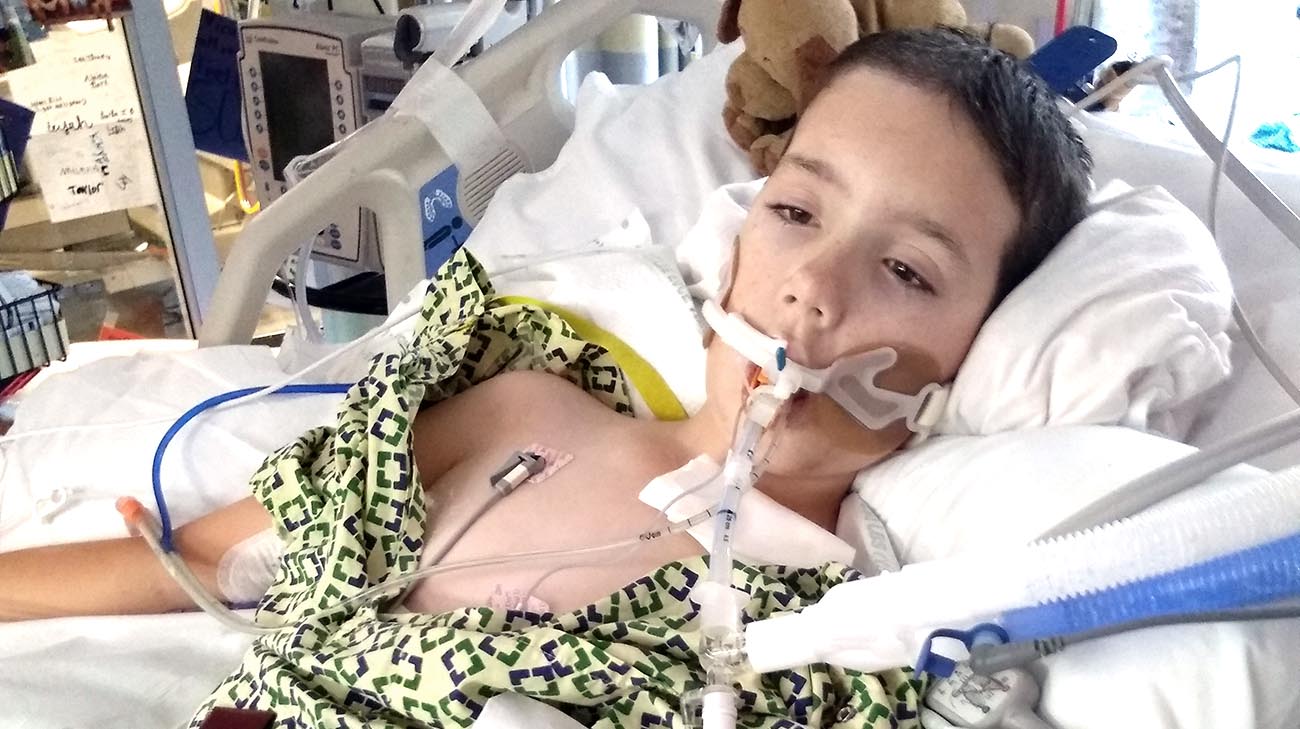 Vinny, at Cleveland Clinic Children's, after experiencing a life-threatening hemorrhagic stroke. (Courtesy: Betty Mercurio)
According to Erin Murdock, MD, a specialist in physiatry who has worked extensively with Vinny at Cleveland Clinic Children's Hospital for Rehabilitation, Vinny deserves the Courage Award for his hard work and persistence during thousands of hours of physical, occupational, recreational, speech-language pathology and other forms of therapy.
"The fact that Vinny has made such great progress proves that it's possible for anyone. He and his parents are inspirations to us all," observes Dr. Murdock. "Without MAP, he may not have had this degree of recovery. It proved it's worthwhile for Vinny and other kids in similar circumstances."
Vinny was the first patient to complete the hospital's Minimally Aware Program (MAP), specifically designed for pediatric patients who have suffered a brain injury and are in a minimally conscious state or are slow to respond. The four-week program includes medical management, various rehabilitative therapies and a strong focus on family education to support a safe transition home.
Dr. Murdock recalls that once Vinny reached minimally aware status he was determined to get better. "Typically, you must be able to follow commands and participate actively, in order to come to an inpatient rehab facility. With MAP, we are able to reach patients like Vinny we may not otherwise see because they (initially) are low functioning."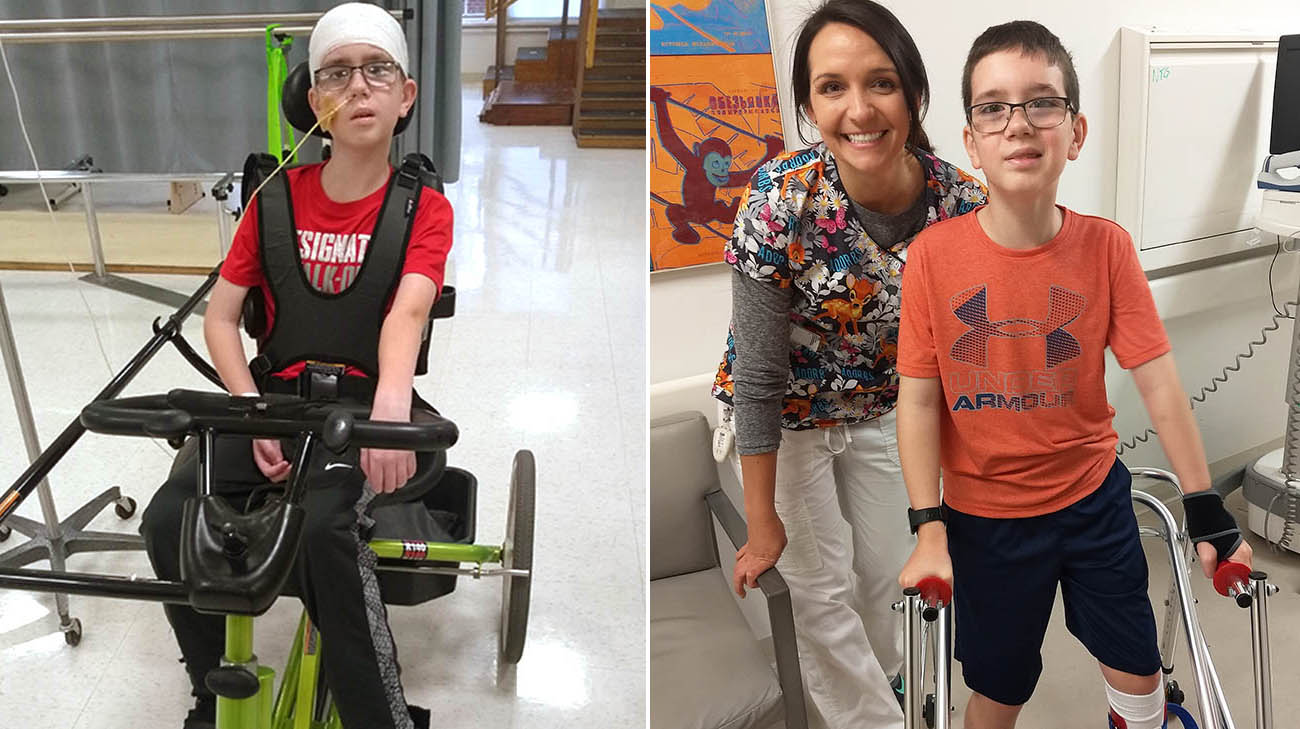 Vinny has made amazing progress walking and talking thanks to his family and team at Cleveland Clinic Children's Hospital for Rehabilitation. (Courtesy: Betty Mercurio)
Along with an extended team of specialists in therapy, pain management and other specialty areas, Dr. Murdock began guiding Vinny through his recovery, one word or step at a time.
As Betty recalls it, Dr. Murdock and the entire team "really treat you like you're family. Whether it's a hug or an extra pep talk, it may seem little to them. But they are huge to us."
While Vinny's support team celebrated the small victories, such as walking for the first time using a gait device or re-learning how to speak, those milestones only prompted him to achieve more. Dr. Murdock recalls the first time Vinny walked using a posterior walker, everyone was celebrating – except him.
"He said, 'I'm still not walking on my own,'" she explains. "I told him you have to look at it day by day. Yesterday you weren't walking at all. Who knows what you're going to do tomorrow?"
To further incentivize Vinny, he arranged a deal with his parents. For every goal accomplished, he would earn a reward. When he was able to eat solid food, the family went to Winking Lizard Tavern for its famous popcorn. When he walked, the prize was a fitness tracker.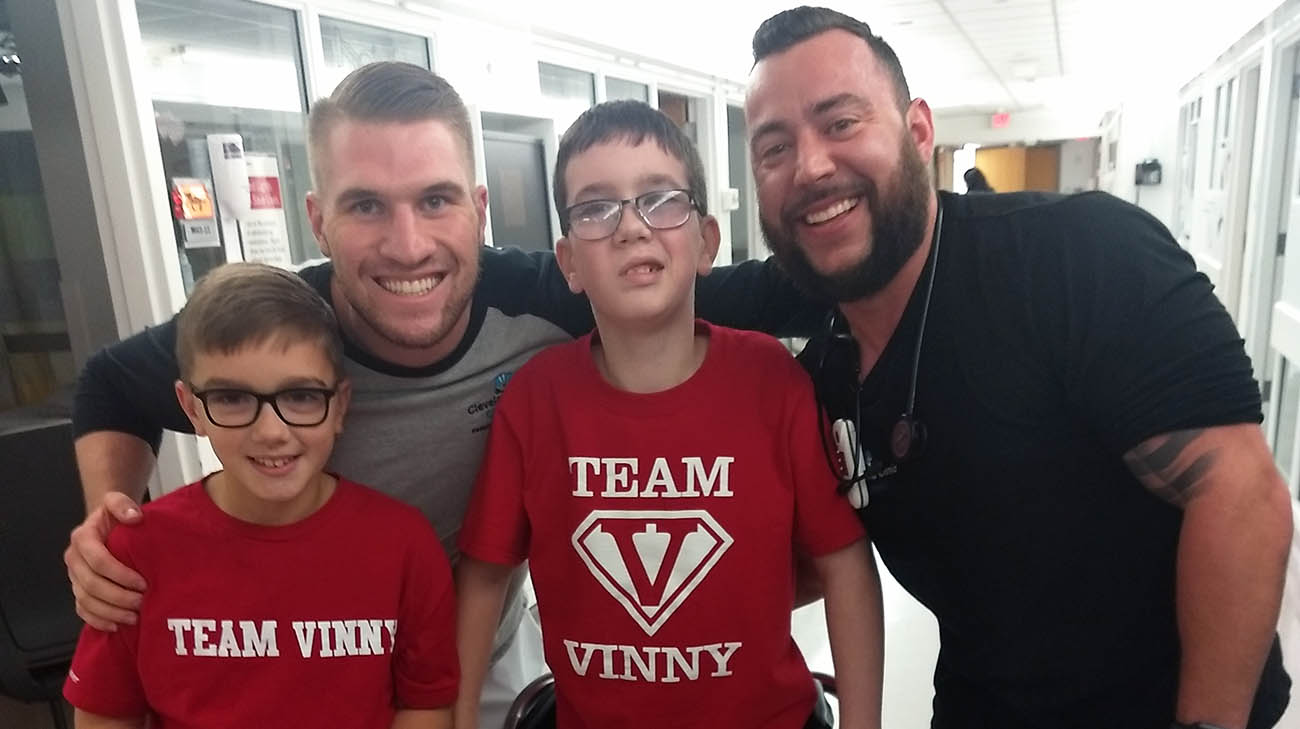 Vinny, with his brother, Tony, and nurses who treated him at Cleveland Clinic Children's Pediatric Intensive Care Unit. (Courtesy: Betty Mercurio)
"As his goals got bigger, so did his prizes," laughs Betty. "When he gets rid of his walker, which he says is happening by the end of summer, he wants a hot tub."
For now, with or without his walker, Vinny is doing fine. He's earning A's and B's at school, despite missing almost a year. He enjoys interactive video games with friends and playing pranks on his brother. He also plans to start golfing this summer through The Turn's accessible North Olmsted Golf Club.
As for the future, Vinny and his support team say there are no limits.
"He's still progressing," says Dr. Murdock. "I don't think there's anything that's going to stop him from going to college and doing what he wants to do in life."
Related Institutes: Cleveland Clinic Children's , Neurological Institute
Patient Stories
Patient Stories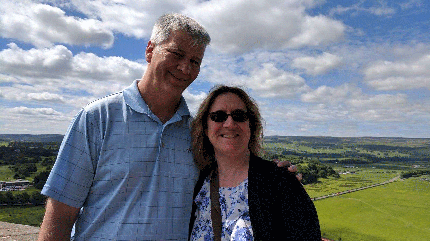 Nov 30, 2023
"I was under enormous stress and having difficulty sleeping, so I reached out to Dr. Saper to see if he had any suggestions as to how I could better cope."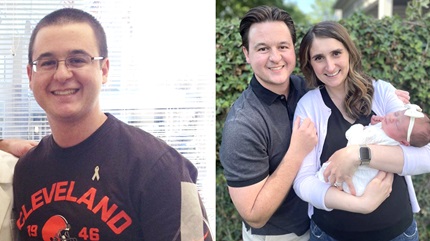 Nov 30, 2023
"At the time of my diagnosis, I was thinking, 'I'm 24. I'm a lifelong nonsmoker. I'm not supposed to get cancer.'"