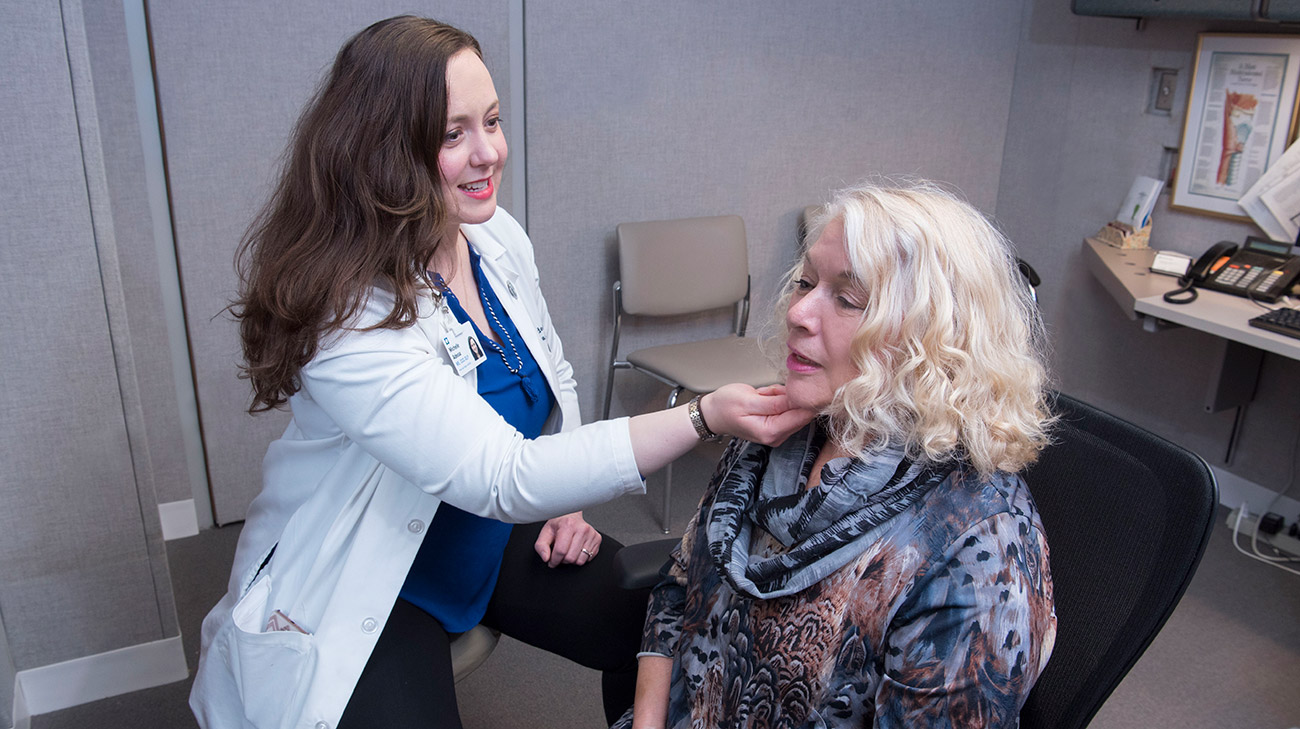 Having worked as a heart and vascular resource nurse at Cleveland Clinic for many years, Christine Floerke thought she was well aware of the many services that are offered at locations around northeast Ohio. Diagnosed with asthma, she had been working closely with Cleveland Clinic pulmonologist Mani Latifi, MD, to help get the effects of her asthma under control.
However, a bad chronic cough led Dr. Latifi to refer Christine to Paul Bryson, MD, an otolaryngologist, and Director of the Cleveland Clinic Voice Center. Dr. Bryson specializes in voice and swallowing rehabilitation.
"I wasn't aware there was a Cleveland Clinic Voice Center!" says Christine. "The first time I saw Dr. Bryson, he took out a scope and told me he was going to put it through my nose and into my throat to look at my vocal cords. I asked If he was going to sedate me or something, and he said he'd just numb my throat. It really didn't hurt. I was shocked."
With the scope in place, Dr. Bryson asked Christine to pronounce different letters and hold sounds while photos and video were taken of her vocal cords at work. The video showed a growth — a polyp that had developed on her cords and would need to be surgically removed.
Prior to surgery, Dr. Bryson referred Christine to Michelle Adessa, BM, MS, CCC-SLP, a speech and voice pathologist in the Voice Center. Michelle would meet with Christine before her surgery and also work with her after surgery. "By meeting with the patient before they have surgery, we have the opportunity to educate them about how different behaviors can impact the outcome of their voice and why they have the problems they do. We can also explain techniques to recover from surgery and help them understand the components of vocal wellness, like proper hydration and how and when to use their voice," says Michelle.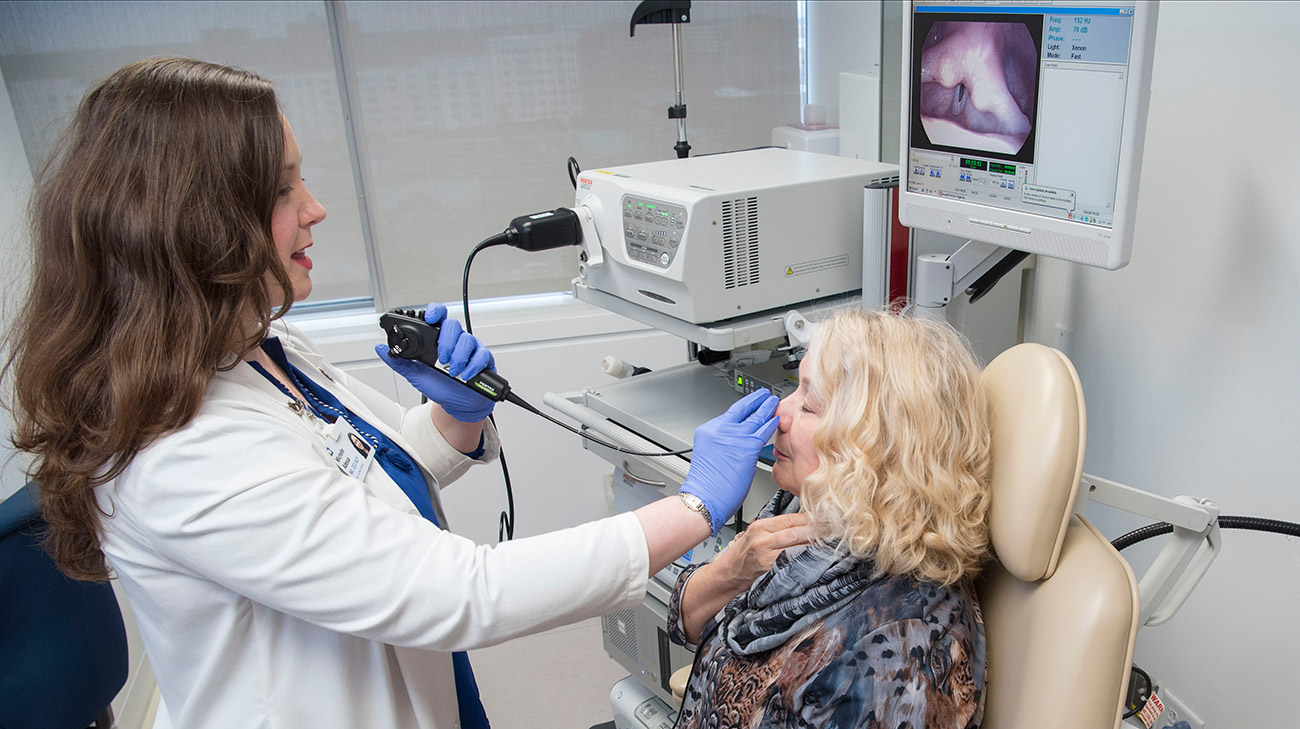 Speech and voice pathologist Michelle Adessa places a scope to examine Christine's vocal cords. (Courtesy: Cleveland Clinic)
Dr. Bryson performed Christine's outpatient surgery at Cleveland Clinic Twinsburg Family Health and Surgery Center. He removed the polyp, which may have resulted from smoking — despite the fact that Christine quit years ago.
According to Michelle, swelling of vocal folds and the development of polyps is relatively common in women between the ages of 40 and 60 who were or are smokers; they can also develop from voice overuse.
After nearly two weeks of vocal rest (no talking!) following surgery, Christine started voice therapy with Michelle. She attended one-hour appointments every other week, with homework assignments in between.
"Of course, you can't see your voice. Because of that, I used a mirror so Christine could see movement on the outside that reflected what I was telling her to do," says Michelle. "There are different therapeutic tasks that address various components of the voice. I work with each patient to find one or two techniques that work best for them."
For Christine, one technique involved the use of a drinking straw to address the way her voice vibrates. By feeling the vibration of the sound, she was able to refocus her voice in a healthy way.
She also had pain in her neck. By learning how to massage away muscle tension of the neck and shoulders that can affect how the voice works, Christine is now able to alleviate that pain on her own.
While surgery and voice therapy had reduced the rasp and throatiness of Christine's voice, her chronic cough had not gone away.
"Coughing is the number one reason people visit a doctor. And chronic cough, defined as a cough that persists longer than eight weeks, is a big problem," says Michelle, who suggested Christine participate in a chronic cough clinic to address hypersensitivity in her upper airway.
Various medications are used to desensitize the nerves, thereby reducing or eliminating the urge to cough. Michelle also taught Christine things to do when she feels the urge to cough, like swallowing or concentrating on breathing.
Thanks to the surgery, voice therapy and medication, Christine's cough is resolved, and her voice is good.
"I'm just so impressed with the Voice Center and the team there. All of these things I had no idea about – I want to share my story so more people will be aware of this great resource at Cleveland Clinic," says Christine.
Related Institutes: Head & Neck Institute
Patient Stories
Patient Stories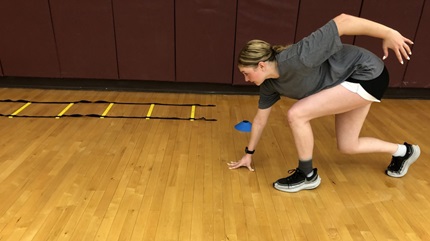 May 10, 2022
"I want to pursue athletic or personal training as a career... the program has benefitted me and it's inspired me to want to help others."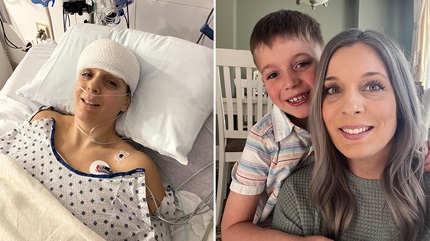 May 9, 2022
"I'm so humbled and grateful for Dr. Recinos and everyone at Cleveland Clinic. He did an incredible job and I truly owe my life to him."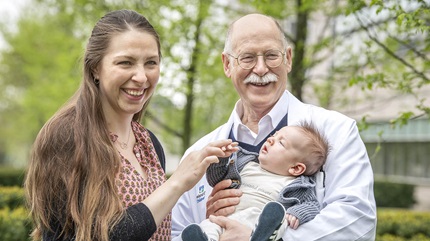 May 7, 2022
"It's the name of the person most responsible for saving my life. Dr. Anderson was my rock for the last six years."