Feet away from 10-year-old Sophia Pecjak's Cleveland Clinic Children's hospital room, in the Pediatric Intensive Care Unit, two of her physicians were discussing next steps in the treatment of her sudden heart condition.
A talented soccer and basketball player, Sophia had complained of pains in her chest and a rapid heartbeat. Trips to her pediatrician and the emergency room revealed she had likely contracted a form of myocarditis, an inflammation of the heart muscle usually caused by a viral infection, such as influenza. Further tests and heart biopsies confirmed its seriousness.
"I remember saying that I wouldn't be surprised if she didn't develop more arrhythmias that will be pretty significant," recalled pediatric electrophysiologist Peter Aziz, MD, of his conversation with Gerard Boyle, MD, Medical Director of Pediatric Heart Failure and Transplant Services.
Moments later, Sophia went into full cardiac arrest. With mom Carole and dad Michael looking on in shock, Drs. Aziz and Boyle rushed in and performed cardiopulmonary resuscitation (CPR). It was just one in a series of serendipitous events over the next few days that pulled Sophia back from the cusp of death – so ultimately, she would recover completely.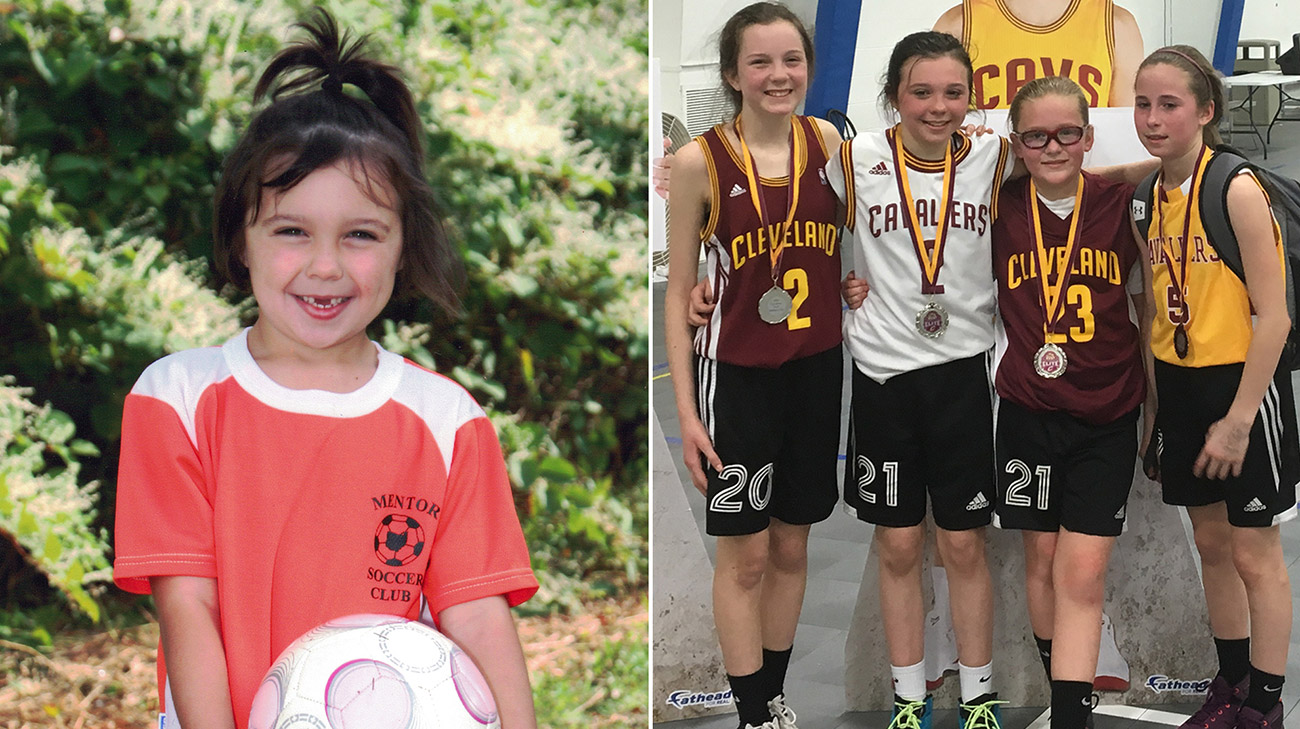 Sophia has been playing sports ever since she was 4 years old. (Courtesy: Carole Pecjak)
"Sophia proved at that time, and continues to prove, that she is a special soul," noted Dr. Boyle. "She never let the disease define her. From the beginning, she was determined to be back playing sports."
For her tenacity in overcoming her serious heart condition and returning to elite-level athletic status, Sophia, now 15, has been named the recipient of the Cleveland Clinic Sports Health Courage Award. Bestowed annually by the Greater Cleveland Sports Commission in collaboration with Cleveland Clinic Sports Health, the award honors a student athlete who has faced a medical challenge in his or her life and approached the situation with courage and determination to get back into the game.
"It never crossed my mind that I wouldn't be able to play again," said Sophia, a freshman at Lake Catholic High School in her hometown of Mentor, Ohio. "When people find out what happened, they're kind of shocked that I'm fine now. I guess my case was very out of the ordinary.
According to Dr. Boyle, Sophia went into cardiac arrest again that fateful day (and was again revived) while waiting to be placed on venoarterial extracorporeal membrane oxygenation (ECMO), a room-sized device that often serves as a bridge for patients awaiting heart or lung transplants.
"Generally, patients on ECMO have to be heavily sedated. It can be very difficult to endure," Dr. Boyle explained. "But Sophia always remained calm. At one point, she motioned and made it clear she wanted a selfie of herself on ECMO, with the breathing tube in. Of course, she had a smile on her face."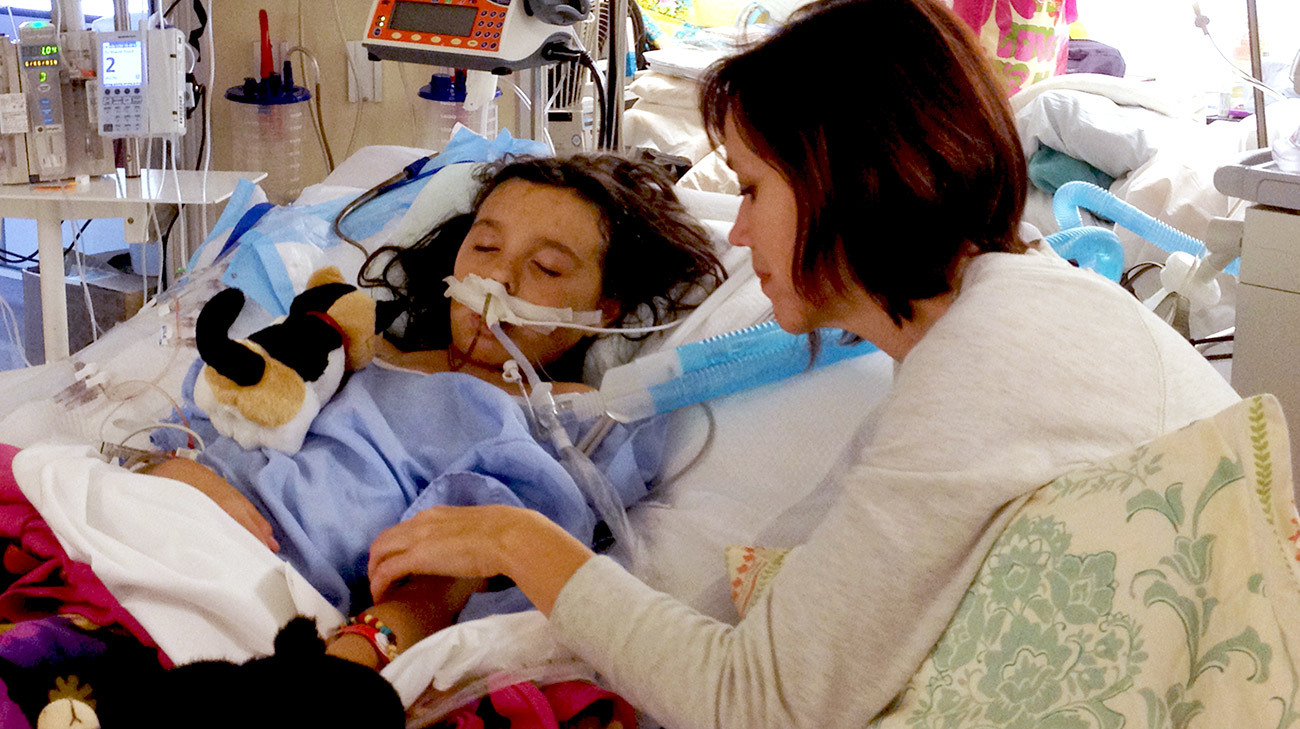 Sophia's mom, Carole, comforting Sophia while she's on ECMO. (Courtesy: Carole Pecjak)
By now, further testing revealed: Sophia had a form of the disease called fulminant myocarditis, which typically results in either sudden death or is self-resolving in a matter of days. Fortunately, Sophia had the latter result. She was off ECMO after five days, and was discharged soon after – returning home with her parents and two older siblings, John and Catie.
"Her care was phenomenal, but our faith was a big part of her healing process," observed Carole. "It helped us get through this, stay sane and get to the other side."
While Sophia bounced back quickly, a long and arduous recovery remained ahead. Extremely weak from the effects of the virus and her cardiac events, she endured months of physical rehabilitation. While she couldn't return to playing sports for more than a year, she stayed around them – often standing alone, dribbling a basketball, during practices held by her father, who was a middle school coach at the time.
"At times, even without exerting herself, Sophia's heart would be racing," Michael recalled. "Every time she didn't feel quite right, we would take her pulse. She quickly grew tired of that."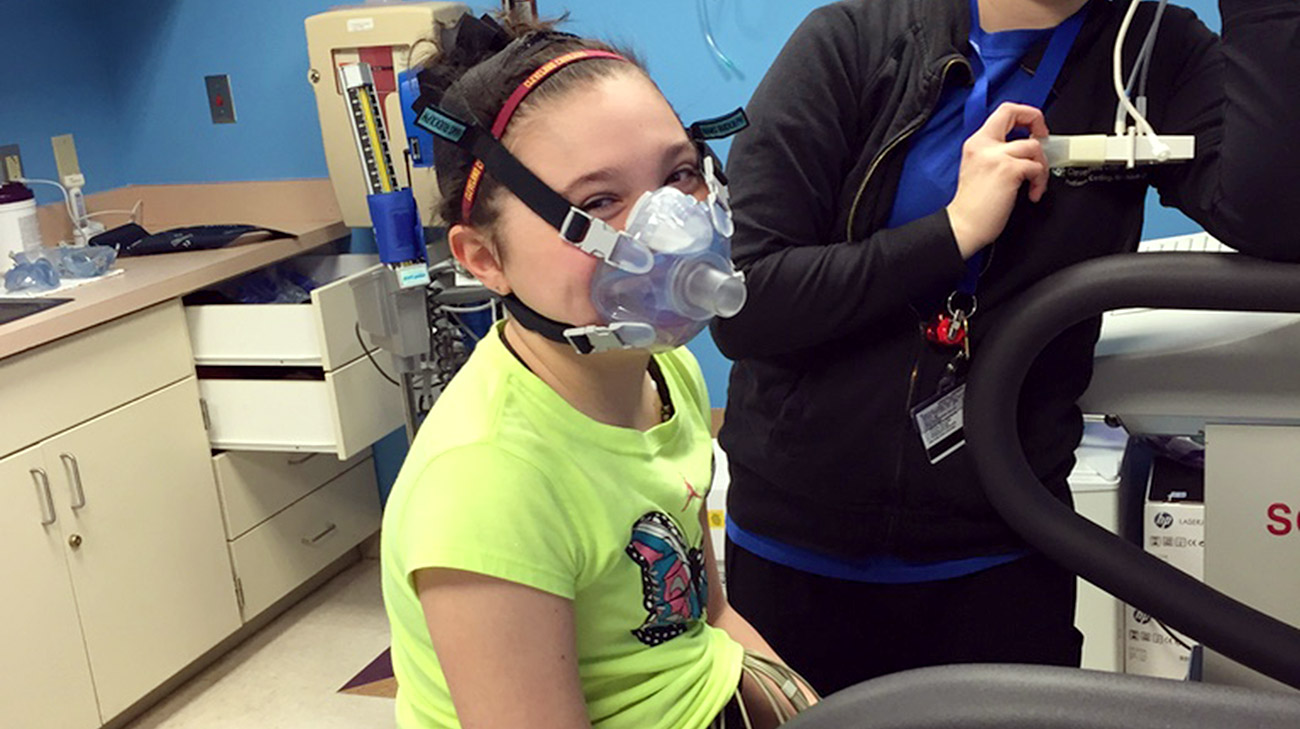 Sophia, months after being discharged, undergoing testing to ensure she's healthy enough to ride roller coasters with her family during vacation. (Courtesy: Carole Pecjak)
Eventually, with the help of medication she no longer has to take, the heart episodes decreased and ultimately stopped. Sophia returned to the sports she loves. She played goalie and forward mostly, on the Lake Catholic JV soccer team in fall, as well as some Varsity games. She also splits time between the varsity and JV teams in basketball.
"It took about a whole year to get back in shape," recalled Sophia, who is interested in pursuing a career in medicine. "But I'm fine now. It doesn't affect me at all anymore."
The nurse in Sophia's room when she went into cardiac arrest, Colleen Nasman, RN, Pediatric Heart Transplant Coordinator at Cleveland Clinic Children's, nominated Sophia for the courage award: "She embodies the essence of courage, facing a life-threatening illness with grace, faith, strength and of course, courage. Never a complaint, never a why me, just determination and enduring optimism."
Related Institutes: Cleveland Clinic Children's , Heart, Vascular & Thoracic Institute (Miller Family), Orthopaedic & Rheumatologic Institute
Patient Stories
Patient Stories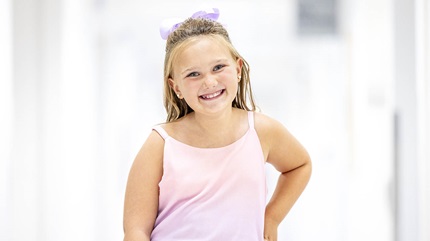 Sep 22, 2023
"This wraps up a chapter in her life we hope we never have to reopen. Audrey handled everything like a champ, and we are so grateful and proud."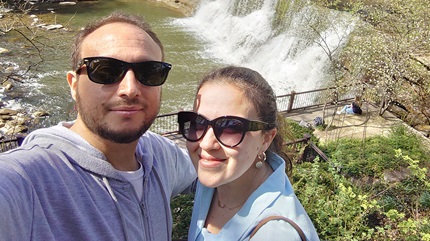 Sep 18, 2023
"Besides my first transplant, I've had other noninvasive surgical procedures, and I needed pain medication for all of them but not this time."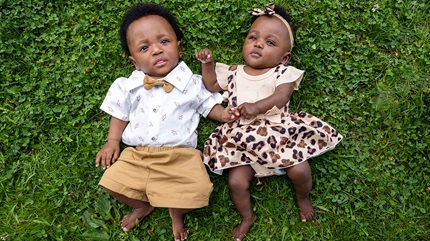 Sep 15, 2023
"Thinking about everything Kimyah and DJ have been through, it was hard to imagine us ever getting to this point. It was unclear if they would be able to do anything by themselves. Now, they're trying to do everything by themselves."