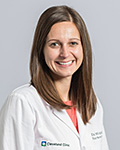 Kimberly Migal, PharmD, BCPS
Staff Pharmacist
Hillcrest Hospital
6780 Mayfield Rd.
Mayfield Heights, OH 44124
Biographical Sketch
Dr. Migal graduated from Northeast Ohio Medical University College of Pharmacy program in 2015, a PGY-1 pharmacy practice residency at Hillcrest Hospital in 2016 and she earned the Board Certification in Pharmacotherapy in 2016. She is currently licensed to practice pharmacy by the Ohio State Board of Pharmacy. Her current practice site is Cleveland Clinic, Hillcrest Hospital where she is a staff pharmacist.
Education
Northeast Ohio Medical University
PGY1 Pharmacy Resident 2014-2015, Hillcrest Hospital, Mayfield Heights, OH
Post-residency goals
Pursue a PGY-2 or obtain a position involving direct patient care.