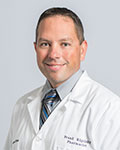 Contact
Phone: 440.312.7524
Fax: 440.312.7104
Email: frigelsk@ccf.org
Clinical Specialist at Hillcrest Hospital since 2003
Education
Doctor of Pharmacy 2002, The University of Toledo, Toledo, OH
Bachelor of Science in Pharmaceutical Sciences 2000, The University of Toledo, Toledo, OH
Pharmacy Practice Residency 2002 to 2003, The Moses H. Cone Memorial Hospital, Greensboro, NC
Clinical Specialist at Hillcrest Hospital since 2003
Board Certified Pharmacotherapy Specialist since 2005
Board Certified Cardiology Pharmacy 2019
Masters in Business Administration (in progress) Youngstown State University, Youngstown, OH
Areas of Interest
Cardiovascular Disease

Acute Coronary Syndrome; Congestive Heart Failure; Cardiovascular risk factors; and Atrial fibrillation

Critical Care
Stroke
Anticoagulation

Afib stroke prevention; VTE treatment and prophylaxis; HIT

Daily clinical activities of the critical care units
Research and Current Projects
Pharmacist QTc scoring tool assessment for QTc prolonging medications
High Risk Scoring Tool to help reduce readmissions
Medication Management – Hospital Quality Measures for Acute Myocardial Infarction and Congestive Heart Failure; Stroke Quality Measures
Outpatient Congestive Heart Failure group education classes
Hospital Readmission Team
Outpatient Cardiac Rehabilitation Patient Education
Service
Committee member for the following Hillcrest Hospital Performance Improvement Committees: CCU; CSICU; ICU; CSICU M&M; Cardiac Cath Lab; Stroke Center Certification; and Chest Pain Center Accreditation.
Committee member of the Cleveland Clinic Health System Cardiovascular Specialty Panel for P&T
Committee member of the Hillcrest Hospital P&T Committee
Committee member of Cleveland Clinic Health System ICU Operations Pharmacy Subcommittee
Hillcrest Hospital representative for the Cleveland Clinic Pharmacy Clinical Integration Committee
Volunteer Manager/Coach of my boys' baseball, basketball and soccer teams
Hillcrest Family YMCA Community Advisory Board Member
Teaching
Preceptor for PharmD APPE students
Continuing education for nursing, pharmacy, and physicians at Hillcrest Hospital
Ursuline Nurse Practitioner program guest lecturer
Honors and Awards
Cum Laude The University of Toledo, Toledo, OH
Nominated for Residency Preceptor of the Year 2012-13; 2018-19
Triangle Award Volunteer of the Year Hillcrest Family YMCA 2018
Publications
Newell B, Wirick N, Rigelsky F, Migal K. Implementation of a Pharmacist Monitoring Process for Patients on QTc Prolonging Antibiotics: A Pilot Study. Hosp Pharm. 2021 Dec;56(6):772-710. Epub 2020 Oct 20.
Herschman MA, Rigelsky FS, Axtell SS. A Pilot Study Comparing Hospital Readmission Rates In Patients Receiving Rivaroxaban or Enoxaparin After Orthopedic Surgery P T. 2016:41(6):376-380.
Rigelsky FS, Mauro VF. Pearls to prevent pharmacy perils: St. John's Wort. Ohio Pharmacist 2002;51 (October):17.
Poster Presentations
Use of intravenous diltiazem in a community hospital before and after a national drug shortage. Benjamin Newell, Pharm.D.; Frank Rigelsky, Pharm.D., BCPS, BCCP; Sandra Axtell, Pharm.D., BCPS 2019 ASHP Midyear Clinical Meeting
ST Segment elevation myocardial infarction following administration of tissue plasminogen activator for acute stroke. Frank S. Rigelsky, PharmD, BCPS; Matthew Nagar, PharmD, BCPS; Julia Kuroski, PharmD, BCCCP; Melissa Raich, PharmD, BCCCP 2017 ASHP Midyear Clinical Meeting.
Retrospective Review of Code Blue Medication Usage in a Community Hospital Matthew M. Kolenda, Pharm.D.; Frank S. Rigelsky, PharmD, BCPS; Melissa Raich, Pharm.D., BCCCP 2017 ASHP Midyear Clinical Meeting.
Evaluation of a comprehensive pharmacist education consult service for patients on oral anticoagulants. Frank S. Rigelsky, PharmD, BCPS, BCPS 2016 ASHP Midyear Clinical Meeting.
Rebound elevation of international normalized ratio forty-eight hours after administration of four-factor prothrombin complex concentrate. Melissa M. Raich Pharm.D., BCPS; Frank S. Rigelsky, PharmD, BCPS, BCPS 2016 ASHP Midyear Clinical Meeting.
Pharmacists' Evaluation of Apixaban Dosing for Atrial Fibrillation. Matthew D. Delisle, PharmD; Frank S. Rigelsky, PharmD, BCPS; Sandra S. Axtell, PharmD, BCPS 2016 ASHP Midyear Clinical Meeting.
Utilization of Prothrombin Complex Concentrate for the Reversal of Life Threatening Bleeding due to Warfarin in a Community Hospital. 2015 ASHP Midyear Clinical Meeting. Frank S. Rigelsky, PharmD, BCPS; Matthew Nagar, Pharm.D., BCPS; Pamela G. Ong, Pharm.D., BCPS
Evaluation of bivalirudin during percutaneous coronary intervention before and after a process change. 2014 ASHP Midyear Clinical Meeting. Meliss a A. Herschman Pharm.D; Frank S. Rigelsky, PharmD, BCPS; Melissa M. Lagzdins Pharm.D, BCPS; Michael A. Jakubecz RPh, MBA
Pharmacist's Evaluation Of Rivaroxaban Dosing For Atrial Fibrillation. 2013 ASHP Midyear Clinical Meeting. Colton R. Hutton, Pharm.D.; Frank S. Rigelsky, PharmD, BCPS; Melissa M. Lagzdins, Pharm.D., BCPS
Evaluation of Dabigatran Usage in a 500-bed Tertiary Care Medical Facility. 2012 ASHP Midyear Clinical Meeting. Ashleigh N. Hogue, PharmD; Frank S. Rigelsky, PharmD, BCPS; Melissa Lagzdins, PharmD, BCPS
Implementation of the pharmacy practice model initiative in a community hospital and the pharmacist's role in heart failure quality measures and readmission rates. 2012 ASHP Midyear Clinical Meeting. Frank S. Rigelsky, PharmD, BCPS; Michael A. Jakubecz R.Ph., MBA
Evaluation of an erythropoiesis-stimulating agent therapeutic interchange program within a health system. 2008 Spring Research and Practice Forum of the American College of Clinical Pharmacy. Phoenix, AZ
Medication Management Pharmacist: Meeting the Quality Measures – One Year Later. 2005 ASHP Midyear Clinical Meeting. Frank S. Rigelsky, PharmD, BCPS; Sandra S. Axtell, Pharm.D., BCPS; Michael Jakubecz, R.Ph., MBA; Chris F. Bartolotta, R.Ph.; Jennifer K. Bryan, Pharm.D.; and Cindy Wong, R.Ph
Medication Management Pharmacist: Meeting the Core Measures. 2004 ASHP Midyear Clinical Meeting. Michael Jakubecz, R.Ph., MBA; Sandra S. Axtell, Pharm.D., BCPS, Frank S. Rigelsky, PharmD, BCPS, Julia Glowczewski, R.Ph
Evaluation of C-Reactive Protein Screening for Cardiovascular Risk Assessment. ASHP Midyear Clinical Meeting, December 2003 New Orleans, Louisiana
Lecture Presentations
Lipids Treatment updates. Hillcrest Hospital Advanced Practice Nursing/Physician Assistance Continuing Education Series 2018
Management Case Study: Small Intradepartmental Groups Drive Pharmacy Improvement Process in a Large Community Hospital. 2016 ASHP Midyear Clinical Meeting
Oral anticoagulants. Hillcrest Hospital Advanced Practice Nursing/Physician Assistance Continuing Education Series 2016.
Lipid Guidelines. Hillcrest Hospital Cardiac Rehab Nursing Education Series 2015
Hypertension Guidelines Hillcrest Hospital Cardiac Rehab Nursing Education Series 2015
Pharmacist participation in shared patient education classes for heart failure and chronic kidney disease. Cleveland Clinic 2015 Ambulatory Nurses Conference
Hillcrest Pharmacy PPMI lecture series 2012 to 2014: Heart Failure; Anticoagulation; Atrial Fibrillation; Hypertension; Hyperlipidemia
Oral Anticoagulation: Out with Old and in with the New? Ohio College of Clinical Pharmacy Spring 2013 Pharmacotherapy Update
Cleveland Clinic Nursing Institute Dimensions in Cardiac Care: Pharmacotherapy Track: ATP IV Lipid Guidelines: How low (or high) to should we go? September 2012
Venous Thromboembolism Prophylaxis and the National Patient Safety Goal for Anticoagulation

Hillcrest Hospital Department of Family Practice CME conference October 2008
Hillcrest Hospital VTE Awareness Month Presentation March 2009

Ursuline College Nurse Practitioner Program guest lecturer 2008 to present
CCHS Critical Care Classes 2007 to 2014

Critical Care Homodynamic Monitoring and Interventions

Management Case Study Presentation. ASHP Midyear Clinical Meeting, December 2007 Las Vegas, Nevada. Medication Management Pharmacist: Meeting the Hospital Quality Measures
Ohio Association of Physician Assistants 2007 Pharmacology Conference Cuyahoga Falls, Ohio

Respiratory Inhalants Agents
Renal Agents for Multiple Renal Conditions

Southeastern States Conference for Pharmacy Resident and Preceptors, April 2003 Athens, Georgia Evaluation of C-Reactive Protein Screening for Cardiovascular Risk Assessment