Overview
Overview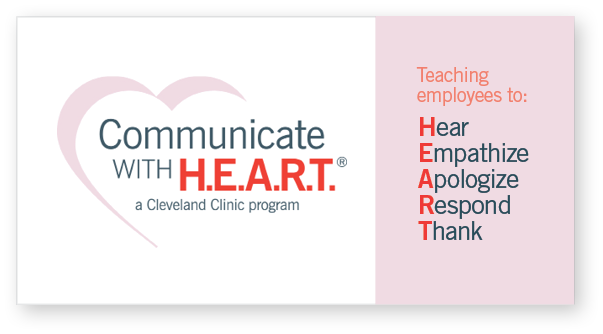 Raise The Level of Service Excellence in Your Organization
Communicate with H.E.A.R.T® is Cleveland Clinic's service excellence model integrated into our culture. This novel program empowers employees to provide an exceptional patient and employee experience at every point of interaction by helping them to understand that their role in creating positive patient experiences is greater than the tasks associated with their job. Communicate with H.E.A.R.T.® establishes expected service behaviors; provides a service recovery framework; and demonstrates how personal accountability sustains a culture of empathy.
This licensable program program now empowers employees in over 30 organizations to create and build a culture of compassionate communication.
Customized for Your Needs
Communicate with H.E.A.R.T.® was created with the ability to customize content to meet the needs of each organization without losing the impact of the program. There is a standard collaboration process including a suggested timeline utilized for customizing each individual delivery.
Foundational Program
Foundational Program
Foundational Program includes:
S.T.A.R.T. with Heart®: Learn how to establish compassionate communication with patients & caregivers.
Respond with H.E.A.R.T.®: Discover effective ways to manage difficult interactions
H.E.A.R.T.® Chats: Sustain a service culture with these brief 10-15 minute group activities.
Sustainability Program
Sustainability Program
Sustainability Program includes:
Lead with H.E.A.R.T®: Learn to encourage & sustain a culture of excellent service in your leadership.
Coach with H.E.A.R.T.®: Master coaching conversations and mentor your teams
Answer with H.E.A.R.T.®: Get the essentials for providing excellent service
Recharge with H.E.A.R.T.®: Understand and address the signs and symptoms of compassion fatigue
Benefits
Benefits
There are multiple components of the program that distinguish and elevate it above other customer service models:
Blends training programs, tools and the local culture to raise the level of service excellence and is highly customizable.
Considers factors such as corporate culture, leadership readiness, current patient services, data management , complaint and compliment management and employee recruitment, onboarding and retention, the program becomes highly individualized to the specific needs of an organization.
Includes an innovative "Service Recovery " model which empowers employees to address both patients' and colleagues concerns and questions in a way which produces a feeling of compassion and care
Developed in a healthcare environment by healthcare professionals
Uses a Train the Trainer model for delivery to ensure local ownership and long term sustainability.
Validated in a diverse, heterogeneous environment
Recognizes the importance of a employee to employee element
In addition to these distinguishing factors, three key patient experience metrics were positively impacted by utilization of Communicate with H.E.A.R.T.®:
Employee Engagement survey data increased
Complaints received through our Ombudsman Office decreased
HCAHPS survey data concerning "Overall Rating" and "Would Recommend" increased
Leadership Forum | November 27-29, 2018
Leadership Forum: Transforming the Healthcare experience of Tomorrow November 27-29, 2018 | Cleveland, OH
Experience Cleveland Clinic's palpable culture via conversations with our top executives as they share lessons learned at the key intersection of patient experience and operations.
Learn More