Mission
Mission
Mission Statement
The mission of Cleveland Clinic's Head & Neck Institute Section of Audiology is to be a national leader in the provision of collaborative, patient-centered, and comprehensive hearing healthcare for individuals of all ages, exemplified by excellence in patient outcomes, education, research, and service.
We are one of the largest audiology programs in the country today, with over 20 clinical and research audiologists located at either Cleveland Clinic's main campus (including our Hearing Implant Program) or one of the family health centers throughout Northeast Ohio (Beachwood, Elyria, Independence, Lorain, Medina, Strongsville, Twinsburg, Westlake and Willoughby Hills).
Each audiologist is part of the hearing healthcare team at Cleveland Clinic, working closely with our physician partners in otolaryngology in the Head & Neck Institute and other professional colleagues in a variety of specialty areas including pediatrics, geriatrics, neurology, psychology, dentistry, speech language pathology, plastic/reconstructive surgery and oncology to treat hearing disorders.
Our goals in the Section of Audiology are three-fold:
To provide state-of-the-art audiologic assessment and rehabilitative clinical services for patients of all ages with hearing loss using evidence-based practices with quantifiable quality outcomes.
To offer educational opportunities by serving as clinical preceptors for Doctor of Audiology (AuD) students and otolaryngology residents and by providing continuing education experiences for our staff and other professionals working in the community.
To maintain an active research program through the Audiology Research Laboratory (ARL) by focusing on clinical investigations in the areas of sensorineural hearing loss, tinnitus outcomes measurement, hearing aid signal processing and auditory electrophysiology.
Most importantly, our audiologists are dedicated to helping people with hearing loss improve their quality-of-life while dealing with the disorder. We understand that untreated hearing loss can interfere with relationships involving family members, friends and business associates. In turn, reduced communication function may cause feelings of frustration, isolation and withdrawal and even depression. By providing our hearing loss patients and family members with the most appropriate audiologic treatment plan, we continue to help each person overcome the consequences and achieve his or her individual communication goals.
Audiology Externship Experience
Learn more about Cleveland Clinic's one-year Audiology Externship for students enrolled in accredited Audiology programs.
What We Treat
What We Treat
Audiologists
Hearing Loss Prevalence
Hearing Loss Prevalence
The Prevalence of Hearing Loss in the U.S.
Sergei Kochkin, Ph.D.
Better Hearing Institute, Alexandria, VA
In order to gauge the number of people with hearing loss in the United States, 80,000 members of the National Family Opinion (NFO) panel were surveyed. This survey, which has been funded by a sponsor of BHI since 1989, is published under the name "MarkeTrak". The NFO panel is representative of U.S. households.
People with hearing loss are often embarrassed because they think that they are different or that they have a rare condition. The last MarkeTrak survey (2000) estimated that 28.6 million people report a hearing difficulty; that is 10.3% of the U.S. population. So if you have a hearing loss, understand that you are not alone. The number of people with hearing loss by age is provided in the graph.
Here are some general guidelines regarding the incidence of hearing loss:
It is estimated that 3 in 1,000 infants are born with serious to profound hearing loss;
According to the MarkeTrak survey, 1.7% of children (1.2 million) under age 18 have a hearing loss;
18% of "Baby-boomers" (ages 45-64) have hearing loss;
29% of people of age 65 have hearing loss.
Common Myth #1
"Hearing loss affects only 'old people' and is merely a sign of aging."
Actually it is the reverse of what most people think. The majority (65%) of people with hearing loss are younger than age 65. There are close to six million people in the U.S. between the ages of 18 and 44 with hearing loss, and more than one million are school age. There are numerous cases of hearing loss in children - hearing loss affects all age groups.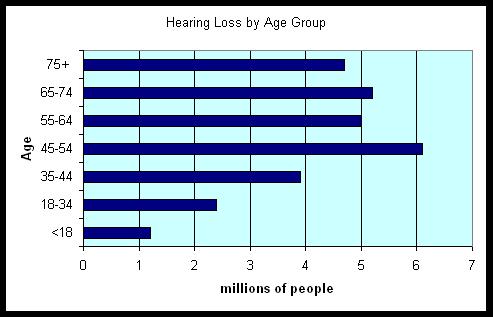 Common Myth #2
"If I had a hearing loss, my family doctor would have told me."
Only 14% of physicians routinely screen for hearing loss during a physical. Since most people with hearing impairments hear well in a quiet environment like a doctor's office, it can be virtually impossible for your physician to recognize the extent of your problem. Without special training, and an understanding of the nature of hearing loss, it may be difficult for your doctor to even realize that you have a hearing problem.
Financial
Financial
Improving your hearing can be an expensive proposition. Medical insurance companies often provide little to no coverage for hearing instruments. There are, however, other options for people who cannot afford the cost of hearing aids or hearing assistance technology.
A variety of places offer financial assistance including local, state, federal, and corporate programs as well as various charitable organizations.
Many people who receive public assistance or who meet certain financial criteria are eligible for financial help. If you are already receiving assistance through an Ohio Medicaid program, you may be eligible for funds to cover hearing testing and amplification. Each Medicaid program has its own rules, however, so be sure the facility you choose is registered with your insurance as an authorized service provider. If you or your family member has Medicare, testing fees are typically covered. Unfortunately, Medicare does not currently offer coverage for hearing aids.
State Assistance
Ohio Rehabilitation Services Commission/Bureau of Vocational Rehabilitation (BVR)
Bureau for Children with Medical Handicaps (BCMH)
Federal Assistance
Veterans Administration – contact your local VA hospital or office for more information.
Corporate Assistance
Health insurance provider, union, or employer may provide funds for audiological testing or amplification.
Flexible spending account would allow you to buy hearing aids prior to being taxed.
Americans with Disabilities Act (ADA) may enable you to obtain amplification or hearing assistance technology if it is required for your job.
Charitable Organizations
Some social service organizations offer financial assistance to people with hearing loss who are interested in obtaining amplification or hearing assistance technology. The list below contains some organizations that may offer such assistance. Contact their local chapters for more information.
Hear Now
Kiwanis Clubs
Lions Club International
March of Dimes
National Easter Seals
Rotary Club
Sertoma Clubs
Quota International
Research
Research
Craig W. Newman, PhD is a recipient of the Jerger Career Award for Research in Audiology by the American Academy of Audiology. This award is given to an individual who has made a significant contribution to audiology literature. Dr. Newman and Dr. Sharon Sandridge are recipients of the Research Award given by the Ohio Academy of Audiology. The latter award is received by individuals who have made significant contributions to audiology research and for mentoring other colleagues and students in conducting research.
Following is a brief summary highlighting some of the research projects recently completed or currently underway in the Audiology Research Laboratory:
Longitudinal benefits from and satisfaction with the Baha hearing system for patients with acquired unilateral sensorineural hearing loss.
Relationship between expectations and satisfaction for Baha implant system in patients with single-sided deafness.
Development of cochlear implant test materials: Application of reverberation treatments simulating everyday listening environments.
The Tinnitus Functional Index: A new clinical measure for chronic, bothersome tinnitus.
The reliability and validity of a screening tool to identify otologic functional impairments in the elderly (SOFIE).
Self-efficacy and hearing aid satisfaction: age and gender effects.
Spoken language outcomes in children with cochlear implants.
Multi-center Neuromonics study evaluating long-term benefits for patients with tinnitus.
Pediatric cochlear implant listening and spoken language outcomes.
Benefits associated with pediatric bilateral cochlear implants.
Reduced hearing handicap following cochlear implantation in adults.
Hearing Assessment
Hearing Assessment
The purpose of this assessment is to identify the problems your loss of hearing may be causing you.
Answer Yes, Sometimes or No to each question.
Does your hearing problem cause you to feel frustrated when meeting new people?
Does a hearing problem cause you to feel frustrated when talking to members of your family?
Do you feel handicapped by a hearing problem?
Does a hearing problem cause you difficulty when visiting friends, family, or neighbors?
Does a hearing problem cause you difficulty hearing/understanding co-workers, clients, or customers?
Does a hearing problem cause you difficulty at the movies or at a theater?
Does a hearing problem cause you to have arguments with family members?
Does a hearing problem cause you difficulty when listening to the TV or radio?
Does difficulty with your hearing limit or hamper your personal or social life?
Does a hearing problem cause you difficulty when at a restaurant with friends or family?
Scoring
Step 1: Give yourself the following points on each question based on your answer:
Yes = 4 points
Sometimes = 2 points
Never = 0 points
Step 2: Add up your points from each question for your final score.
If your final score is less than 10 points, although your hearing concerns do not seem to be having a significant impact in most environments, it's never too early to have your hearing checked. Please call 216.444.8500 to schedule an appointment.
If your final score is equal to or greater than 10 points, your hearing concerns are significantly impacting you in various environments. It is recommended that you schedule a comprehensive audiologic evaluation with an audiologist; please call 216.444.8500 to schedule.
Step 3: For more information on hearing evaluations and devices, please download our Understand Hearing Loss Treatment Guide.
Disclaimer: This information is for educational purposes only and should not be relied upon as medical advice. It has not been designed to replace a healthcare provider's independent judgment about the appropriateness or risks of a procedure for a given patient.
Source: Ventry & Weinstein, 1983; Newman, Weinstein, Jacobson & Hug, 1991