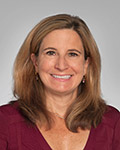 Gina Cronin
Chief Talent Development Officer, Global Leadership & Learning Institute
Gina M. Cronin is the Chief Talent Development Officer for the Jack, Joseph and Morton Mandel Global Leadership and Learning Institute. In this chief learning officer role she guides leadership and learning for 66,000 caregivers across Cleveland Clinic Health System. This includes design and deployment of leadership development, performance management and succession planning, organizational development, coaching and learning technologies and social collaboration.
Previously, she directed clinical service lines, responsible for overall operations, finance and strategy, most recently as Administrator for the Heart, Vascular & Thoracic Institute at Cleveland Clinic, which is nationally ranked and globally recognized as the world leader in cardiovascular care.
Ms. Cronin assumed a leadership position in the early formation and growth of Cleveland Clinic as an integrated health system. In addition to her current role overseeing the Mandel Institute, she is Program Director for the Administrative Fellowship program, and enjoys providing experiential opportunities and mentorship to early careerists within a talent pipeline. In addition, she is executive sponsor for Cleveland Clinic's young professional organization, Group of Aspiring Leaders (GOAL).

Brian Bolwell, MD
Director of Physician Leadership and Development
As a practicing hematologist/oncologist for more than 30 years and the longtime Chair of Cleveland Clinic Cancer Center and Taussig Cancer Institute, Dr. Bolwell is in a unique position to appreciate the value of good leadership in medicine, and the need to formally cultivate it.
In his new role as Cleveland Clinic's Director of Physician Leadership and Development, Dr. Bolwell will be responsible for guiding the overall professional development of physician leaders across the organization.
Dr. Bolwell will oversee the talent review and succession planning processes for Cleveland Clinic professional staff. He also will lead the redesign of search committees to fill key Cleveland Clinic leadership positions, to ensure the hiring and promotion of the most qualified physicians and scientists.
Today, he embraces the idea of continual learning, self-assessment and character development. Dr. Bolwell's leadership philosophy, which he regularly expresses in speeches, videos, tweets and his blog, Straight Talk for Oncology Times, stresses the importance of empathy, individual relationships, trust, honesty, listening to others, and having the courage to take a stand for your principles.
Dr. Bolwell, an expert in bone marrow transplantation, lymphoma and other hematologic malignancies, will continue to supervise Cleveland Clinic's cancer treatment and research efforts. The program encompasses more than 250 cancer specialists and annually serves more than 28,000 patients. Cleveland Clinic's Cancer Program is nationally ranked for its expertise and care.