Overview
Overview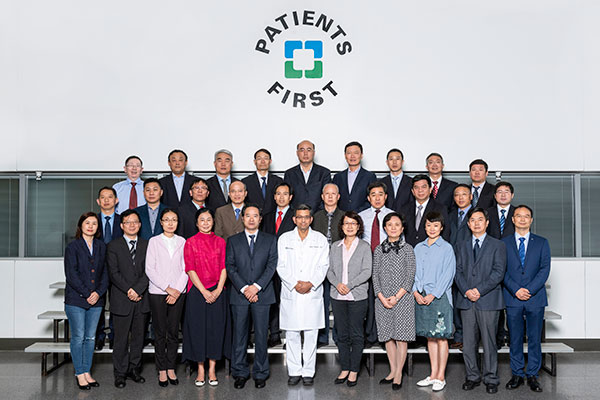 If you desire more freedom to choose topics or professional development options and would like to customize or tailor a program for you or your organization, a custom program may be the answer.
Through a consultative approach, we focus on your needs while developing a learning framework ideal for your situation.
Curriculum: Building Your Agenda
Topics to include in your curriculum vary greatly, ranging from hospital management, to business acumen, to leadership development. Our team approach includes instructional design to help formulate an optimum learning approach for you. The list below reflects course options beneficial for many circumstances and may serve as a starting point when giving thought to areas most important to you.
Topics include but are not limited to those shown below.
Hospital Management for Healthcare Professionals
Continuous Improvement
Cleveland Clinic Operations
Business Intelligence
Patient Centered Institute Model
From Volume to Value Based Care
Advanced Technologies
Digital Age of Medicine-Integrating Technology
Measuring and Reporting Quality
Executive Financial Management
Marketing for Executives
Executive Leadership
Organizational Culture
Patient Experience Overview
Embracing Risk and Innovation
Leadership Competencies
Education and Leadership Development
Human Resources Overview
Performance Coaching
Caregiver Wellness and Healthy Teams
Sharing Your Vision and Strategy
Leaders Story
Leading High Performing Teams
Frequently Asked Questions
Frequently Asked Questions
How many days do you recommend for a custom program?
The ideal program duration, or length of days, is dependent upon your needs. Your healthcare challenges are taken into account when reviewing topics, speakers, optimum length of stay, and fees to bring you the best value for your learning experience. We have even held one-day programs for organizations where the need for education is a narrow focus or there is limited time to attend.
Where do custom programs take place?
Custom programs can be held either at our hospital campus or yours. At Cleveland Clinic, most programs are held on our main campus. Alternately, we are happy to make arrangements at your organization. For example, we have held in-country programs in South America, the Middle East and Asia.
Who have you served to date?
Hospital administrators, physician leaders, industry leaders in pharmaceutical companies, commercial real estate, and more.
What kind of topics do you offer?
We offer a broad spectrum of topics from hospital management to executive leadership development. See examples of session topics here.
Who teaches the information? How many instructors?
Our instructors are leaders from the highest levels of Cleveland Clinic -- physicians or administrators who are leading our transformation and success.
Is there a limit to the number of people who can attend the program?
No. Keep in mind that the number of attendees affects meeting space reservations. If planning for a large group, start early.
Is there a minimum number of attendees?
No.
I have a group of non-English speaking leaders. What are my options?
If you arrange for simultaneous interpretation, our faculty is skilled in collaborating on translation of their content to attendees.
How much time do you require to consult, plan and conduct a program?
A six-month notice is optimum to secure Cleveland Clinic leaders from the highest level of management. However, three months allows time for scheduling meeting space and refreshments. Because faculty is based upon availability we recommend you reach out to us with as much time to plan as possible to review your options.
Are there pre-requisites?
No.
How do I show evidence of my attendance?
Participants receive a certificate of completion.
Is an agreement required?
We produce a scope of work.
What kind of payment methods do you accept?
We accept a company check, wire transfer and credit card. Fees are to be arranged prior to the first day of the session.
Do we do any long distance learning?
Yes. Reach out to us for your specific needs.
If we determine a custom program is worth investigating, what are my next steps?
Reach out to us via email or phone at executiveeducation@ccf.org or +1.216.636.2218.
It's our honor to support you in achieving your leadership goals.