Surgical Oncology
Cleveland Clinic's surgical oncology program is dedicated to offering cutting-edge, multidisciplinary treatment of primary and metastatic tumors. Our program, which collaborates with experts from Taussig Cancer Institute, represents a dedicated team of physicians working closely to provide patients with comprehensive care for cancers of the liver, pancreas, abdominal cavity, adrenal gland, soft tissue and breast. Our surgeons have all been fellowship trained and are experts in treating gastric cancer, pancreatic cancers, metastatic colon cancer, appendiceal cancers, sarcomas and melanomas.
At our multidisciplinary surgical oncology clinic, patients can visit with specialists from surgical oncology, medical oncology, radiation therapy and plastic surgery during a single visit.
Surgical oncology encompasses several specific programs, all of which are multidisciplinary to provide patients with the most comprehensive, streamlined care:
Soft Tissue (Sarcoma)
Cleveland Clinic offers a multidisciplinary approach to soft tissue sarcomas with close collaboration between surgical oncology radiation therapy and medical oncology. At Cleveland Clinic, 30 soft tissue sarcoma patients have been treated with perioperative radiation over the past two years. This type of treatment allows the radiation therapist to administer higher doses of radiation than might be possible with conventional therapies. In addition, the entire radiation therapy is completed during one hospitalization without the need for subsequent visits. The technique uses special catheters designed to deliver radiation after the surgeon has packed the bowel away from the field.
Soft Tissue: Case Report
60 year old with abdominal fullness and vague pain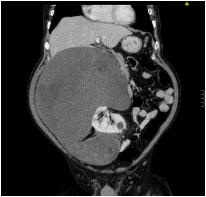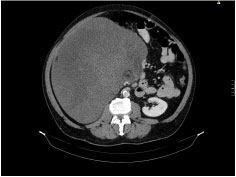 Surgical Resection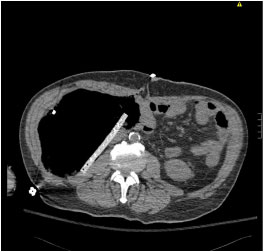 Colectomy
Nephrectomy
Cholecystectomy
Placement of Catheters
Result