Overview
Overview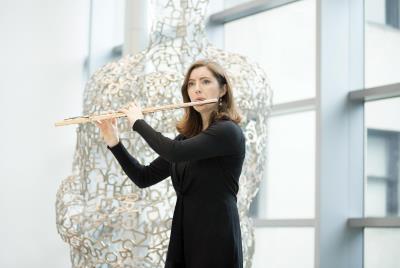 The Performing Arts Program is a cornerstone of Arts & Medicine.
The program enhances the environment and Cleveland Clinic experience for patients and caregivers. Listeners are provided an opportunity to engage high quality performances every weekday by local musicians, with special events featuring dancers, ensembles and local schools and arts organizations.
Artists and groups who have provided their talent include:
Musicians-In-Residence
Dancing Classroom of NE Ohio
Beck Center for the Arts
Roots of American Music (School and Community Organization)
City Ballet of Cleveland
Cleveland Institute of Music students
Dancing Wheels Company & School (Integrated Dance Company)
Cleveland Music School Settlement (School and Community Organization)
Karamu House (Theater Company)
Credo Chamber Music
Oberlin Conservatory students
Contemporary Youth Orchestra
If you, your ensemble, or your organization is interested in performing for the benefit of those at Cleveland Clinic, contact us at performingarts@ccf.org.
Musicians-in-Residence
Musicians-in-Residence
The musicians-in-residence program brings some of the most talented local musicians into public spaces to provide engaging, entertaining, and educational programs for patients, families, and employees. Learn more about our musicians below.
Lee Bush
Lee Bush received his degrees from both Baldwin-Wallace College and the University of Missouri. He was a composer, arranger, and producer with Frank Gari Productions for eight years, recording commercial music in New York City. Lee is a music educator with years at Youngstown State University, Tri-C Jass Studies Program and Cleveland State University. He has appeared as a guest artist at Severance Hall, Tri-C Jass Fest, Shoreby Club, WCPN Radio, Progressive Field, Cleveland Museum of Art and many other venues. Lee has authored books on guitar sight reading, fingerboard understanding and comprehensive guitar instructional method.
Ariel Clayton Karas
Violinist, Clayton Karas, has given more than 350 performances to-date at Cleveland Clinic, appearing frequently as a soloist, in ensembles, and with other guest artists. As a studio musician and solo artist, she appears on numerous locally produced, non-classical albums. Her music was featured prominently on the 2015 PBS documentary, Violins of Hope, narrated by Oscar-winning actor Adrien Brody. As director of Classical Revolution Cleveland, Ms. Clayton Karas coordinates performances in non-traditional venues. The ensemble is frequently featured on local radio broadcasts and independent podcasts. Their JOIN concert series brings classical music to underserved audiences throughout northeast Ohio at correctional facilities, crisis shelters, and medical centers. Her chamber ensemble, OPUS 216, collaborates frequently for renowned organizations, including the Cleveland Museum of Art, American Greetings, the Cleveland International Piano Competition, the Rock and Roll Hall of Fame, and the Tri-C Jazz Fest, among others. A Dallas native, Ariel Clayton Karas is proud to call northeast Ohio her home, and maintains a close-knit studio of violin students out of her home on the near-west side. She holds Bachelors and Masters degrees from the Cleveland Institute of Music, along with Suzuki Certification from the Sato Center for Suzuki Studies.
Kent Collier
Kent Collier has enjoyed being a member Cleveland's freelance musician community for 35 years.He received his bachelors and masters degrees from the Eastman School of Music. A native Clevelander, Kent has been principal cellist for Cleveland Opera, Cleveland Ballet, Ohio Chamber Orchestra, and Lyric Opera for over twenty years. Most recently he has served as principal cellist with Red an Orchestra, Blossom Festival Orchestra, the Cleveland Pops Orchestra, Opera Circle, and Blue Water Chamber Orchestra. He has been a cello instructor at Allegheny College, Baldwin Wallace Conservatory, and the Cleveland Music School Settlement. He has also spent many summers playing with the Cullowhee Music Festival and the North Carolina Symphony. Apart from music Kent enjoys teaching math, playing racquetball, and skiing. Kent was happy to be named one of Cleveland Magazine's "Most Interesting People".
Virginia Crabtree
Flutist, Virginia Crabtree, is a graduate of the Cleveland Institute of Music where she received her Masters degree studying with Mary Kay Fink and Joshua Smith. Holding a Bachelor of Music Degree from Northwestern University, Virginia graduated Magna Cum Laude with Woodwind Departmental Honors in 2007. With performances ranging from the 2000 Olympics in Sydney, Australia to concerts for the Seminari Musicali Internazionali in Prato, Italy, Virginia has performed extensively on both flute and piccolo. In addition to these instruments, in 2009 Virginia performed the Brandenburg Concerto No. 5 on Baroque flute with the Case Western Early Music Ensemble. A native of San Diego, Virginia has been a member of the California Young Artist Guild since 2003 and in 2006 was a finalist for the Northwestern Concerto Competition. In March, 2008 Virginia was also a finalist for the piccolo position of the Milwaukee Symphony Orchestra and won second place in the National Flute Association Piccolo Artist Competition. Virginia is also an avid teacher and enjoys positions on the flute faculty for the Interlochen Arts Camp and the Cleveland Music Settlement.
Gayle Getts
Gayle Getts graduated summa cum laude with a Bachelor of Music degree from Baldwin-Wallace College, studying with William Hebert, piccoloist of The Cleveland Orchestra. She then earned her Master's degree in flute performance from the University of Illinois at Urbana-Champaign, studying with internationally renowned flutist Alexander Murray, former principal flutist of the London Symphony Orchestra. Since that time she has been an active freelance musician, recitalist, clinician, and private flute instructor throughout Northeast Ohio.
Gayle has performed concerts at Severance Hall and Blossom Music Center with Yanni, the Moddy Blues, and Il Divo, among others. She has been principal flutist of the Cleveland Symphonic Winds, Lakewood Hometown Band, and the Sounds of Sousa Band. Since 2008, Gayle has served as flute instructor for the Aurora School of Music, presently teaching 35 students. Having taught private flute lessons for over 35 years, her students have ranged from beginners to advanced national award-winners.
Marshall Griffith
Marshall Griffith is on the Faculty of The Cleveland Institute of Music (CIM) where he teaches Theory and Jazz Improvisation. He received Bachelor of Music and Master of Music degrees in composition from CIM, as well as a Doctor of Music degree from Indiana University. He studied composition with Eugene O'Brien, Donald Erb and John Eaton, and was the recipient of The Music Teachers National Association Award in composition in 1976. His works have been published by Theodore Presser and Belle Press, and recorded on Crystal Records. He served as chairman of the Cleveland Composers Guild from 1991 until 1995. His music has been performed by the Baton Rouge Symphony, the Amici, Bel Arte and Coleridge String Quartets, the 20th Century Consort and the Black Earth Percussion Group. Active as a jazz and classical pianist, he has also been soloist with the Canton Symphony, Ohio Chamber Orchestra, Cleveland Pops, Suburban Symphony, CIM Orchestra, CIM Woodwind Ensemble, Cleveland Youth Wind Symphony and the Case Jazz Band. He performed in a professional two-piano team, the Fine Arts Duo, from 1980 until 1990.
Alan Petersen
Alan Petersen received his degree from Kent State University with post-graduate work completed at the Cleveland Institute of Music and Cleveland State University. For twenty-eight years, he served as a High School Music Director and also led the male vocal ensemble Quartific. He is a vibraphone specialist in large and small groups performing at Blossom Music Center, Playhouse Square, WEWS Television, Back Center For The Arts, NightTown, and many other locations. He is an experienced piano technician, church music director, and music group performance tour consultant.
Susan Strasek
Susan Strasek is a soloist, chamber musician, and freelance harpist. She is a graduate of the Cleveland Institute of Music where she earned her Bachelor's of Music Degree in Harp Performance. Susan completed additional studies at the Salzedo School Summer Harp Colony of America. Performances with various orchestras including the Ohio Chamber Orchestra, the Charleston Symphony, and The Cleveland Orchestra. She served as Principal harp for both Lyric Opera Cleveland and the Youngstown Symphony. Guest appearances include the Arkansas Opera Theater and the Metropolitan Opera. Susan has performed under such notable conductors as Louis Lane, Mathias Bamert, James Levine, and Lorin Maazel. Her credits include twenty-three years as Principal Harp for Blossom Music Center's Blossom Festival Concert Band and their Special Attractions. She has also been a member of the Playhouse Square Orchestra in Cleveland, Ohio. Not limited exclusively to classical repertoire, Susan has performed diverse styles with well known artists including Tony Bennett, Johnny Mathis, Julie Andrews, Burt Bacharach, Aretha Franklin, Perry Como, Henry Mancini, Rosemary Clooney, David Sanborn, Barry Manilow, Linda Ronstadt, and Mannheim Steamroller. She was featured with the international Irish Group, The Chieftains. Susan served as a harp teacher in the Preparatory Department of the Cleveland Institute of Music. She is a protege of Alice Chalifoux.
Doug Wood
Doug Wood has been composing original guitar music for over 25 years. His songs combine elements of New Age, Jazz, Classical, and Folk music into a diverse blend of instrumental music. He has performed his music for audiences throughout the country at hundreds of theaters, festivals, and colleges. He has 5 CDs to his credit, which have been featured on over 700 radio stations nationwide. Locally, Doug has performed live on the PBS show "Applause," and he's been featured on Channels 3, 8, and 19. From 2010-2011, Doug was asked to play guitar for the Nashville-based band Eclectica, which featured 5X Grammy-winning drummer Roy "Futureman" Wooten, from Bela Fleck & The Flecktones. Doug enjoys performing for the patients and patrons of the Clinic. He performs solo, or with members of his trio "Cellocentric."
Program Application
Program Application
Dear Performing Artist,
Thank you for your interest in providing performing arts for our patients, family members, visitors, and employees. All individuals seeking consideration for participation in the Performing Arts Program should complete the application form. You will be contacted only if the Performing Arts Program wishes to engage in a performance.
---
If while completing this application you should have any questions, please contact the Performing Arts Program at performingarts@ccf.org or 216.448.8330.
**PLEASE NOTE**
If you expect your performance to occupy an area that is greater than 10 feet by 15 feet, please provide a separate document (via email address above) with details regarding floor plan for the performance – diagram preferred.
If the performance requires sound reinforcement, make sure to provide details.
To complete the application, please submit a sample (digital audio/video file, or a link to access media on the internet to the email address above).
*Indicates required information