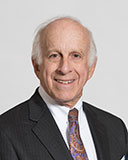 Ronald E. Weinberg ("Ron") is a director and principal of Weinberg Capital Group, which manages investments and acquires and operates private companies. He is the past Chairman and CEO of Hawk Corporation, a publicly traded worldwide manufacturer of various friction and brake products, before its sale in 2010. Ron currently serves on the Boards of four of his firm's portfolio companies.
Ron is the past Chairman of the Board of Trustees of Cleveland State University and is a member of the Board of Directors of the Washington-based U.S. Chamber of Commerce. He served as an appointee of Governor Bob Taft to the 2007 Northeast Ohio Universities Collaboration and Innovation Study. He is a past Chairman of the Visiting Nurse Association and he also served on the Advisory Board of Empower America, a Washington based advocacy organization founded by Jack Kemp.
He graduated from Harvard College in 1963 majoring in Science and received his MBA from Harvard Business School in 1965.
Cleveland Clinic – Director
First Elected to Cleveland Clinic Board in 2011