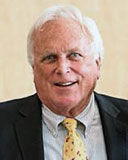 Mr. Rich is Chairman of Rich Products Corporation, the largest family-owned frozen foods manufacturer in the United States and based in Buffalo, New York.
Mr. Rich is also Chairman of Bison Baseball, Inc., (the AAA affiliate of the Toronto Blue Jays), the Northwest Arkansas Naturals (the AA affiliate of the Kansas City Royals), and Morgantown Baseball, Inc. He is the Emeritus Trustee of International Game Fish Association. He is also on the Trustees Council of the University of Rochester, as well as a member of the ENACTUS Hall of Fame, Boys and Girls Club of Western New York, International League of Professional Baseball, and the Police Athletic League. Bob has served as co-producer to several theatrical productions on Broadway with Mindy as part of the Rich Entertainment Group. He is also a member of the Cystic Fibrosis Foundation Leadership Council and the Outdoor Writers Association of America.
Mr. Rich graduated from Williams College with a B.A. in 1963 and from the University of Rochester with an MBA (with honors) in 1969. Mr. Rich served in the United States National Guard from 1963 to 1969 and was a member of the Army Reserve Officer School Staff.
Cleveland Clinic - Chair Emeritus, Cleveland Clinic Board of Directors
First Elected to Cleveland Clinic Board in 2002
Business Relationships with Cleveland Clinic: Rich Products Corporation owns The Travel Team, Inc. with which Cleveland Clinic has a business relationship related to medical evacuation and expedited travel services. Mr. Rich has no involvement with the negotiation or provision of such services.