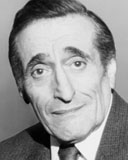 Mr. Miller is Co-Chairman Emeritus of the Board of Forest City Enterprises, Inc., a commercial and residential real estate company based in Cleveland, Ohio, where he has worked since 1947.
Among his many community activities, Mr. Miller is a member of the Greater Cleveland Roundtable, Co-Chairman of the Board of Trustees of Medical Mutual of Ohio and is a member of the Board of Trustees of each of John Carroll University, Baldwin Wallace College, Notre Dame College, the Jewish National Fund, WVIZ ideastream, the Police Memorial Board, and The Catholic Diocese of Cleveland Foundation. He is also an Honorary Trustee of Case Western University, a Lifetime Honorary Trustee of the National Conference of Christians and Jews, an Honorary Lifetime Member of the Board of Trustees of the Jewish Community Federation of Cleveland and Past Chairman of the Cleveland Jewish Welfare Fund.
Mr. Miller graduated from Case Western Reserve University with a B.A. in 1941 and from the Harvard Business School with an MBA in 1943. He served in the United States Navy from 1942 to 1946.
Cleveland Clinic – Director
First Elected to Cleveland Clinic Board in 1991
Board Committees: Government and Community Relations
Business Relationships with Cleveland Clinic: Along with several other managed care organizations, Medical Mutual of Ohio, a tax-exempt organization, does business with Cleveland Clinic at negotiated market rates. Mr. Miller has no involvement in the negotiation or provision of such services.