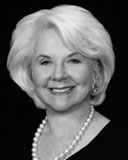 Mrs. Lerner married Alfred Lerner, former Chairman and Chief Executive Officer of MBNA Corporation, and former Owner and Chairman of the Cleveland Browns, in 1955. They were married 47 years before his passing in 2002.
In addition to her role as Director of the Cleveland Clinic, Mrs. Lerner is the Co-Founder of the Lerner Research Institute, Founder of the Cleveland Clinic Lerner School of Medicine at Case Western Reserve University, Honorary Chair of the Cleveland Clinic Digestive Disease Center Leadership Board and Honorary Member of the Cleveland Clinic Brain Tumor Institute Leadership Board.
Mrs. Lerner is the Honorary Chair of the Board of Directors of the Musical Arts Association (Cleveland Orchestra) and a Founding Member of the Marine Corps Heritage Museum. In April 2006, Mrs. Lerner was appointed by President George W. Bush as a Member of the United States Holocaust Memorial Council, to a five-year term that expired in January 2011. In 2007, Mrs. Lerner was also selected to serve on the United States Holocaust Memorial Council Executive Committee.
Cleveland Clinic – Director
First Elected to Cleveland Clinic Board in 2003
Board Committees: Philanthropy