Endometriosis can be tricky. Many people with this condition are misdiagnosed or never diagnosed at all.
---
When you have endometriosis, you might blame your symptoms on something else. Painful periods and bad cramps? It's just how my periods are. Digestive problems? Maybe some probiotics will make this bloating go away. Challenges getting pregnant? It's just tough for me and hasn't happened yet.
At Cleveland Clinic, our experts are here to help you answer these questions. Your experiences and the way you've been feeling are all a part of the story we want to hear. Together, we'll gather the pieces and make a treatment plan that matches your goals and lifestyle.
Why Choose Cleveland Clinic for Endometriosis Care?
Caring approach:
We listen to your story. Our providers validate your concerns and work with you to create a care plan that has your best long-term goals in mind.
Minimally invasive options:
Our surgeons have extensive fellowship training in minimally invasive gynecologic surgery (MIGS). They have years of experience removing endometriosis tissue using techniques that minimize your discomfort and recovery time.
Demonstrated expertise:
Cleveland Clinic's advanced imaging — including ultrasound and MRI — lets our surgeons precisely map your endometriosis. These tools optimize surgical outcomes and guide treatment decisions for the most effective, appropriate care plan.
Virtual visits:
Don't want to leave home? We offer virtual visits that allow to you go to your appointment without leaving the comfort of your couch. This convenient and secure option allows you to talk to your provider from your smartphone, tablet or computer.
Comprehensive treatment:
Endometriosis can lead to secondary conditions, like pelvic floor spasms and central nerve pain. At Cleveland Clinic, you receive complete care for your symptoms, which may include sessions with pelvic floor physical therapists, trigger point injections and pain psychologists.
Comfort and convenience:
Many of the people we diagnose and treat come from across the country. While you're in Cleveland, we value your time and pack your appointments into several days. If surgery is part of your treatment plan, you'll receive virtual care after your surgery.
National recognition:
U.S. News & World Report consistently ranks Cleveland Clinic a top hospital in the nation. Newsweek has also named us a top hospital in the world.
Endometriosis Diagnosis at Cleveland Clinic
Endometriosis happens when tissue similar to the lining of your uterus (endometrium) grows outside of your uterus. With endometriosis, you can experience:
Painful period cramps.
Long-term pain in your lower back and pelvis.
Pain during or after sex.
Bleeding between periods.
Painful bowel movements.
Difficulty becoming pregnant (infertility).
Digestive problems.
If you think you may have endometriosis, it may be time to make an appointment. At your visit, our specialists may diagnose endometriosis using several methods, including:
Endometriosis Treatment at Cleveland Clinic
Treatment for endometriosis is highly personal. The conversations we have at the beginning of this process help us understand your goals and guide how we craft a treatment plan that'll fit your life. When it comes to treatment, we offer nonsurgical and surgical options. How much pain you're in and if you want to become pregnant in the future also guide the treatment plan we recommend for you.
Our compassionate team supports you every step of the way. During treatment, you may meet with our:
Nurse practitioners.
Ultrasound technicians.
Nurse coordinators.
Surgeons.
Surgical schedulers.
Pelvic floor therapists.
Pain psychologists.
Chronic pelvic pain specialists.
Medications
One thing your provider may do is prescribe medications to help with painful symptoms of endometriosis. Medications aren't a cure for endometriosis, but they can decrease your symptoms, so you feel better.
Hormonal birth control and pain relievers may help reduce pelvic pain during your period. This isn't a one-size-fits-all process. Your provider may talk to you about several hormone therapies and pain medications to find the right one for you.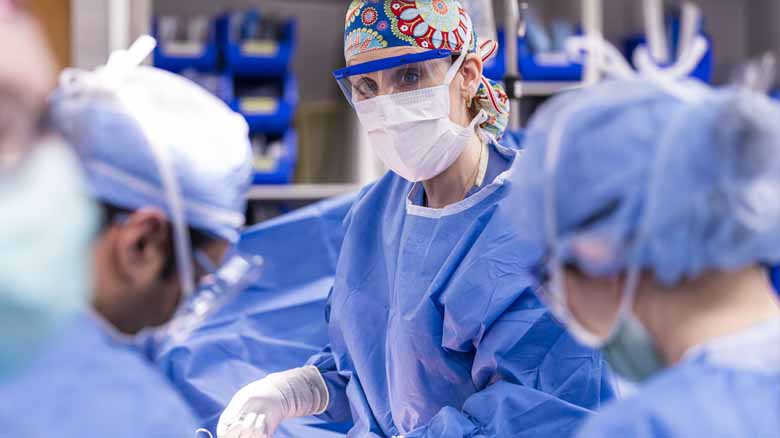 Laparoscopic endometriosis surgery
If you have painful endometriomas (ovarian endometriosis) or endometriosis lesions, surgery may help relieve your discomfort. If you've had trouble getting pregnant because of endometriosis, you may conceive following surgery.
At Cleveland Clinic, we offer a minimally invasive approach to endometriosis surgery to remove these lesions. Using advanced imaging, your surgeon can precisely map out the endometrial lesions. This process helps us to talk with you in detail about the condition, how it affects you, your goals for surgery and lets us put together your surgical team. We make sure that the treatment lines up with what you want.
During laparoscopy, your surgeon inserts a thin instrument called a laparoscope through a small incision around your belly button. Then, we remove the endometriosis lesions or cysts. Typically, our surgeries are minimally invasive and you'll go home the same day.
Hysterectomy
As you're talking to your provider about your treatment options, the topic of hysterectomy might come up. You might think, "you need to remove my whole uterus to make me feel better?" It might be a lot to take in. But know that when our providers talk to you about a possible hysterectomy, it's because it's an option that might improve your everyday life.
There are a lot of factors that go into the discussion of whether or not a hysterectomy might be a good choice for you, including:
How much endometriosis you have.
Whether or not you have other conditions like adenomyosis.
How much pain you're experiencing.
If you want to get pregnant in the future.
Your provider will explain the procedure, how it can help and what it will mean for your life moving forward. It's important to know that after a hysterectomy, you won't be able to become pregnant. Together, you can decide if this is the right choice for you.
Follow-up care
We won't forget about you after treatment. We check in on you and provide ongoing care to make sure your symptoms have gotten better. This follow-up care can happen virtually or in person.
During your follow-up appointments, we ask about how much pain you're having and adjust your treatment if needed. Your provider may add in other pelvic pain specialists to your care plan, such as our chronic pelvic pain specialists, physical therapy and psychology experts.
Taking the Next Step
When you live with things like cramps, back pain, bloating and infertility for a long time, you might just accept them as a part your life. You might try changes to your meal plans, exercises or any number of other things. But you might also just give in to the frustration and think this is just what it is. At Cleveland Clinic, we want you to bring your concerns to us. Together, we'll look at your whole list of symptoms and assemble the pieces so we see the whole picture. If you have endometriosis, there are treatment options we can try. You don't need to just live with the discomfort, pain and stress of endometriosis — we can help.
Appointments
Getting an appointment with Cleveland Clinic's endometriosis experts is easy. We're here to help you get the care you need.
---
Billing & Insurance
Manage your Cleveland Clinic account. Find billing information and financial assistance, plus FAQs.
---
MyChart
Securely access personalized health information at any time, day or night.
---