Shuttles
Shuttles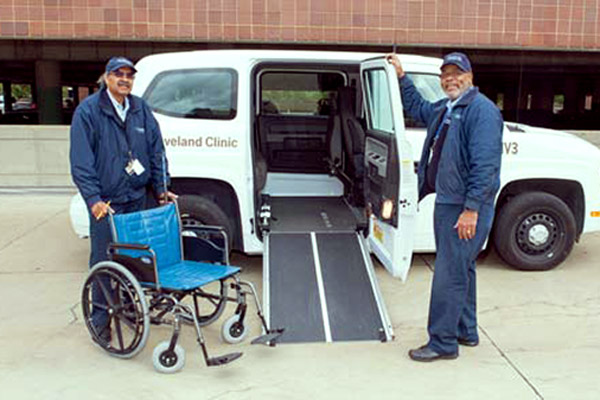 Patient / Visitor Shuttle
Cleveland Clinic provides complimentary wheelchair capable on-demand and curbside shuttle services within our main campus.
Locations Include:
All clinical and non-clinical facilities
Three hotels (Intercontinental Hotel, Intercontinental Suites and Holiday Inn)
Ronald McDonald House
United Cerebral Palsy
Cleveland Site Center
Rite Aid (10090 Chester Ave)
Ways to Request:
Redcoats and Hotel Hospitality specialists
Call 216.444.8484 (48484 from internal phone), Option 1
Flagdown/hail stopped shuttle
Hours:
Monday – Friday: 4:45 a.m. – 12:45 a.m.
Weekend and Holidays: 6:30 a.m – 10:00 p.m.
Hospitality Shuttle
Complimentary shuttle between:
Hope Lodge
Transplant House of Cleveland
University Circle Museums (Art, Natural History, Historical Society, Botanical Garden)
Ways to Request:
Call 216.444.8484 (48484 from internal phone), Option 1
Departure Times/Hours:
RTA (Public Buses)
RTA (Public Buses)
The Greater Cleveland Regional Transit Authority (RTA) is the largest transit agency in Ohio, providing transportation for Cleveland and the surrounding suburbs of Cuyahoga County.
Nearby Cleveland Clinic RTA stops:
Euclid Avenue at Clinic Drive
Carnegie at East 100th Street
Route cards are available at Welcome Desks.
RTA Healthline offers bus service down 6.8 miles of Euclid Ave., and connects Cleveland Clinic to downtown Cleveland.
Hours: 24 hours a day
Phone: 216.566.5100
Taxis & Limos
Taxis & Limos
Cleveland Clinic Patient Support Services at J1 can assist by providing contact information for local taxi and limo services.
Hours: Vary
Phone: 216.445.3114